April 13, 2021 | The COVID-19 pandemic created new challenges for medical clinics, particularly those in rural communities.
Doctors from the Pacific Northwest Division of Family Practice collaborated with Northern Health on the new Smithers Assessment Clinic, which enables high-risk, non-emergency patients who are COVID-19 positive to safely see a family physician in person for an assessment. The clinic's services include physical assessments, home visits, and care for non-hospitalized COVID-19 patients.
---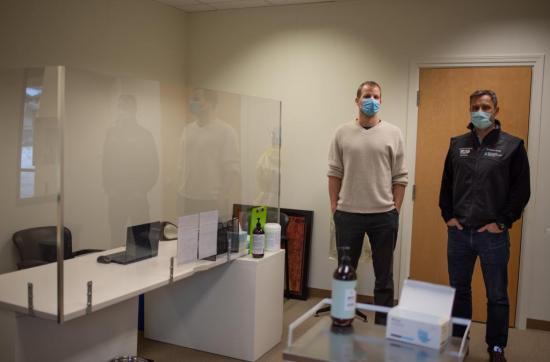 Above: The physicians in the photo are Dr. Matthew Dykstra (left) and Dr. Wouter Morkel (right) two of the group of eight Smithers Physicians who have stepped up to provide care at the clinic including:  Dr. Flora Barnard, Dr. Karin Blouw, Dr. Nicole Froese, Dr. Marlowe Haskins, Dr. Kate Niethammer, and Dr. Sheila Smith.  
---
Patients need a referral before contacting or visiting the clinic. Patients of all ages from Smithers and the surrounding local communities can access the clinic with a referral from a family doctor or nurse practitioner, the Bulkley Valley District Hospital, the Northern Health primary care interprofessional teams and mobile outreach teams, an Aboriginal Patient Liaison, or 8-1-1 (HealthLink BC).
There are a number of examples of divisions of family practice - who are funded by the FPSC - making a real difference in BC's rural communities during the COVID-19 pandemic. 
Cranbrook: A virtual clinic enables unattached patients to contact a doctor. In-person care is available when needed.
Creston: Local physicians operate a phone line so that unattached patients can speak to a doctor and receive in-person care when required.
Pemberton: Doctors and nurse practitioners available for in-person or remote visits, depending on situation. Limited capacity for patients living remotely to stay in Pemberton for assessment/treatment.
Whistler: Clinic partnered with Vancouver Coastal Health and Whistler Community Services Society to provide patient supports including rapid testing, tablets/smartphones, rent relief, self-isolation housing, food deliveries, and hygiene packs.