Whistler Awarded the BC Rural Community Health Award
for COVID-19 Response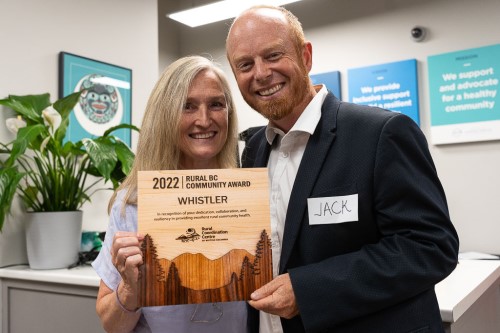 This past May, Whistler's Dr. Karin Kausky accepted the RCCbc Community Award  from the Rural Coordination Centre of BC (RCCbc) on behalf of the community of Whistler for our COVID-19 response.
Each year, the RCCbc recognizes the phenomenal work of BC's rural physicians and communities and identifies a community that has developed innovative and collaborative approaches and solutions to local healthcare issues or supported and enhanced the sustainability of the rural health care services and /or providers within their community. The community celebrated receiving the award this past September and copies were handed out to community partners in recognition of their collaboration.

Covid-19 Information for Residents of Whistler & Squamish:
Rapid antigen testing kits are now available for free for everyone at your local pharmacy. Click here to find out more.
COVID-19 treatments are available in BC for some high-risk groups. Click here to find out who's eligible and how to request and get treatment.
For a medical emergency please visit your local Emergency Room or Urgent Care Centre.  
Please be aware testing criteria will continue to change. The best way to stay current is the BCCDC website.