Response to COVID-19: Thank you for doing your part for the health and well-being of our communities.

Stay informed from trust worthy sources: Access reliable information from the BC CDC and updates by Dr. Bonnie Henry and Minister Adrian Dix.  
COVID-19 Vaccines are available! Register today: Get Vaccinated
View our strategies: Access to Care during COVID-19. 
View a joint letter from our Community Leaders
Thank you for being safe, calm, and kind.
Chilliwack Division of Family Practice
---
Mini Med School 2021 went VIRTUAL, and in case you missed it - you can watch the recordings! click here to view.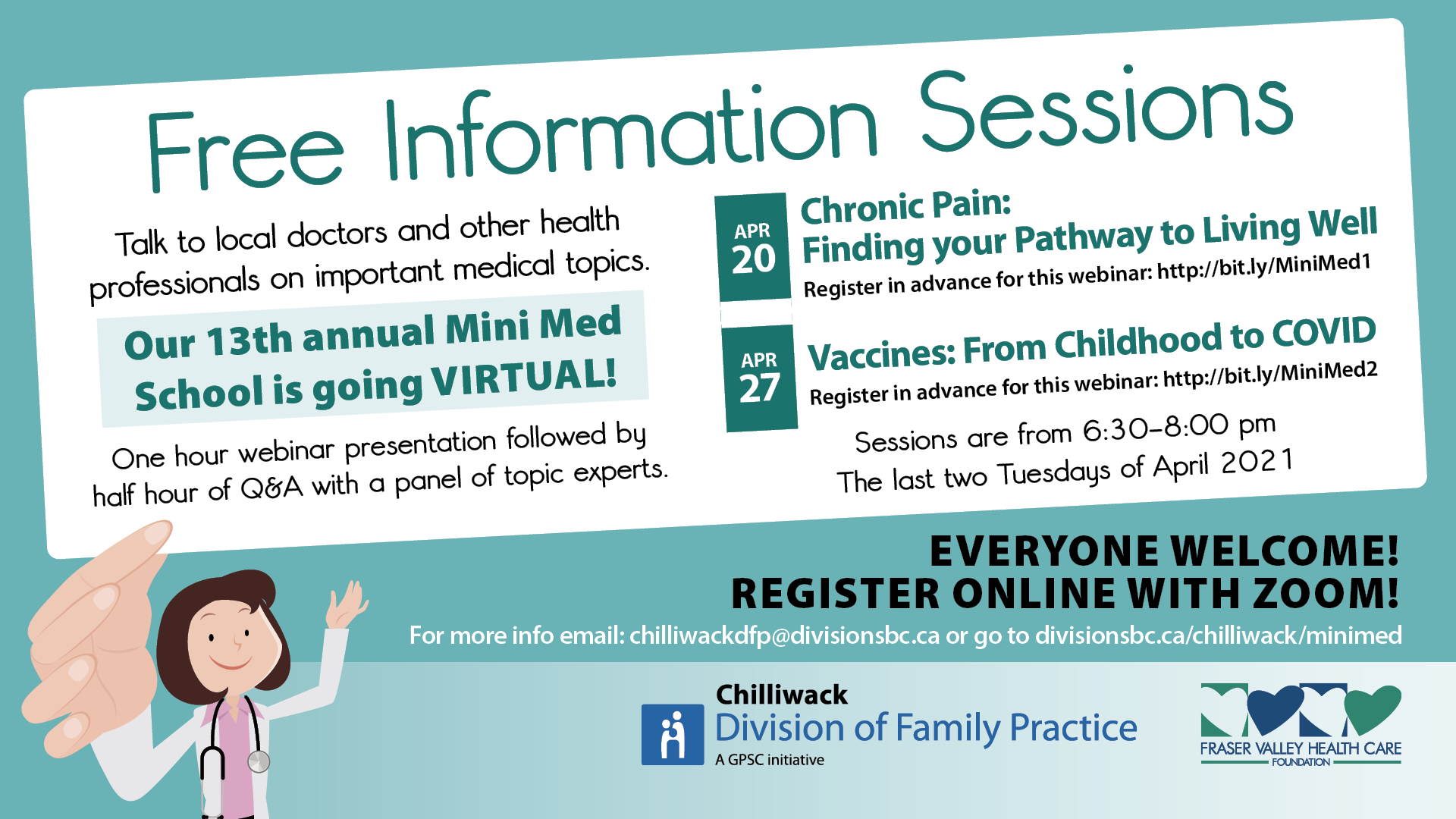 ---
#HeartsInTheValley

We invite you to join in this local campaign to show your support and thank our local frontline heroes!

Click here to download the poster, then print, colour, write a message and cut out the hearts!
 
Display in a window, on your front door or around your home or business. 
 
Post a photo on social media using #HeartsInThe Valley and tag a frontline hero you know!


We're all in this together!
---
Chilliwack, Agassiz-Harrison and Hope BC
The Chilliwack Division of Family Practice is a non-profit society that represents family physicians in Chilliwack, Agassiz, Seabird Island and Hope. We also have nurse practitioners, medical residents, and medical students as associate members. Our members provide primary care services from Chilliwack to Boston Bar and we strive to improve health care services for patients by supporting an engaged and collegial medical community.
Vision: Extraordinary health care by engaged family practice providers.
Mission: To empower family practice providers to deliver, in partnership, access to longitudinal, comprehensive health care.
We Value:
Autonomy
Accountability
Equity
Collaboration

Responsiveness
Sustainability
Transparency
Wellness