Welcome to the Campbell River & District Division of Family Practice

The Campbell River and District Division of Family Practice (the Division) represents family physicians in the communities of Campbell River, Oyster River, Quadra Island, Cortes Island, Sayward, and Gold River.

The Division gives area physicians an opportunity to work collaboratively with the Health Authority, the FPSC, the Ministry of Health and Doctors of BC to identify health care needs in the local area and develop solutions to meet those needs.
---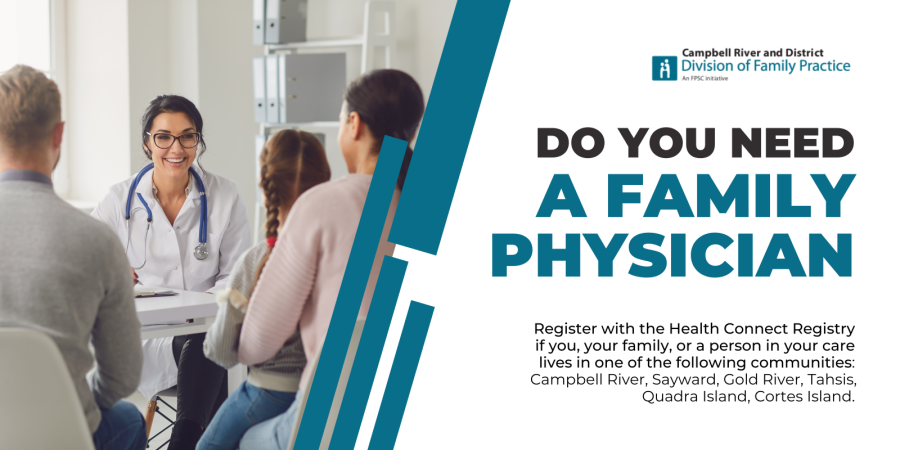 If you need a family physician or nurse practitioner, the Campbell River and District Primary Care Network can help. Register with the Health Connect Registry online or by calling 811! Once registered, you will be contacted by your Primary Care Network team when a family physician or nurse practitioner is available.

NOTE: Access to a physician or nurse practitioner in Campbell River and District will be limited by the number of providers accepting patients. In the meantime, if you need care now, please consider accessing walk in services or the emergency services at our local Campbell River area hospital or visit our list of community health and social service programs.
---

2023 SPIRIT AWARD NOMINATIONS OPEN NOW
It's that time again! The 2023 awards celebration will be held on Sept. 16! Stay tuned for more details.
In the meantime, start thinking about who you would like to see honoured for their dedication, passion, talent, and tireless efforts to provide significant contributions to meaningful healthcare initiatives.
This year there are 12 award categories to choose from. Find a full description of each award, as well as more information about the event, HERE.