October 21, 2020 | With many community doctors turning to virtual care to keep patients and staff safe during the pandemic, one of the questions raised was:  "What can we do to help vulnerable patients who don't have access to technology?"
Dr Pardeep Dhillon and the Ridge Meadows Division of Family Practice stepped up to the challenge with a simple, yet creative, solution. Dr Dhillon operates a family practice out of Pitt Meadows' Ford Road Medical Clinic that serves low-income and homeless populations through the Food for The Soul Project Society (FFTSPS) in Maple Ridge.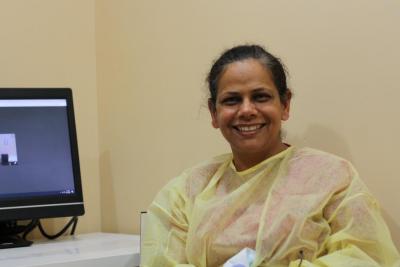 "People who are homeless don't always have smartphones and computers, so they need to visit a physical location," says Dr Dhillon. "There wasn't sufficient personal protective equipment available to offer face-to-face appointments, posing a real challenge for providing care to a very vulnerable population."
"Because of my background in virtual care, right away we set up a video screen in the exam room and began offering on-site virtual appointments. The screen is touchless and washed down after each appointment."
Dr Dhillon is well versed in virtual care. She has offered video-based appointments to her Ford Road Medical Clinic patients since January 2019 as a complement to (not a replacement for) in-person care.
As a member of the Ridge Meadows Division of Family Practice's Strategic Advisory Committee, Dr Dillon helped the local medical community respond quickly and effectively to the crisis by helping develop a community strategy for supporting virtual care adoption and mentoring family physicians during the transition.
Although improved PPE availability now enables Dr Dhillon to increase her in-person visits, she plans to continue providing virtual visits when they enhance access and/or patient safety.
"Moving forward, I am offering a mixture of virtual care as well as in person visits," says Dr Dhillon. "The morning is usually reserved for virtual care appointments and office visits are usually done after lunch. Offering this blend of service has been beneficial not only for improving patient access and care, but it has also helped my own well-being."
---
The FPSC and Doctors of BC offer supports for doctors in delivering virtual care and to make the transition to resuming in-person care. For more information see Doctors of BC's Coronavirus (COVID-19) Updates.