[YOUR CLINIC NAME] employs [#] Medical Office Assistants, [and # of other employees]. The clinic organizational chart can be found in Toolkit Section 1.6.
All employees enter an employment contract with [YOUR CLINIC NAME]
[YOUR CLINIC NAME] also contracts with the following positions or companies:
Information Technology Consultant: [insert information]
Bookkeeper: [insert information]
Cleaners: [insert information]
Sharps Disposal: [insert information]
Confidential Paper Shredding: [insert information]
[Others: Insert Information]
3.1 Roles
Practice Manager: The Practice Manager is the main staff contact for payroll and staff work scheduling. Example Practice Manager job description.
Medical Office Assistant: Example MOA job description.
[Other clinical roles may include, for example:
Medical Director
Human Resource Director
Business Manager
EMR Champion
Privacy Officer
Office Meetings Organizer
Payroll, Accounts, Billing
Purchasing and Equipment Management
IT Manager]
3.2 [YOUR CLINIC NAME] Contact List
Staff contact information is strictly confidential, and is not to be shared with patients. Physicians may share their own contact information with patients at their own discretion. [Or insert your own share policy]

The following is an example: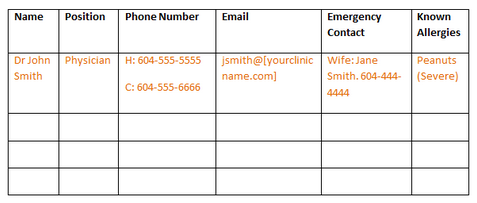 3.3 Employee Hours of Work and Pay Standards
[YOUR CLINIC NAME] uses the BC Employment Standards Act as the basis for policy.   
Policies in place include:
Maximum Work Hours:  Employees may work up to 40 hours per week and 8 hours per day
Time Keeping: [describe where hours are recorded and any policies about recording overtime hours]
Some examples:
An MS Excel file is stored on the front desk computer or a clinic Dropbox folder.  Staff enter their hours at the end of each workday in their designated row, under the current days column
The clinic uses Quickbooks online as the accounting system.  Each employee has been given a username and password to log in via the internet and record their hours and activities at the end of each day.
Employees use their name and password to login to the payroll system and record hours there (insert instructions).
Overtime: Overtime compensation is paid is in accordance with the BC Employment Standards Act.  All overtime work performed must receive a [doctor's/supervisor's] prior authorization.
Extended Health and Dental Benefits: Employees that work more than 20 hours per week over a three month period are eligible for extended health benefits through the Doctors of BC Health Benefits Trust Fund plan managed by Great West Life. More information about the plan.
Unpaid Breaks: Employees must have a 30 minute unpaid meal break if a shift is 5 hours or more.
Paydays: [insert payday schedule]
An example:
Paydays are every second Friday, for the period ending the previous Friday.  Payments are made by direct deposit to the employee's bank account.  Employees can access their pay information electronically through Payworks payroll system.
Statutory Holidays: [YOUR CLINIC NAME] observes ten statutory holidays:

New Years Day
Family Day
Good Friday
Victoria Day
Canada Day
B.C. Day
Labour Day
Thanksgiving Day
Remembrance Day
Christmas Day
Further information about how statutory holidays are paid. 
Sick Days: [insert policy]
An example:
Staff are eligible for 6 days per year of paid sick leave, after the 3 month probationary period is complete. Staff must phone their supervisor giving as much notice as possible. 
Or: 
[YOUR CLINIC NAME] does not offer sick pay.
Vacation Allowance: [insert policy, or state that Employment Standards Act is followed]
[Note that ESA requires: When an employee takes a vacation after completing one year of employment, vacation pay must be at least four per cent of the employee's total earnings from the previous year.
After five consecutive years of employment, vacation pay increases to six per cent.
A person who is employed for less than one year is not entitled to take a vacation, but must be paid four per cent vacation pay on termination of employment.
Vacation pay is not payable if a person is employed for five calendar days or less.]
Uniform Allowance:  [The ESA requires that:
If an employer requires an employee to wear a uniform or special clothing, the employer must provide, clean and maintain it at no cost to the employee.
Clinics that require staff to wear scrubs of their own choosing is not considered a uniform. A dress code (no jeans, no cut-offs, dark clothing, business casual) is not a uniform.
Employers and employees can agree that the employer will reimburse employees for cleaning and maintaining the special clothing.
Personal safety equipment required by the Workers' Compensation Board is not considered special clothing unless the equipment also associates the wearer with the image or identity of the employer.]
Termination Provisions:  [The ESA requires that employees who are terminated receive written notice or compensation based on length of service.  Consider including a statement about termination to reduce risk of civil litigation for wrongful dismissal, e.g. "If for any reason you leave this position, the minimum termination provisions in the Employment Standards Act fact sheet will apply."
More information about the BC Employment Standards Act.
3.4 Scheduling
[Insert who is responsible for scheduling and describe the scheduling process for doctors and support staff]

An example:
The Practice Manager is responsible for scheduling all employees including MOAs and reception staff. The schedule is provided one month in advance for all clinic staff. Doctors provide their own schedule three months in advance, dependent on clinic availability.
​
[Insert Where is the schedule located (if electronic, provide link here)]

An example:
The schedule is located on the clinic shared Dropbox, and is posted in the kitchen approximately one month in advance.

[Insert the schedule features: (describe schedule features)]

An example:
The schedule includes scheduled employees, expected hours, and vacation requests.
3.5 Opportunities for Cross Coverage

[Insert your own clinic policy for cross coverage]

Here is an example:
[YOUR CLINIC NAME] supports employees learning components of others' jobs, both to cover during absences and to promote better knowledge, appreciation and understanding of how the clinic operates.
The [Practice Manager] is responsible for arranging for cross coverage of non-medical staff. The Medical Director is responsible for monitoring cross coverage for the physicians. Each clinician is responsible for arranging their own cross coverage.
3.6 Performance Monitoring Policy

[Insert your own clinic performance monitoring policy]

Here is an example:
The [Practice Manager] is directly responsible for monitoring [YOUR CLINIC NAME] staff performance.
[YOUR CLINIC NAME] monitors and evaluates every new employee's performance for three months before confirming his or her appointment in a position.  New staff members will be evaluated against their job descriptions:
After completing their probation period (three months)
Again, in nine months (at the 12-month point)
After that, the employee will develop an Employee Performance Development Plan
Employee Performance Development Plan Cycle
Each employee will have an Employee Performance Development Plan (EPDP) which will be reviewed annually. EPDPs will be updated at least every two years. The EPDP process includes the following steps:
Confirm job duties (job description) (employer)
Establish the EPDP which outlines specific areas for development for the employee (employee and employer)
Implement the EPDP (employee)
Evaluate the employee's progress against the plan and update the EPDP for new learning goals (employee and employer)
Renew the plan (back to step 1)
EPDP Roles
Human Resource Director:  The Human Resource (HR) Director is responsible for approving all EPDPs including the performance appraisal component. 
Practice Manager: The Business Manager is responsible for coordinating the EPDP process and ensuring all staff EPDPs are current.
Employees: Employees are responsible for developing and implementing their EPDP and completing a self-evaluation report
Evaluators: Evaluators are responsible for completing a performance appraisal for the employee.  Usually two evaluators will complete appraisals for every employee. Either one or both evaluators may attend the performance review meeting.
EPDP performance review and development forms.
3.7 Training and Professional Development

[YOUR CLINIC NAME] will support employees in their professional development, per the program that has been established in their approved Employee Performance and Development Plan.
Clinic-supported education and training programs should be directly related to and needed in the employee's position at the clinic. Examples of supported training are:   
Practice Support Program (PSP) modules
Training related to preparing patients for their appointments (lab tests, weight, height, BP tru etc.)
First Aid training
WHMIS training
"Code White" training for handling workplace violence
Computer training
CMHA approved MH first aid training
Basic Cardiac Life Support
Medical Terminology training
[Insert examples of other training]
3.8 Personnel Records and Administration
The task of handling personnel records and related administration functions at [YOUR CLINIC NAME] has been assigned to the [Practice Manager]. Personnel files will be kept confidential at all times and are kept [location].
3.9 [YOUR CLINIC NAME] Employees as Patients

[Describe policy regarding clinic employees as patients at the clinic.]

The following is an example:
[YOUR CLINIC NAME] does not accept employees as attached patients.  The clinic will do its best to assist employees find their own family physician at another clinic.
3.10 Vacation and other Leave Requests
[List vacation and leave policies. This may include: procedures for making vacation requests, policies about shift changes, vacation and leave calendars, number of employees that may be off at any given time, and how vacation requests are evaluated (e.g.: seniority, previous requests, fairness, etc.)]

The following is an example:

The Practice Manager will maintain and post a calendar showing all approved vacations and leaves of absence. The vacation calendar is posted in hard copy in the staff room.

Staff should submit vacation requests to the Practice Manager. 

As a general rule of thumb, up to two MOAs will be on vacation at any given time

The Practice Manager will communicate dates for submitting vacation requests for major holiday seasons (e.g. Christmas, Easter and summer) staff. Where more than two MOAs request the same time, approvals will be granted considering previous vacation times, seniority, and fairness.  All other vacation requests shall be granted on a first come, first served basis.
3.11 Relief Shifts
Relief shifts to cover illness and vacations will be allocated based on the following criteria [enter criteria for relief shifts at your clinic]:
Skills (if applicable)
Availability (not overtime)
Seniority
Fairness
3.12 Employee Standards of Conduct
3.12.1 Attendance and Punctuality
[YOUR CLINIC NAME] expects employees to be ready to work at the beginning of assigned daily work hours, and to reasonably complete their projects by the end of assigned work hours.

From time to time, it may be necessary for an employee to be late or absent from work. [YOUR CLINIC NAME] is aware that emergencies, illnesses, or pressing personal business that cannot be scheduled outside work hours may arise. It is the responsibility of all employees to contact all affected parties if they will be absent or late. Staff must contact the [Practice Manager] as soon as possible if they expect to be late or absent from work.
3.12.2 Bullying and Harassment Policy
[YOUR CLINIC NAME] does not tolerate bullying or harassment. All personnel will be treated in a fair and respectful manner.

Bullying includes any inappropriate conduct or comment by a person towards a worker that the person knew or reasonably out to have known would cause the worker to be humiliated or intimidated.  Bullying does not include any reasonable action taken by a supervisor relating to the management and direction of the worker in the place of employment.

Workplace harassment can take many forms. It may be, but is not limited to, words, signs, offensive jokes, cartoons, pictures, posters, e-mail jokes or statements, pranks, intimidation, physical assaults or contact, or violence.

Sexual harassment may include unwelcome sexual advances, requests for sexual favors, other unwelcome verbal or physical contact of a sexual nature, or any conduct that creates an offensive, hostile, or intimidating working environment or prevents an individual from effectively performing the duties of their position.

Staff must not engage in bullying or harassment of any type, and must report any bulling or harassment they observe.
More information: Worksafe BC bullying, and complaint submission forms. 
3.12.3 Bullying and Harassment Procedures 
How and when investigations will be conducted
Most investigations at [YOUR CLINIC NAME] will be conducted internally. In complex or sensitive situations, an external investigator might be hired.

Investigations will:
Be undertaken promptly and diligently, and be as thorough as necessary, given the circumstances.
Be fair and impartial, providing both the complainant and respondent equal treatment in evaluating the allegations
Be sensitive to the interests of all parties involved, and maintain confidentiality.
Be focused on finding facts and evidence, including interviews of the complainant, respondent, and any witnesses.
Incorporate, where appropriate, any need or request from the complainant or respondent for assistance during the investigation process.
What will be included
Investigations will include interviews with the alleged target, the alleged bully, and any witnesses. If the alleged target and the alleged bully agree on what happened, then [YOUR CLINIC NAME] will not investigate any further, and will determine what corrective action to take, if necessary.

The investigator will also review any evidence, such as emails, handwritten notes, photographs, or physical evidence like vandalized objects.
Roles and responsibilities
The [Practice Manager] is responsible for ensuring workplace investigation procedures are followed. Workers are expected to cooperate with investigators and provide any details of incidents they have experienced or witnessed. If external investigators are hired, they will conduct investigations and provide a written report with conclusions to the clinic founders.
Follow-up
The alleged bully or harasser and alleged target will be advised of the investigation findings. Following an investigation, the [Practice Manager] will review and revise workplace procedures to prevent any future bullying and harassment incidents in the workplace. Appropriate corrective actions will be taken within a reasonable time frame.

In appropriate circumstances, workers may be referred to a counselling program or be encouraged to seek medical advice.
Record-keeping requirements
[YOUR CLINIC NAME]  expects that workers will keep written accounts of incidents to submit with any complaints. [YOUR CLINIC NAME] will keep a written record of investigations, including the findings.
3.12.4 Gifts
Advance approval from management is required before an employee may accept or solicit a gift of any kind from a patient or vendor. Employees are not permitted to give unauthorized gifts to patients.
3.12.5 Dress Code
Employees are expected to dress in an appropriate manner to the clinic.  

Employees who are engaged in patient interaction are expected to wear hospital scrubs. This is part of the employee safety policy.

Employees who are not engaged in patient care are expected to wear business or business casual attire during office hours. Long-term contractors who do not have company uniforms or safety gear are also expected to appear professional. If uncertain whether your attire is appropriate, you are expected to confirm with the [Practice Manager].

Business Casual dress includes, but is not limited to: 
Slacks
Cotton or synthetic pants or skirts
Blouses, Dress Shirts, casual shirts, polo t-shirts
Dress shoes, walking shoes, flats, sneakers, dress heels and leather deck-type shoes
The following is not appropriate:
Beach wear
Jeans
Revealing/see-through clothing
Torn, or frayed clothing/clothing with holes
Shorts/short skirts
Tank tops, spaghetti straps, midriff length tops, off the shoulder tops
Offensive language on clothing
Clothing with commercial or political slogans
Athletic wear
Link to downloadable Dress Code policy
3.12.6 Personal Use of Computer, Phone, Internet and Mail, and Social Media
[YOUR CLINIC NAME] property, including computers, phones, electronic mail, and voice mail, should be used only for conducting [YOUR CLINIC NAME] business. Incidental and occasional personal use of clinic computers, phones, or electronic mail and voice mail systems is permitted, but information and messages stored in these systems will be treated no differently from other business-related information and messages. This policy includes using clinic computers for accessing personal social media sites.  

Staff may not at any time use clinic computers to access pornography or other adult oriented web sites.
3.12.7 Privacy and Confidentiality
All staff must follow policies described in Chapter 5: Privacy and Confidentiality. All staff must have an up-to-date confidentiality form signed and filed into their HR file in order to work at [YOUR CLINIC NAME].
3.12.8 Workplace Safety
All staff must obey guidelines described in Chapter 6: Emergencies and Occupational Health and Safety. This is to ensure the safety of all staff members.
3.13 Customer Service Standards
All staff are expected to deliver high quality customer service. Examples of expected customer service standards are:
Greet each patient as they arrive to the clinic.
Acknowledge new incoming referrals within 5 business days.
Respond to patient emails and phone calls within 1 business day.
Respectful and efficient communications with patients and their families.
3.14 Employee Contracts and Agreements
Each staff member employed at [YOUR CLINIC NAME], has a letter of employment that states roles, responsibilities and rate of pay. Staff may either be paid a salary or hourly rate. Any changes to the role, responsibilities or rate of pay will be reflected with an updated letter of employment.
Most clinicians are under contract. 
The [Practice Manager] is responsible for maintaining all clinician and staff contracts.
View a sample employee contract (originally developed by the Victoria Division of Family Practice for their members).