November 13, 2020 | We recently updated styles on the divisions website to improve accessibility for visitors with visual impairments. To do this, we listened to divisions' feedback, did a website audit, reviewed best practices, and identified solutions that bring us closer to a website more inclusive to users of all abilities.
Here are the website style changes:
Changed font colour from light grey to dark grey
(see image 1)
Increased font size found on 'main content section' of all pages
(see image 1)
Orange hyperlinked text is now bold
(see image 1)
Font colour on featured strips (see image 2) and featured highlights
(see image 3) changed from white to dark grey
Image 1: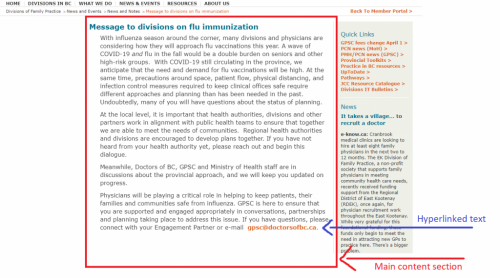 Image 2:

Image 3:

If you'd like to know more about these updates, please contact Hillary McLean, Communications Officer, Web.