New After Hours Urgent Care Clinic open for all in the Comox Valley
May 2021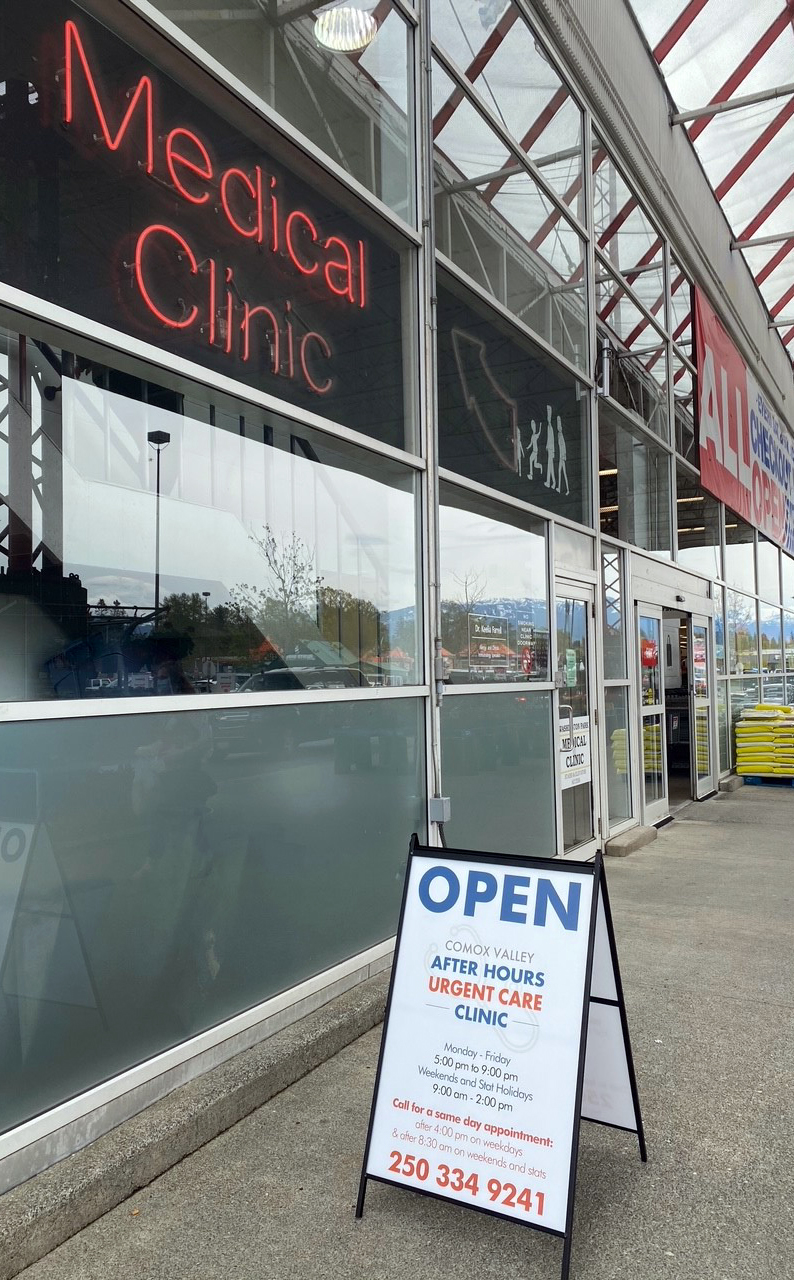 COMOX VALLEY, BC – The Comox Valley Division of Family Practice, in partnership with Island Health, has expanded access to urgent primary care services for patients outside regular office hours.
The Comox Valley After Hours Urgent Care Clinic provides access to evening (5 p.m. - 9 p.m.) and weekend (9 a.m. - 2 p.m.) urgent medical care. Operating out of Washington Park Medical Clinic (757 Ryan Road, Courtenay, BC - above Superstore), local family doctors provide care for urgent, non-emergency health concerns. This clinic is unique in that every family doctor and general practitioner in the Comox Valley is welcome to take shifts.
Since the onset of COVID, local family doctors noticed a growing gap in care outside of regular working hours. To address this, the community of doctors responded by creating a community after hours clinic. "We created a clinic that provides timely access to urgent, non-emergency health care after most family practices and walk-in clinics have closed." said Dr. Alfredo Tura 
The clinic has a strong collaboration with the Comox Valley Hospital Emergency Department. The After Hours Urgent Care clinic accepts referrals for patients with non-emergent concerns to access care efficiently and contributes to reducing volumes in the ER.
"We want to provide the right care at the right time," says Dr. Tura "We work closely with the patients to understand the urgency of their health concerns; through education and awareness, we discuss the most appropriate care for the patients' needs. The focus of our clinic is to provide access to urgent primary health care to ensure patients can get the care they need, when they cannot wait to see their family doctor and do not need emergency care." 
This means more access to same-day care for people who need health care within 12 to 24 hours and don't require a visit to the emergency department, such as people with sprains, cuts, high fevers, work injuries, headaches and minor infections. All visits are communicated with the patient's family doctor for follow-up care.  
The clinic has been open for one and a half months, and patient feedback has been very positive. Through patient surveys, people who attended the clinic reported high satisfaction with the care they received, expressed timely access to care, and understood how to follow up on their care.  Most of all, the patients expressed an immense appreciation for the doctors and staff available to provide care when they or their family are in need.
The clinic hours are Monday to Friday, 5 p.m. to 9 p.m., and on weekends and statutory holidays from 9 a.m. to 2 p.m. Call for an appointment after 4:00 p.m. on weekdays and 8:30 a.m. on weekends & stats at 250 334 9241.
This clinic is currently funded in partnership with Island Health. Find more information on the Comox Valley After Hours Urgent Care Clinic here.
For more information: Catherine Browne, Project Manager
Comox Valley Division of Family Practice
P: 250-898-3310 E: cbrowne@divisionsbc.ca
Published in: