Comox Valley Hospital
North Island Hospital - Comox Valley Campus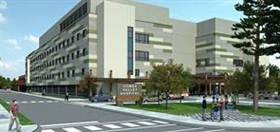 Comox Valley has a new state-of-the-art hospital creating a better quality of life for people living in North Vancouver Island. 

Opened in Fall 2017, ​the 153-bed acute care facility was carefully designed to meet the needs of residents and leverages technological advances, service efficiency, and innovations in healthcare delivery.  

Two 'campuses' were built - one in Comox Valley and one in Campbell River - the coordinated leadership and coordinated care result in a One Hospital, Two Campuses concept. Services include:
Emergency
Maternity services
Psychiatry
Orthopedic clinic
Ambulatory procedures
Cardio-pulmonary diagnostic services
Operating rooms 
Surgical daycare 
Telemetry 
Pediatric care 
Outpatient clinics 
Chemotherapy and Medical Daycare 
Medical Imaging (including MRI) 
Rehab 
Pharmacy
Laboratory Services
Read the North Island Hospital Project Newsletters or visit the official WEBSITE for additional information. 
The Views at St. Joseph's
Effective October 1st, 2017 all acute care services, including Emergency, relocated from St. Joseph's Hospital to the North Island Hospital - Comox Valley Campus.

Long-Term Care and Hospice services remain unchanged and are provided at The Views at St. Joseph's. 
IHealth EMR
Learn about the new IHealth EMR that is ready to transform the way health and care is delivered and received on Vancouver Island. Visit the IHealth website