Emergency Preparedness
In the event of a catastrophic event, the ability of Comox Valley Hospital to meet patient demand might be compromised. To help ensure everyone in the Comox Valley gets the care they need, the Comox Valley Division has developed a detailed emergency response plan. 
| | |
| --- | --- |
| | It is the first such medical care response plan in BC. We are working closely with the Comox Valley Emergency Preparedness program, Island Health, the Hospitals, and 19th Wing Comox to create a well-coordinated response that is fast, efficient and effective.  |
Our plan centres on increasing patient treatment capacity and reducing the distance between residents and medical care. Based on strategic locations throughout our region, we have identified clinics which can serve as Disaster First Aid Stations to provide triage and as treatment centres for ambulatory patients. See the brochure below with a map, list of clinics, and instructions/information in the event of an disaster. 
WHAT IS A DISASTER FIRST AID STATION (DFAS)?

DFAS is a medical clinic in the Comox Valley that has agreed to provide first aid and basic medical care to the public in the event of a major disaster.

WHEN AND HOW ARE THEY ACTIVATED?

The medical clinic assumes the role as a DFAS upon request of the Comox Valley Emergency Program (CVEP) or if the need is very clear, such as after a severe earthquake.

HOW MANY DFAS CLINICS ARE THERE?

Currently there are 5 DFAS clinics (see list and map). These clinics were chosen based on their seismic resilience, geographic location, closeness to a pharmacy and ability to respond in a crisis. Other clinics may be added in the future.

SUPPORT & GUIDANCE

This initiative is supported by the College of Physicians and Surgeons of BC and Health Emergency Management BC. Its development has been guided by the principles identified in the Canadian Medical Association Code of Ethics, the College of Family Physicians of Canada recommendations and the Emergency Program Act of BC.
Comox Valley DFAS Clinic Locations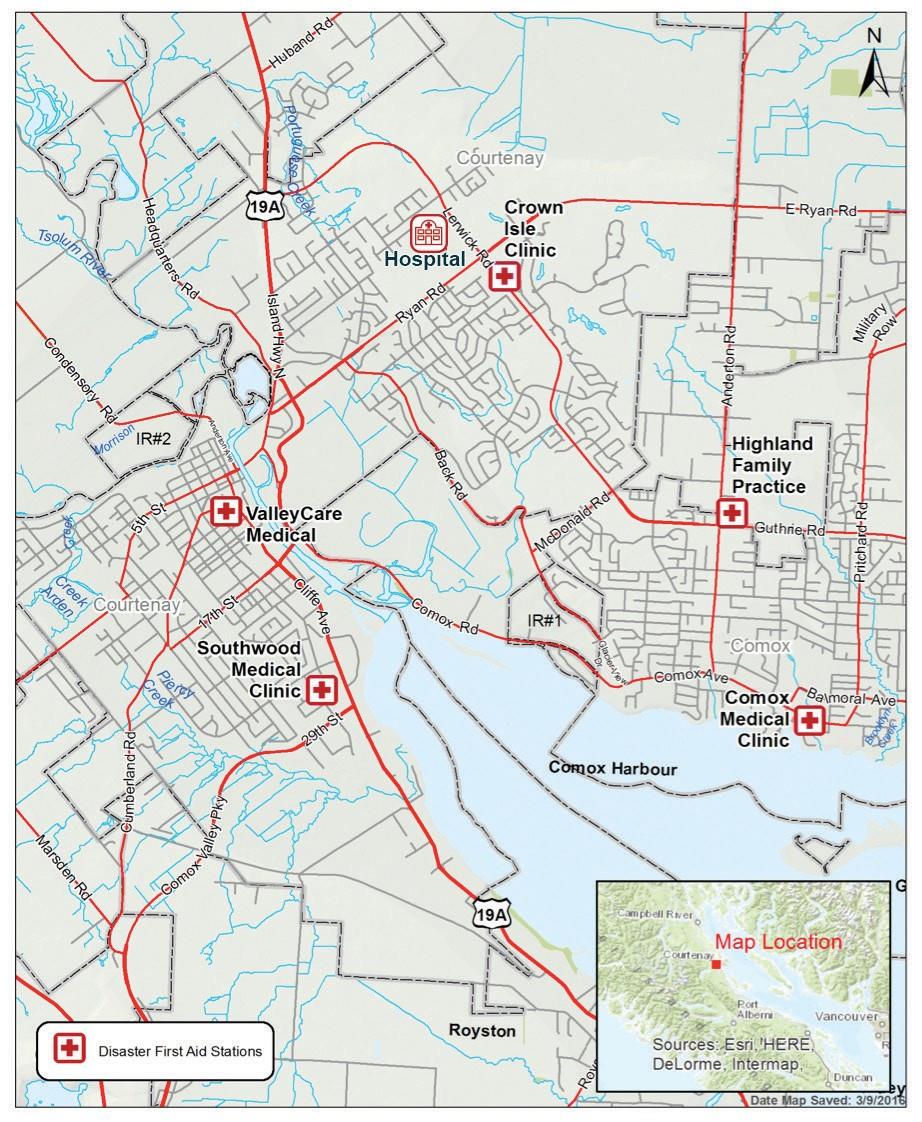 COMOX MEDICAL CLINIC: 100, 1695 Comox Ave., Comox BC
CROWN ISLE CLINIC: 300, 444 Lerwick Rd., Courtenay, BC
HIGHLAND FAMILY PRACTICE: 107C, 1966 Guthrie Rd., Comox, BC
SOUTHWOOD MEDICAL CLINIC: 1700, 2751 Cliffe Ave., Courtenay, BC
VALLEYCARE MEDICAL: Unit E, 310 8th Street, Courtenay, BC
CLICK HERE to download a copy of our brochure.

Emergency preparedness resources: