Mini Medical School
In its ​thirteenth year of running, the Annual Mini Medical School is a free information series is set to run VIRTUALLY on the last two Tuesdays in April this year!

Community members can talk with local doctors and other health professionals about important medical topics that matter to you.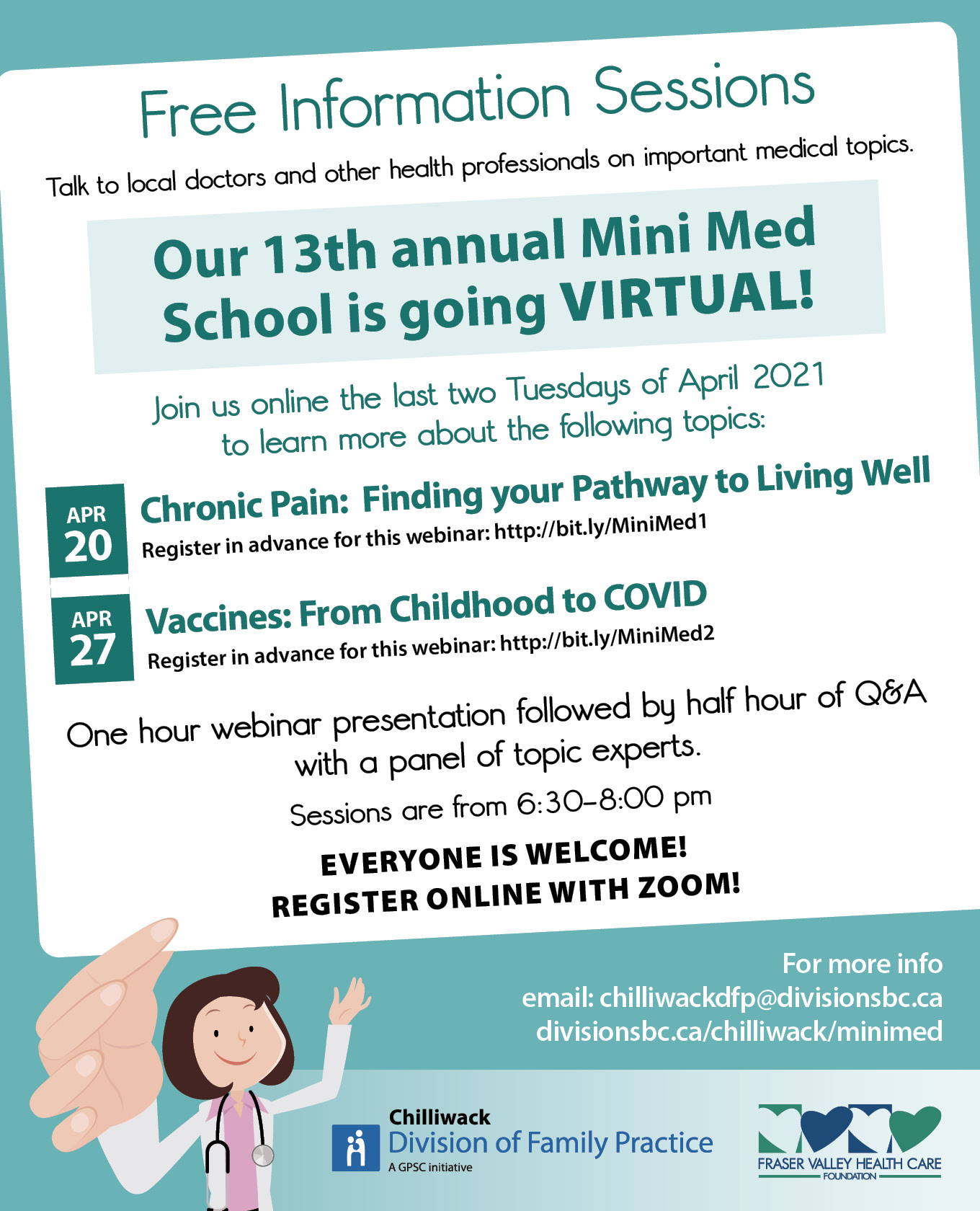 View our session on Chronic Pain, recorded on April 20th, 2021:
View our session on Vaccines, recorded on April 27th, 2021:


If you have a suggestion for future topics, please email our office. 
 
2018
Download the 2018 Chilliwack Poster here
Download the 2018 Canyon Poster here
2017
How to Talk to your Doctor Presentation >
Memento Mori - Medicine at the end of life Presentation >
Fentanyl, Addiction, and Homelessness... what can we do? Presentation >
Nutrition: What's Healthy and What's Not? Presentation >
 
2016 Elder College: Doctor In Your Pocket
How to Talk to Your Doctor Presentation >
The Cardiovascular System Presentation >
   VIDEO: Heart Anatomy >​
   VIDEO: The Heart and Circulatory System >
The Respiratory System Presentation >
   VIDEO: How Chronic Obstructive Pulmonary Disease (COPD) Develops>
   VIDEO: How Lungs Work >
   VIDEO: Understanding Asthma >
Depression and Anxiety Presentation >
2016
Have you heard of herd immunity? Public health strategies for keeping you well >
Mental Health Matters - Depression, Anxiety, and More >
How to Really ​Talk to Your Doctor >
End of Life Care - Having an exit strategy for life >
2015
How to Really Talk with Your Doctor >
When we Forget >
Immunizations: Why The Fuss? >
2014
Golden Years- Exercises and Falls >
Is There Such a Thing as a Good Death? >
Prostate Cancer: Myths and Truths > 
2013
Healthy Kids, Healthy Futures >
Why Don't Kids Come with Manuals? >
Wilderness Medicine for the Weekend Warrior >
Mental Health and Suicide Prevention >
Acquired Brain Injury >
2012
Nutrition >
Obesity and Nutrition > 
Depression, Anxiety, Stress >
2011
Chronic Pain >
Sprains, Strains and Staying in the Game > 
​
2010
Outdoor Medicine >
What is Your Doctor Thinking? Prevention Medicine >
2009