Live
Why Live Here?
As ​Chilliwack, Agassiz-Harrison, and Hope continue to grow, we are looking to expand the physician communities as well. We encompass a vibrant set of communities, ideal to foster your professional and personal lives. 

One of the main reasons cited by doctors coming to the community is the flexibility to tailor your practice to your needs and interests. From surgical assist and hospital shifts, to community outreach, after-hours clinics, and mentoring medical students and residents, the opportunities are endless! You'll discover that the physicians enjoy a collegial atmosphere and are supported by the Division. The physician community places a strong emphasis on continued education, co-ordination of primary care and advocacy for both, patients and physicians.

In Chilliwack, Agassiz-Harrison, and Hope, you can set up your practice in a way that suits your lifestyle. Doctors are encouraged to work in the hospital and play an active role in the community. In this section you will find useful family resources and information about local services and amenities. 

With breathtaking natural beauty right in your backyard and the big city just a stone's throw away, Chilliwack, Agassiz-Harrison, and Hope's locations and temperate climates make them attractive communities in which to set up shop. From fine dining, to scenic hiking trails, to top-notch schools, you will not be disappointed. Known as "The Great Outside," not only does the area facilitate professional growth, but it is also a great place to raise a family.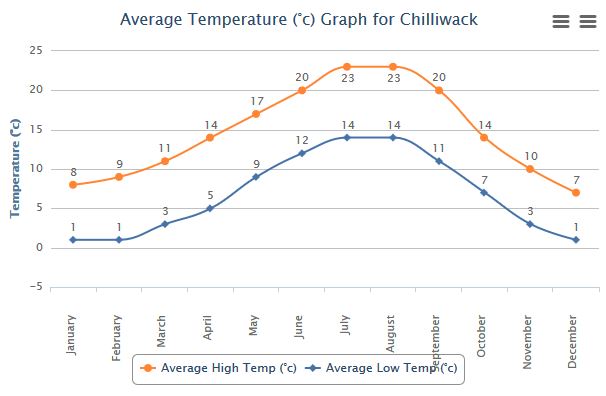 Chilliwack's mild climate with limited extremes provides excellent growing conditions for a wide variety of crops and agricultural products. In fact, when averaged from 1981 to 2010, Chilliwack had the warmest mean temperature for any city in Canada!

Chilliwack, Agassiz, and Hope are part of the Fraser Valley in the south western tip of British Columbia, Canada.
Private Schools

Private schools in Chilliwack and Agassiz-Harrison pursue a wide variety of educational experiences and are of high caliber. 

Cascade Christian School >
Chilliwack Adventist Christian School>
Highroad Academy >
John Calvin School >
Mount Cheam Christian School >
St. Mary's Catholic School >
Timothy Christian School >
Unity Christian School >

 

Specialty Schools

If your child is keen to explore interests in the fine arts or French immersion or if distance education is more suitable to your lifestyle, various specialty school options are available.

Rosedale Traditional Community School >
McCammon Traditional School >
F.G. Leary Fine Arts School >
Fraser Valley Distance Education School >
Early French Immersion >
L'école La Vérendrye >

 

Higher Education

There are several notable institutions of post-secondary education in the area, such as University of British Columbia, Simon Fraser University and University of Victoria. Specialized institutions like the British Columbia Institute of Technology and Emily Carr University of Art and Design are also within commuting distance.

 
 
 
 

Faith Resources

Learn more about faith-based resources and places of worship in Chilliwack, Agassiz-Harrison and Hope.
 
 
 
 
 

Community Centres

From swimming to weight rooms to fitness classes of all kinds, our local community centres are a fun way to stay fit and get the entire family (and friends!) involved. You can visit any of these facilities to learn more or click on the links below.

Agassiz Recreation Centre >
Cheam Leisure Centre >
Chilliwack YMCA >
Chilliwack Landing Leisure Centre >
Hope Recreation Centre >

 
 

Airports

With several airports close by, you can fly in and out to countless destinations across the globe all year round from Abbotsford, Bellingham USA, and Vancouver International Airport.
 
 

Libraries

Books, e-books, DVDs, homework help, and conversation circles are just a few of the great resources available at our local libraries. We have ​five libraries in Chilliwack, Sardis, Yarrow, Agassiz, Hope, and Boston Bar, which are great for kids and adults alike.
 
 

Shopping

Whether you're in the mood for some window-shopping or for splurging on a loved one, you'll find what you're looking for at Cottonwood Mall, Chilliwack Mall, District 1881: Downtown Chilliwack, or Eagle Landing.
 
 

Dining

From sushi, to pad thai to chicken souvlaki and everything in between, you're never too far from the nearest joint serving up your favourite delicacy:
Dining in Chilliwack >
Dining in Agassiz >
Dining in Hope >