Managing Chronic Wounds
---
Wound Care Family Practice Clinic Visits  
The Nanaimo Wound Care Initiative is excited to announce the roll-out of the Nanaimo Wound Care Algorithm and Patient Wound Care Passport and Self-Management Booklets. Project Lead Dr. Derek Poteryko, and Project Manager Laura Loudon, are currently visiting clinics to introduce and demonstrate the use of the Algorithm and Patient Self-Management materials in supporting the management and referral of complex wounds.
In addition to these tools, we will also be joined by a specialty wound care nurse who'll provide wound care education and speak to the recent changes Island Health has made to improve wound care provided through Nanaimo Community Health Services. 
To schedule a visit to your clinic, please contact our Wound Care Project Manager, Laura Loudon, at lloudon@nanaimodivision.ca. Sessional payment will be provided for your participation.
---
Wound Care Clinical Tools are available on Pathways.ca 
With the exception of the Passport, which is available as a printed booklet from the Division, the Algorithm and Print-Friendly Self-Management Booklets can be downloaded directly from Pathways.ca.   If you don't yet have access to Pathways, please contact Janice Schmidt, our Pathways Administrator, at  nanaimo@pathwaysbc.ca for your provider log-in. 
---
Wound Care Algorithm
The algorithm was developed over the past year through consultation and testing with local GPs, Specialists, Family Practice Residents and nurses. We hope that this new clinical tool will prove valuable in supporting your clinical decision-making, helping to build awareness of local resources and assisting you in navigating services for your patients. The algorithm is available locally on Pathways.ca.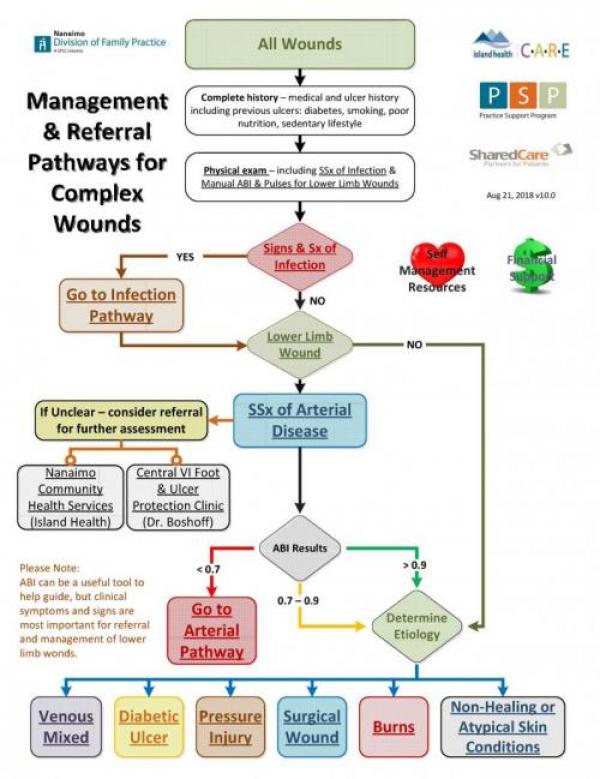 ---
Wound Care Patient Self-Management Resources
Patient self-management materials, including a patient passport and a series of self-care booklets, have been developed. After an initial scan of available resources in Canada, the project team chose to adapt materials developed in Ontario. These materials were vetted through a patient focus group, reviewed and edited by an experienced wound care nurse and received final review by two local GPs.
After clicking on the link, you will be redirected to the Pathways log-in screen; once logged on, you will be sent directly to the specific resource. 
---
Wound Care Knowledge Café Series
The series of 3 Wound Care Knowledge Cafes, organized by the NDoFP, gathered together Primary Care Providers and Nurses for meaningful discussions around specialty areas related to wound care, such as dermatology, plastics, infectious disease and wounds in general practice. Each Wound Care Café table was led by a specialist who primarily focused on open discussion on patient care and referrals related to their specialty area. The events were well attended and successful in building relationships between specialists and GPs and improving wound care knowledge.
---
ABI Videos
As part of the Nanaimo Wound Care project, the Nanaimo UBC Family Practice Residents came together to create two videos to demonstrate the clinical technique for performing an ABI or Ankle Brachial Index Assessment in office. One is the traditional Doppler technique, and the other uses an Oscillometric blood pressure device.