Play Here
"I like Nanaimo because it is the gateway to our coastal playground where one can golf, ski, and kayak on the same day, and sail the next!"  Dr. Gerry Vaughan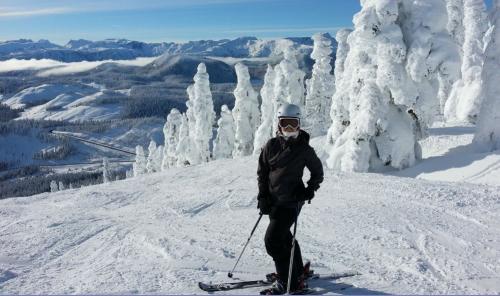 Image: Dr. Laura Barron at Mount Washington.
Nanaimo has been coined the "Hub City" due to its central location on Vancouver Island. You can access mountains, oceans, lakes, hiking, and mountain biking all within 5 minutes from any point in Nanaimo. If you prefer a day trip, Tofino, Mount Washington, Victoria, or Vancouver are all within reasonable driving distance.
Anytime you feel like surfing, whale watching, sailing, skiing, kayaking, shopping or just lazing around at the beach – you can do it. With each one of these ​destinations being all approx. 2 hours by car via BC ferries or 20 minutes by float plane or Helijet, your options for last-minute trips and ​excursions are endless...
---
Nanaimo's Must Do list 
---
Family Fun!
Swimming, Skating, Clubs, Organizations, Classes, and more at Nanaimo Recreation & Parks.
Indoor Rock Climbing at the Romper Room.
Cannon Firing, every summer day beside the Bastion, presented by the  Nanaimo Museum.
Adventure to an obstacle course in the trees, zip-lining, and even bungee jumping at WildPlay Element Parks.
Ever been in a human-size maze? Will you make it out? McNab's Corn Maze.
Afternoon or close camping trip over to Saysutshun, Newcastle Island. Watch out for the Blond Racoons!
---
Up for a day trip?
---
Wildlife in the Area
Enjoy the majestic wildlife present on Vancouver Island. There have been sightings of everything from dolphins, orcas, bears, and cougars who use the Island wilderness as their home. Check out some of the wildlife watching tours, and keep your eyes out on the trails as you may be lucky enough to spot one!