Live Here
"Living in Nanaimo provides a community of colleagues to work and play with and a natural landscape to explore." - Dr. Laura Barron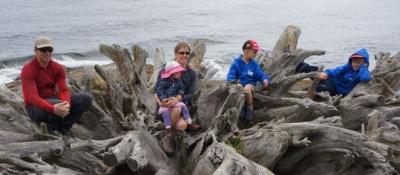 Image: Dr. ​Ryan Kurytnik and family.
Living in Nanaimo, you get the best of both worlds: a rural setting with all the amenities of city living. The best part is, compared to neighbouring cities, Nanaimo's real estate market remains reasonably stable and you can choose from the waterfront, lakefront, or start a farm if you prefer. For a night out, Nanaimo boasts a variety of performing arts theatre options, the most popular being The Port Theatre which also hosts the Vancouver Island Symphony. 
---
Quick Snapshot of Nanaimo Community
Welcoming region of approx.100,000 residents 

A variety of practices to choose from will ensure YOU practice how YOU want

13 clinics ranging from small, family-run to large complex care facilities

Addictions medicine, family planning, sports medicine, obstetrics, Resident teaching/mentoring, community work, and more options for enhanced practice opportunities

Diversity of schools including private, public and French immersion, community colleges, and university

Affordable real estate, low traffic, and a community full of opportunities for family fun and social engagement

​A diverse population, nearly a quarter of new residents to Nanaimo are from outside of Canada
For more information on Nanaimo visit the Nanaimo Chamber of Commerce! 
Download the Nanaimo Business Resource & Relocation Guide
---
Real Estate & Professional Services
Nanaimo boasts a stable real estate market with affordable housing options and beautiful historic or newly developed neighbourhoods. 

Please visit our Core Loyalty Program page to set up a real estate tour, purchase or finance a vehicle, plan a family trip, or more from trusted community partners supporting our local physicians and families. 
Contact us for assistance or a list of short-term rentals for your visit or relocation. 
---
Education
Nanaimo has a mixture of schools for primary to university to choose from so you can ensure your child(ren) get the education that fits their learning best. 

Private: Aspengrove School 
Private Christian: Nanaimo Christian School 
Montessori: Four Seasons, Discover, Trillium
Public: School District 68 - Elementary, Secondary and French Immersion
College: Sprott Shaw College, Discovery Community College
University: Vancouver Island University  
University: University of Victoria*  
*Just over an hour drive south of Nanaimo
---
Community Events
Look HERE for updated Community Events in Nanaimo!  
Other links with upcoming events:
---
Farmer's Markets
Island Roots Winter Farmer's Market
Indoors @ Pleasant Valley Hall; Wednesdays 3-6 pm
---
Community Groups
Looking for things to do and people to meet? Follow these links to find groups in Nanaimo that are Free to join!

Meetups Nanaimo
---
Useful Links
Central Vancouver Island Multicultural Society & Immigration Welcome Centre  
Nanaimo Economic Development Corporation
Vancouver Island Real Estate Board
---
Ready to make the move? 
Contact us today by email or call (250) 591-1200.