CME & Events
The Nanaimo Division is frequently contacted by individuals and organizations who wish to share their opportunities with local medical professionals. Please find below a chronological list of the opportunities we have been made aware of and contact events@nanaimodivision.ca if you have any further questions.  
To view past Nanaimo Division CMEs, please click here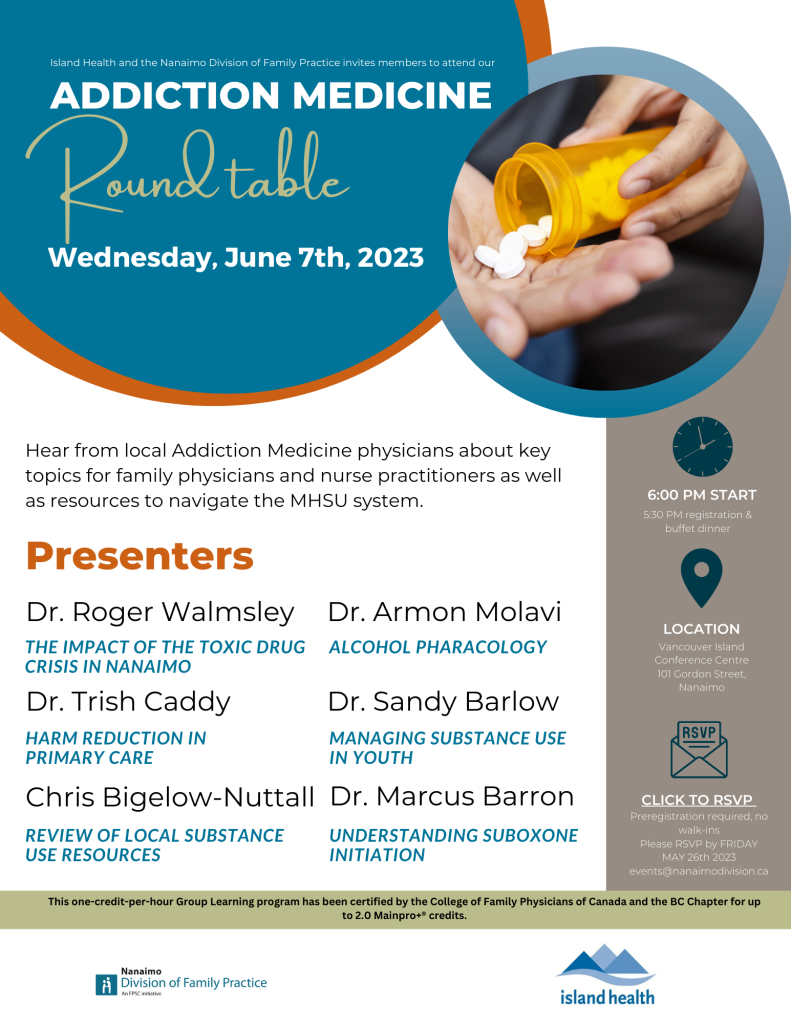 Addiction Medicine Roundtable CME hosted by Island Health and the Nanaimo Division 
Wednesday June 7th 2023 I 1730-2000 PT I Vancouver Island Conference Centre
Overview: Physicians and nurse practitioners are invited to hear from local knowledge experts on Addiction Medicine and MHSU resources. 
---
Please find a list of all upcoming UBC Continuing Professional Development courses here
---
2nd Annual Island Medical Conference: Updates, Skills & Networking
June 2nd and 3rd 2023 | 0800-1600 PT | Victoria Conference Centre
Target Audience: All health care professionals working either on the island or elsewhere
Overview: A mix of plenary sessions, breakouts, and panel discussions. The focus is on topics seen by health care professionals every day in practice.
---
16th Annual UBC Practice Survival Skills Conference
June 10th 2023 | 0830-1610 PT | Virtual 
Target Audience: Communication, Family Medicine, Practice Management, Residents & Students, Specialty Medicine, IMGs
Overview: This event provides attendees with unique practical, clinical, legal and financial knowledge crucial for your career.
---
Target Audience: Primary healthcare providers that work with children and their families.

Overview: Motivational Interviewing (MI) is a collaborative, patient-centred style of communication that can help strengthen personal motivation to change. Using the communication strategies and tools covered in this course, you will be able to help families explore their own reasons for change and support them as they move effectively toward their health goals.

Up to 1.0 Mainpro+/MOC Section 3 credits
Course Webpage
---
On-Demand | Register Anytime
Target Audience: Provisionally or fully licensed physicians newly practicing in BC, especially in rural areas.

Overview: Join our free and personalized program designed to help you achieve your practice goals and navigate the continuing professional development landscape. Meet with a physician advisor and CPD concierge to talk about your current challenges, learning needs and areas of interest. We will help connect you to relevant funding, people, and resources in support of your continuing education.

Gain up to 6.0 Mainpro+ credits and up to 9.0 MOC Level 3 Performance Assessment credits
Program Webpage  |  Intake Form  |  Contact Us
---
This award-winning program is a self-directed assessment tool, guiding you through quality/practice improvement in your chosen topic area. Self-paced and online, it can be completed by an individual, with a coach/mentor, or as a team.

Target Audience: family physicians.

Up to 24.0 Mainpro+ credits (3cr/hr)
See Learning Activity
---
Developed by specialists for specialists! This interactive tool will guide you through a self-assessment and is adaptable to any topic you would like to learn more about.

Target Audience: specialist physicians.

Up to 8.0 MOC Section 3 credits
See Learning Activity
---
eLearning | Anytime
Target Audience: family physicians, dietitians, nurse practitioners, nurses, pediatricians, and other health professionals who work with infants and their families.

Overview: This interactive online course is designed to give clinicians the knowledge and skills required to educate and support families in the safe introduction of allergenic foods to infants. It includes videos, interactives, communication strategies and resources for clinicians and families, all based on the most recent and up-to-date research.

Up to 1.0 Mainpro+/MOC Section 3 credits
Course Webpage  | Registration Form
---
Receive 0.25 Mainpro+/MOC Section 2 study credits for each article by completing an activity exercise! This site is a made-in-BC resource with a vision to deliver quick summaries of impactful clinical studies, clinical pearls and even practice tips relevant to BC physicians (including new billing codes, drug approvals, etc.). 
Instead of providing summaries of trials as they come out, we've asked our team of contributing physicians which clinical trials or practice tips have truly impacted their practice. 
Read more articles here.
---
Seminar Series on the Clinical Management of Alcohol Use Disorder and Opioid Use Disorder
The BCCSU is now offering the Seminar Series on Clinical Management of Alcohol Use Disorder and Opioid Use Disorder online. These sessions are presented by leading experts in our province in partnership with the BCCSU and are tailored for family physicians, physician specialists, nurse practitioners and allied health professionals providing clinical care, treatment and support to patients with alcohol and opioid use disorder. These events are typically two-hour long and are CME accredited for 2.0 MOC Section 1 and for up to 2.0 Mainpro+ credits through UBC CPD.
These sessions summarize research evidence, review guideline recommendations, distribute helpful handouts and are followed by an "ask the expert" discussion period where health care providers have a supportive environment to ask their questions, raise anticipated challenges, and bring clinical cases for discussion.  
For more information or to book a session for your members, please contact Nicole Fairbairn at nicole.fairbairn@bccsu.ubc.ca.
---
Survey: Hypertension Monitoring During Covid-19 
Anecdotally we have heard that some clinics have developed new strategies for managing the care of patients with chronic diseases such as hypertension. Some of you are using new methods of measurement and new methods for patients to share BP readings with the clinic. 
We undertook a survey four years ago looking at BP measurement and, from that, have developed a few more questions about BP measurement during the Covid-19 crisis.
We would be very grateful if you would take a few minutes to complete this survey for BC doctors. https://ubc.ca1.qualtrics.com/jfe/form/SV_7Pq1p9JpHjXsUdL
This survey is being undertaken at UBC and has received ethics approval. H20-01389
We also wanted to take this opportunity to let you know that a revised GPAC hypertension guideline is in the final approval process and will soon be available at BCGuidelines.ca.
---
We are an Elder-led group from Indigenous and non-Indigenous backgrounds working together to increase cultural safety and humility in rural BC by building relationships with First Nation communities and physician communities. Read more.
---
This NEW interactive online course explores a variety of topics related to recreational and medical cannabis. Through clinical tips, resources, and reflective case studies, learners review best practices in:
Approaching patient conversations and education
Screening and treating cannabis use disorder (CUD)
Safe authorization of medical cannabis
Target audience: Family physicians, specialists, nurse practitioners, nurses, pharmacists, and other health care providers.
Up to 1.5 Mainpro+/MOC Section 3 credits
---
ACTOC: Substance Use Care for Two-Spirit, Lesbian, Gay, Bisexual, Trans, Queer, and Other Sexual Gender Diverse (2SLGBTQ+) People
We are happy to announce the launch of a new module in the Addiction Care and Treatment Online Course (ACTOC): Module 17—Substance Use Care for 2SLGBTQ+ People. This newest module, addition to ACTOC, was developed in response to ongoing research highlighting the factors that place these communities at a disproportionately high-risk of substance use-related harms and an urgent need to improve patient-centred care.
Target audience: family physicians, specialists, nurses, nurse practitioners, pharmacists, and other healthcare practitioners involved in addiction care and treatment.
Up to 15.0 Mainpro+/MOC Section 3 credits (full course)
Course Webpage  |  Registration Form
---
Gender-Affirming Primary Care
Developed in partnership with Trans Care BC, this course aims to help primary care providers reduce health disparities experienced by trans patients by improving gender-affirming care practices. Through patient-centered education, access resources and tools for patients and work with patients towards their goals.
Target audience: family physicians, specialists, nurses, nurse practitioners, pharmacists, and other healthcare practitioners involved in addiction care and treatment.
Up to 1.5 Mainpro+ credits
Course Webpage
---
Optimizing Care for Gay, Bisexual, and Other Men who have Sex with Men (gbMSM)
Check out recent updates and expanded content! Learn to identify common health issues experienced by gbMSM patients and their implications for care. Move beyond sexual health into more complex topics through multi-layered case studies and interactive exercises.
Target audience: family physicians and other allied health professionals who provide care to gbMSM patients.
Up to 1.5 Mainpro+ credits
Course Webpage
---
BC CANCER PRIMARY CARE LEARNING SESSIONS –
Featuring Modules on Colorectal, Breast and Prostate Cancer
Register at https://ubccpd.ca/oncology/primary-care
A great opportunity to build your understanding of these cancers at your convenience – no charge
Learn best practices for Colorectal, Breast, and Prostate Cancer, including screening, diagnosis, treatment, survivorship, surveillance and late effects through BC Cancers' newly launched Primary Care Learning Sessions. Presented with UBC's Division of Continuing Professional Development, these online sessions offer an interactive, clear, and easy way to increase your cancer care knowledge. Useful resources and links included. Up to 1.0 Mainpro+ credit.
Full details at www.fpon.ca or via jennifer.wolfe@bccancer.bc.ca.
---
Target audience: healthcare providers involved in the delivery of surgical care in both high and low resource settings, including, but not limited to: surgeons (all specialties), anesthesiologists, physicians with surgical skills (family physicians, clinical and medical officers), surgery and anesthesia trainees, operating room (OR) nurses, operating room (OR) technicians, respiratory therapists, perfusionists, occupational therapists, physiotherapists.
Up to 20.0 Mainpro+/MOC Section 3 credits for 5 modules.
Enrol: Course Webpage
---
Target audience: family physicians and specialists new to practice in BC.
Content: This recently updated online course provides those who are new to practice in BC with an overview of the Canadian health care system, health care access and funding, physician compensation, and relevant national and provincial organizations.
Up to 0.5 Mainpro+/MOC Section 3
Enrol: Course Webpage
---
Interview Opportunity: Advance Care Planning (SFU)
Dr. Gloria Gutman and our research team from the Gerontology Research Centre at Simon Fraser University is looking for physicians and hospitalists that are interested in a short over-the-phone interview on Advance Care Planning. The team is part of a national "Improving Advance Care Planning for Frail Elderly Canadians" (iCAN-ACP) project funded by the Canadian Frailty Network. 
We are looking to conduct 15-20 minute interviews with primary care clinicians or hospitalists whose practice includes 15% or more patients who are older adults 55+ that self identify as LGBT or 15% who are South Asian or 15% who are Chinese (the three minority groups targeted in this study). The goal of our study is to understand advance care planning (ACP) discussions between clinicians and their older adult patients from these three minority groups. 
Would you or a colleague be interested in a short 15-minute over-the-phone interview? If so, please respond to hhkwan@sfu.ca with your availability. We will be providing an Amazon gift card for your time.
---
Are you aware that Kangaroo Care has been shown to improve preterm infant growth and development with physiologic and immunologic benefits? To learn more about Kangaroo Care as a standard of care for preterm infants and parent-infant skin-to-skin contact, take this self-paced, online, interactive course developed in partnership with Perinatal Services BC (PSBC).
Delivery: Online
Target audience: registered nurses, nurse practitioners, pediatricians, neonatologists, respiratory therapists, midwives, and laboratory technicians involved in neonatal care.
Up to 1.0 MOC Section 3
Course Content: https://elearning.ubccpd.ca/enrol/index.php?id=244
---
Ongoing - BC ECHO on Substance Use
Launched on Aug 18, 2020, in collaboration with regional and other stakeholders and funded by Health Canada, the BCCSU is initiating an opioid use disorder (OUD) Project ECHO and associated Community of Practice within British Columbia and Yukon Territory.
BC ECHO on Substance Use (Opioid Use Disorder) aims to help primary care providers and their teams build capacity in the treatment and management of opioid use disorder. Through interactive, online, case-based presentations, health care providers will enhance competencies and learn through real-world examples how to incorporate evidence-based practices into their care setting to improve outcomes for clients and families.
Primary care providers, allied health care providers and other front-line workers are encouraged to join!
Why Join?
It's free
It's virtual – all you need is a computer and webcam, or a smartphone to join
It's an excellent opportunity to connect with a community of primary care and community care providers facing similar challenges
Earn CME or MOC credits (ECHO sessions will be certified by the College of Family Physicians of Canada for 1.0 Mainpro+ credit per session or 1.0 MOC credit per session)
Register here: https://www.bccsu.ca/bcechoonsubstanceuse/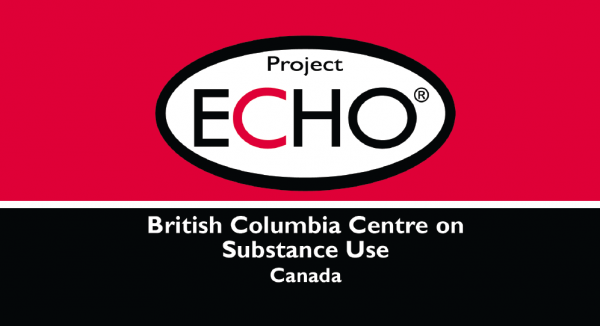 ---
Provincial Opioid Addiction Treatment Support Program
https://ubccpd.ca/opioid-addiction-program
This self-paced online course covers the full range of therapeutic options for optimal treatment of opioid use disorder. It is the first step in the training pathway to prescribe opioid agonist treatment options in BC. Developed in partnership with BC Centre for Substance Use (BCCSU), the course articulates the BCCSU Opioid Use Disorder Guidelines through interactive content, videos and case studies.
Target audience: all BC physicians, nursing and allied health professionals, and other care providers involved in treating individuals with opioid use disorder.
8.0 Mainpro+/MOC Section 3
---
Updated Concussion E-Learning Course for Medical Professionals
The Concussion Awareness Training Tool for Medical Professionals (CATT MP) launched this June, and an updated e-learning course is now available. The course will cover how to effectively assess a patient's concussion situation within the initial hours post-injury, how to optimally manage concussion care during the first two to four weeks post-injury, and how to identify when referral to specialty care is required.

The course is free of charge, available in English and French. It is eligible for credits with the Maintenance of Certification (MOC) program through the Royal College of Physicians and Surgeons of Canada.

For more information, resources, or to take the course, click here.
---
MORE EXTERNAL LINKS: