COVID-19 Resources
---
Click to jump to a section
---
COVID-19 Vaccine
Physician on a Mission: Hear from family doctors in your neighbourhood about the Covid-19 vaccines and why they recommend everyone gets their first and second dose. 
---
Covid-19 Vaccination for Children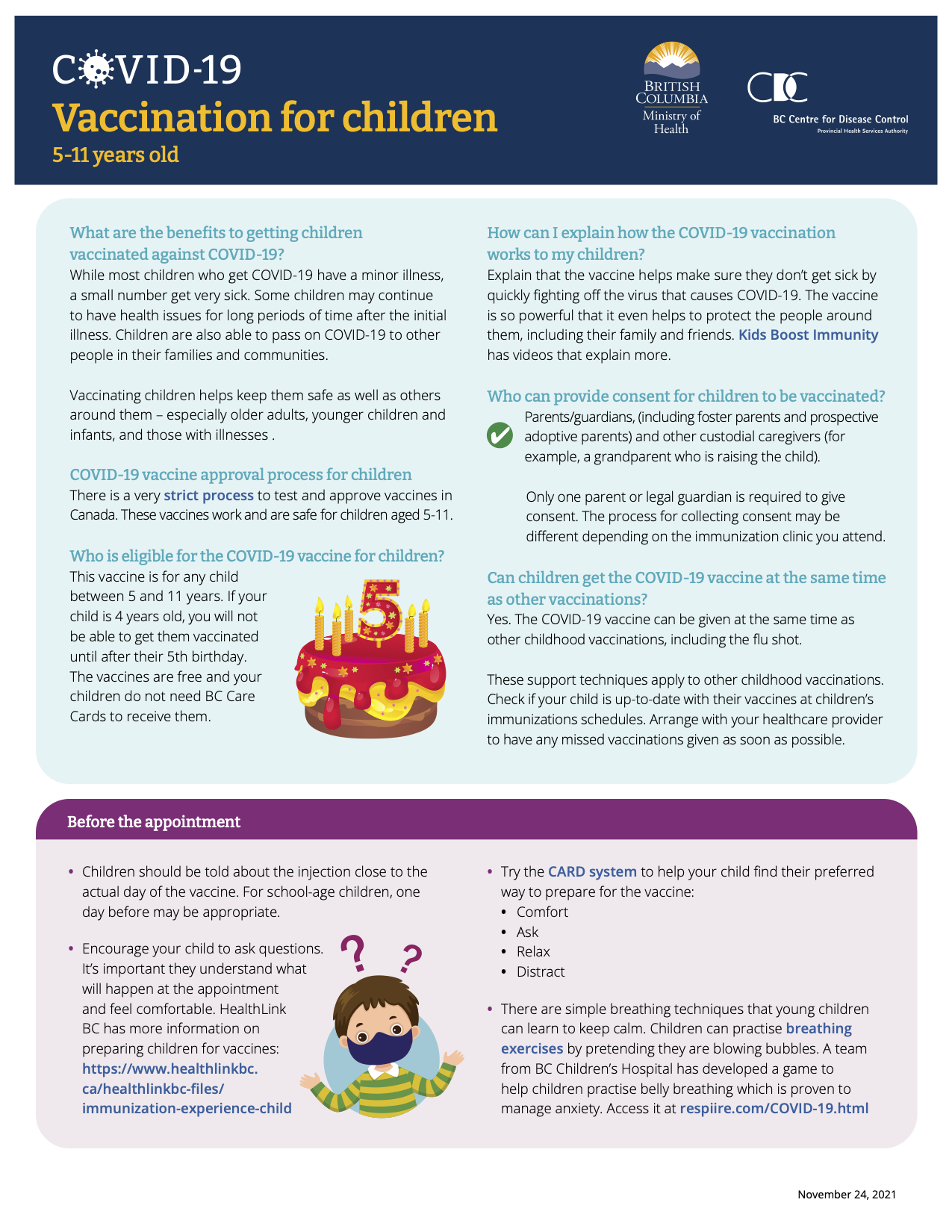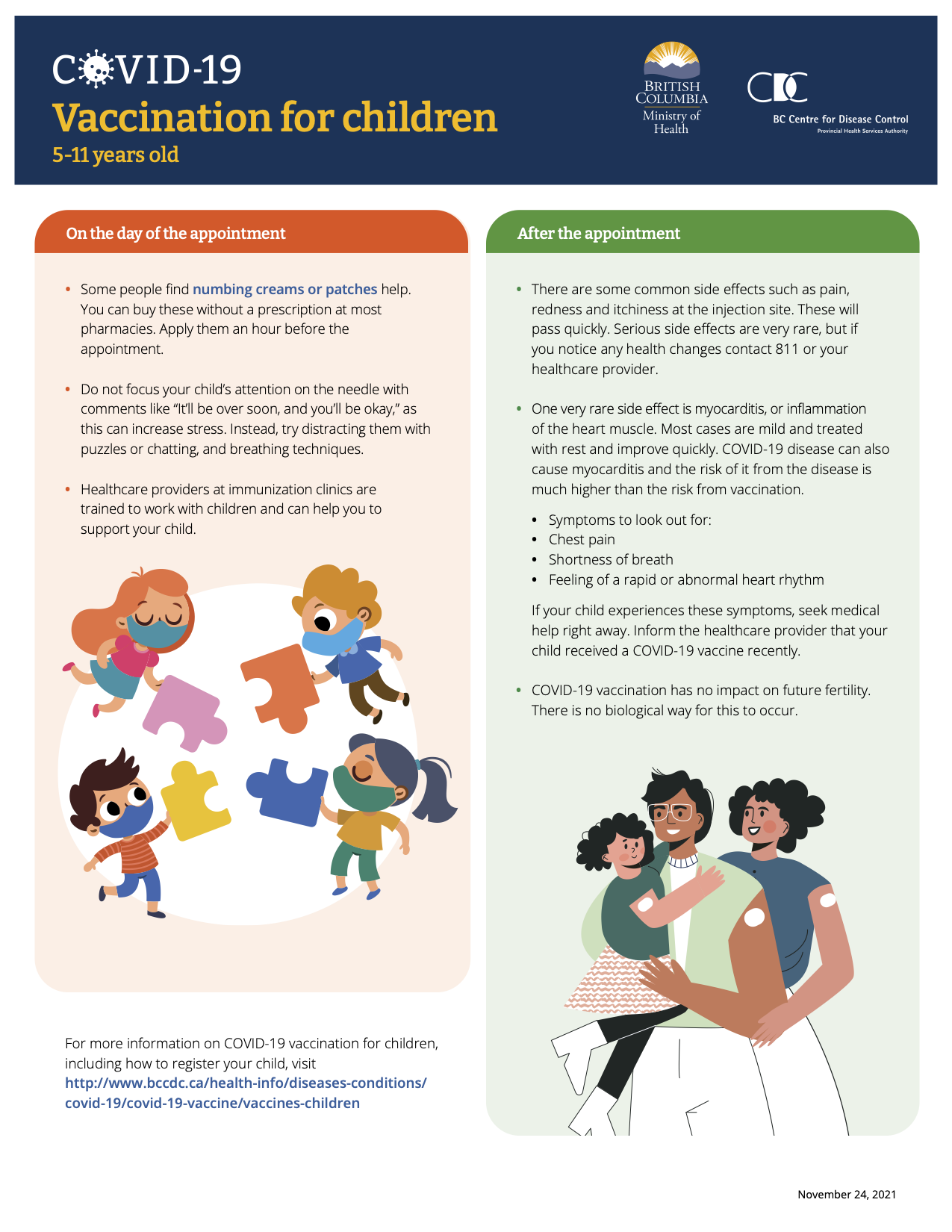 More information: Covid-19 Vaccination for Children
Immunize BC FAQs about COVID-19 vaccines: for children aged 5 to 11 and for youth aged 12 to 17
Updates:
---
FAQ's:
When is it my turn to get the vaccine?
Registration for the Covid-19 vaccine is now open to anyone aged 12+
Registering for your Covid-19 Vaccine:
Step 1: Register
You must pre-register on the provincial system to get notified when it is your turn.

Step 2: Book your appointment
You will receive a text, email or phone call when you're eligible to book an appointment.

Step 3: Get the vaccine
Can I book my appointment online?
Yes, appointments can be booked online at the link below, or over the phone by calling 1-833-838-2323. You can register yourself or someone else, like a parent or grandparent. Everyone 12 and older in B.C. is eligible to get vaccinated, even if you don't have a Personal Health Number or other documentation.
www2.gov.bc.ca/gov/content/covid-19/vaccine/register
Once I get the vaccine will I receive an Immunization Card?
You will have the option to receive a paper and digital copy of your immunization record card. We recommend registering for Health Gateway, where your digital immunization record card will be available after you receive the vaccine
Why should I get the Covid-19 Vaccine?
Vaccines do more than protect you from COVID-19, they also protect everyone around you. The more people in a community who are immunized against COVID-19, the harder it is for the virus to spread. Vaccines approved in Canada have followed the same extensive testing as every other vaccine, and are proven to be up to 95% effective in protecting people from COVID-19.
Pregnant People:
To book a vaccine appointment:
Register online or by phone using your Personal Health Number. If you are already registered, you don't have to register again
Call 1-833-838-2323 and self-identify as a pregnant person. The phone agent will book you an appointment
The Society of Obstetricians and Gynaecologists of Canada supports the use of any COVID19 vaccine at any time in pregnancy.
Clinically Extremely Vulnerable:
If you want to know whether you are on the list of clinically extremely vulnerable (CEV) patients, who are being fast-tracked to receive the vaccine earlier than their age group, check this link: Vaccines for people who are clinically extremely vulnerable - Province of British Columbia (gov.bc.ca). It also provides you with direction regarding next steps.
If you think you should be on the CEV list and you haven't been contacted, you can book an appointment with your family doctor. Please review the criteria in the link above first.
Third Dose of Covid-19 Vaccine
From November 2021 to January 2022 people in the highest risk categories will be invited to book their third dose.

If you believe you meet the eligibility criteria to get a third dose now and have not been contacted yet, get in touch with your healthcare provider or a walk-in clinic. Your healthcare provider can complete the Attestation Letter to confirm your eligibility for a third dose.

Starting in January 2022, everyone in BC will get an invitation to book a booster shot between 6 to 8 months after the date of your second dose. Your first and second vaccine doses will continue to protect you from COVID-19 until you get a booster dose.
Click here for more information about the booster dose
---
Prevention 
To slow the spread we need people to distance, wash hands, stay at home when sick – even mild symptoms, avoid crowds, gatherings, events and parties and wear a mask when outside your household.
Following public health recommendations can make a really big difference in flattening the curve at this time. Specifically,
Follow current testing guidance - Anyone who is concerned that they may have had contact with a positive case AND have COVID-19-compatible symptoms should get tested and self-isolate pending results, 
Avoid  all crowds, gatherings, events and parties, distance from others, 
Wear a mask when outside your immediate household,
Stay at home when sick – even with mild symptoms, both to prevent the spread of COVID-19, and other circulating viruses), and
Wash hands frequently
While you wait for your COVID-19 Test results:
Sign up to receive your COVID-19 test results by text on the BC CDC Website, or use the My ehealth platform. 
If you do not have internet access call the BCCDC Results Line (1-833-707-2792) 
While you are self-isolating while awaiting results, please think about your activities and the contacts you had in the two days prior to noticing your symptoms up until the day you started to isolate and share this information with public health.
Specifically consider those who would be deemed close contacts. These are generally people who you would have spent greater than 15 minutes with while not distanced (within 2 metres) and while not masked.
Self-isolate: Until you have been contacted with results, it is essential that you isolate from others in your household as much as possible.
If you have positive test results
The goal of public heath is to notify patients within 24-48 hours of receiving a positive lab COVID-19 result from BCCDC.
If you have positive results you are required to: 
Self-isolate: It is essential that patients who test positive continue to isolate themselves and anyone in their household,
Make a list of close contacts who you would have had contact with two days prior to symptoms until when you started to self-isolate and reach out to them once you receive direction to do so from public health,  
Monitor personal symptoms, and if severe, consider further emergent care.
Anyone who is concerned that they may have had contact with a positive case AND have COVID-19-compatible symptoms are asked to get tested and isolate pending results. (https://fraserhealth.secureform.ca/index.php).
Guidance about school attendance:
Click here to for info about when to keep your child home, when a doctor's note is required, and information about self-isolation for school children.
Managing symptoms at home:
Click here for info about what to look for (what symptoms could be COVID), what to do if you or your family is symptomatic, or what you should do if you may have been near/around someone who tested positive. 
---
Self Assessment Tools:
Not sure if you have COVID-19? Or whether you should get tested after encountering someone who might have it? Complete one of the self-assessments below and you will be directed on what you should do.
---
Public Exposures
Fraser Health has compiled a list of known possible COVID-19 exposure locations. If you were in attendance at any of these locations during these times, public health recommends you self-monitor for symptoms of COVID-19.
Click here to view the list of locations
---
COVID-19 Testing:
Tri-Cities COVID-19 Testing Centre
Located at 2796 Aberdeen Ave in Coquitlam at TransLink's Coquitlam Central Park and Ride lot. This centre operates using a model of drive-through lanes and walk-ins and is open seven days a week.
Fraser Health COVID-19 Test Collection/Assessment Booking
Click here to book an appointment at one of the testing locations in: Abbotsford, Burnaby, Chilliwack, Agassiz, Hope, Delta, Langley, Maple Ridge, Pitt Meadows, Mission, Surrey, White Rock, Tri-Cities, and South Surrey.
---
Mental Health Resources
---
Video Library
Preparing children for a COVID-19 Test
---
How to Overcome a Fear of Facemasks
We know facemasks are an important intervention to protect ourselves and others from the coronavirus, but what if you get a lot of anxiety from wearing one? Learn how to break down wearing a mask into manageable steps to overcome your fear. (Video by a clinical psychiatrist)
Emergency room doctor runs through pros and cons of various masks
An emergency room doctor (Dr. Marc) from the Chilliwack Division of Family Practice illustrates the differences between various mask types. This video is quick, entertaining, and informative! 
COVID-19 Basics with Dr. Varun Bajaj
Videos are in Punjabi with English subtitles