MOA Network
Are you an MOA working in the Fraser Northwest area?
Our ever changing healthcare system can sometimes seem complex and frustrating for patients, providers and their team of MOA's. As a Division we want to help  - Tell us what frustrates you?
★ Check out our MOA All Star of the Month ★
Join the MOA/Practice Manager Facebook Page! 
If you are an MOA/PM working in Fraser Northwest, join the Facebook group for networking and upcoming events.
Employment in our community
Are you interested in working in the Fraser Northwest Community as an MOA or practice manager? 
Upcoming Events
The Division hosts monthly MOA meetings for networking and learning opportunities. Check your email or check out the calendar below to RSVP on Eventbrite. Dinner is provided at every in-person meeting & MOAs of Division Members are paid sessional for attending.
Join our Mailing list
Join our mailing list to stay up to date on upcoming events and engagement opportunities! 
Click here to subscribe >
MOA Events
MOA Engagement Event: Pathways, Medical Directory and Attachment Hub
May 17, 2022
Click here for the full sized recording
Event recording: Communicating with Impact Empathy | Workshop 1 ~ MOA Event
September 2021
Workshop 1
As MOA's and Practice Managers, communication is one of the most used skills in your daily work life. Empathy helps us to communicate our ideas in a way that makes sense to others, and it helps us understand others when they communicate with us. It is a foundational building block of social interaction.
Communication: Starting With Me
Develop awareness of our lenses as we come into communication
Practice the skill of perspective-taking
Apply a model for staying out of judgement to real-life situations
Develop an awareness anchor, to practice between sessions
Communicating with Impact Empathy | Workshop 2 ~ MOA Event
October 2021
Click here to view the slides from this event
MOA Event - Intercultural Mindset for Inclusive Practice
June 2022
MOA Virtual Townhall
March 2022
---
PMH Clinic Policy Manual
Important legal and HR policies for your clinic
The following PMH Policy Manual Resource is here to support your clinic by providing information, policies and resources that pertain to HR practices. The goal of this resource is to act as supplementary support around clinic HR practices to make it easier to access information. You have the option of exploring the resources and filling out the templates yourself, or you can alternatively reach out to Tricia George, PMH Sustainability Manager, at tricia.george@fnwdivision.ca. 
Click here to access the policy manual (if you do not already have the password for the website please email Tricia for access)
---
Wellness Resources:
Care for Caregivers - a website with tailored content for healthcare workers, particularly those working in long-term/continuing care
Care to Speak – a peer support service providing emotional and psychological help to healthcare workers
Mobile Response Team – supporting the mental well-being and psychological safety of frontline health care workers For more information, call 1-888-686-3022 or email MRT@phsa.ca.
Provincial Health Services Authority: 1-888-686-3022
---
MOA ALL STAR OF THE MONTH
Do you work with an MOA who has gone above and beyond for the community, clinic, or patients? Let us know about it! We want to highlight the amazing work MOAs in our community are doing. The MOA who is selected will be spotlighted on our social media with their picture and the story behind why they are an All-Star! Click here to nominate an MOA.
Thank you to Samantha, Kelly, Tammy, Marianne, Merlie, & Elizabeth - December 2021 MOA All Stars!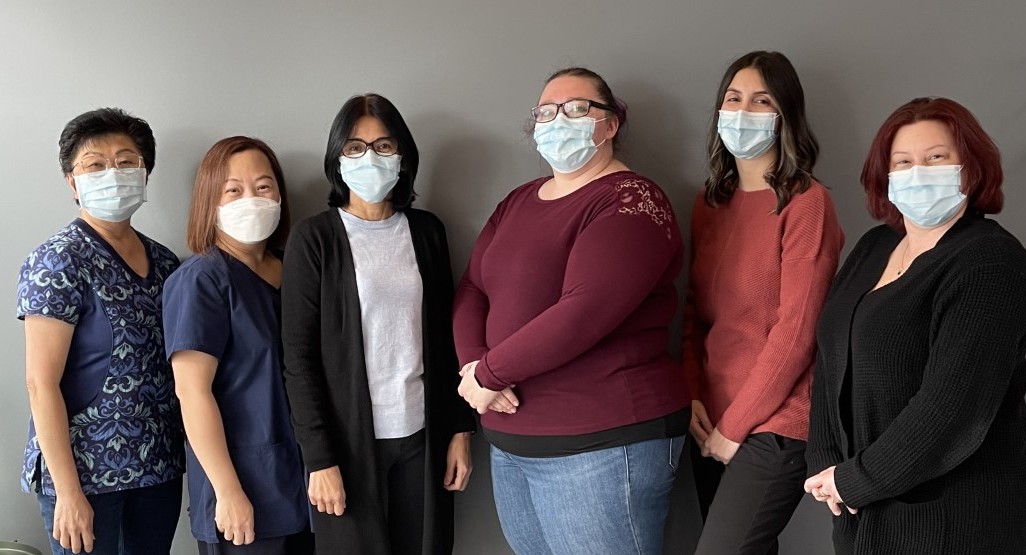 We at Pinetree Medical would like to nominate our MOA team of 6 for the MOA all-star of the month (Samantha, Kelly, Tammy, Marianne, Merlie, Elizabeth). Our 2 full time staff and 4 part time staff have been working tirelessly during covid to help our patients navigate the new model of care. They put up with the tremendous amount of extra workload and helped take on each other's load when someone couldn't to come in to work. They worked as a strong team and we are so thankful for all their energy, compassion, and perseverance.
Thank you to Melanie at Tri-City Family Practice – September 2021 MOA All-Star of the Month!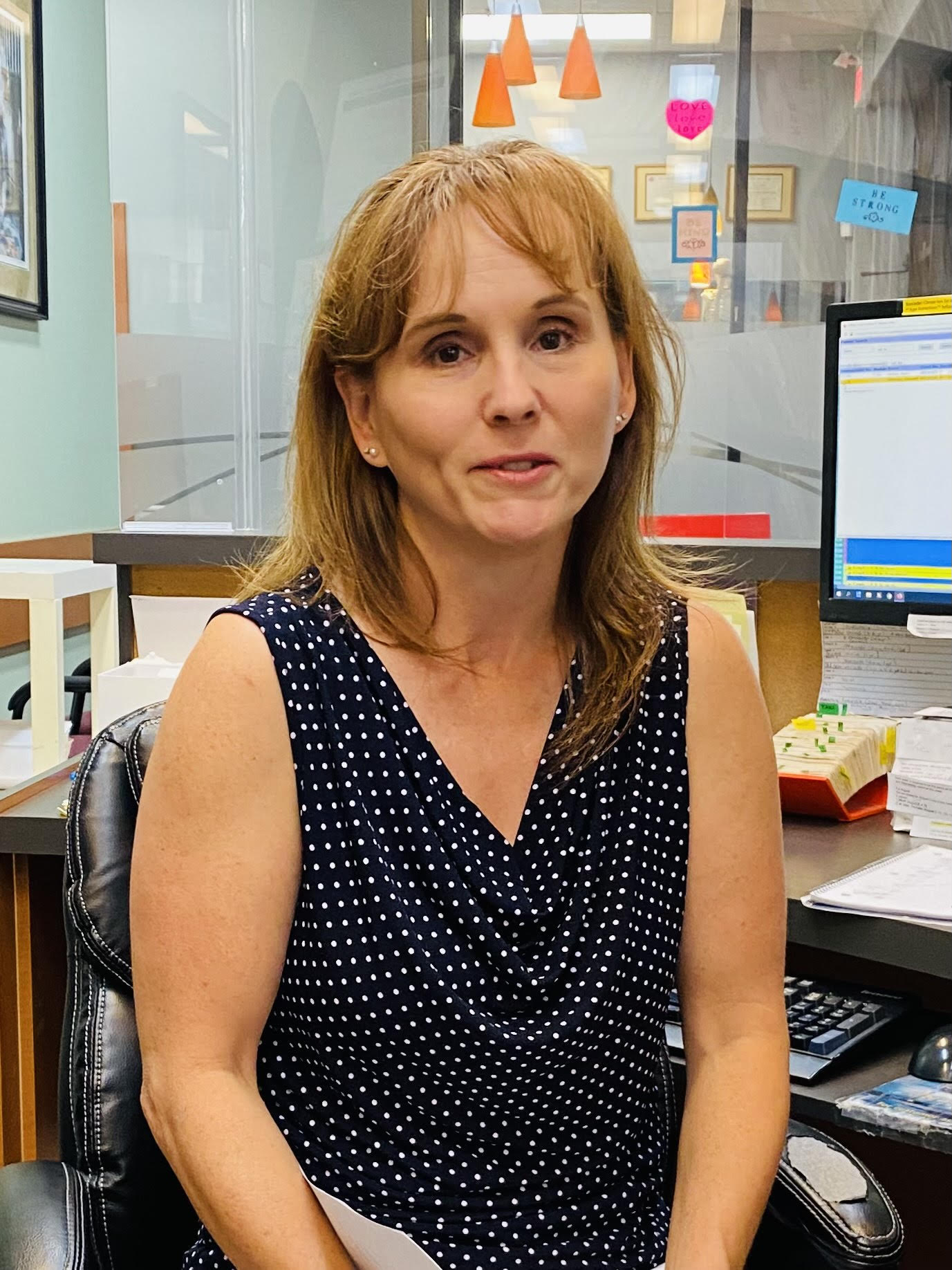 Melanie is kind to everyone and goes above and beyond as a team member of the whole care team and makes sure that she passes information along, ensures communication to the rest of the team and overall the patients love her.
Thank you to Michelle, Marina, Kim, & Fernanda - October 2021 MOA All Stars!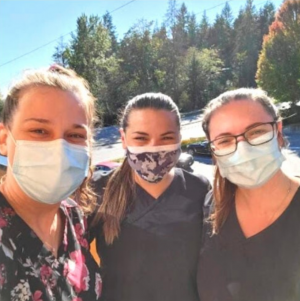 This Amazing team has worked collaboratively throughout the pandemic to help keep the clinic open and operating 7 days a week. Their dedication to patient care and positive attitudes makes the clinic a wondering environment for patients and all the staff.
Thank you to Louise at Austin Family Physicians – September 2021 MOA All-Star of the Month!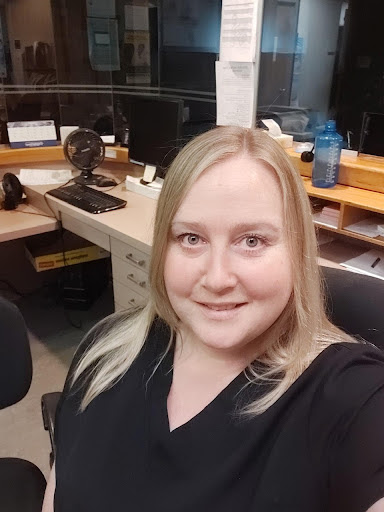 Louise wears many hats and has been working for Austin Family Physicians for many years. She helps to manage the clinic, train new MOAs, calls patients, does the billing and goes above and beyond for the clinic. Thank you to Louise for all that you do for the clinic and for our community!
Thank you to the MOA team at Highroads medical - August 2021 MOA All-Stars of the Month!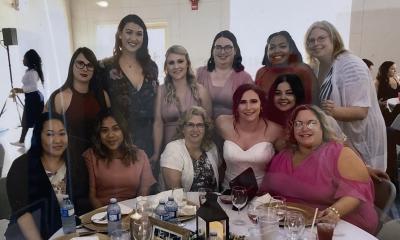 Maria Collins, Corey Beale, Katherine Minaya, Kim Wong, Melissa Mork, Helen Mihalovich, & Jessica Easton. I would love to vote for my whole team they are an amazing group of staff who have not missed a beat since the covid 19 pandemic we closed our doors March 13, 2020 and by March 18th we were up and running virtually to service our patients needs
Thank you to Katherine, Alanna and Tracey - July 2021 MOA All-Stars of the Month!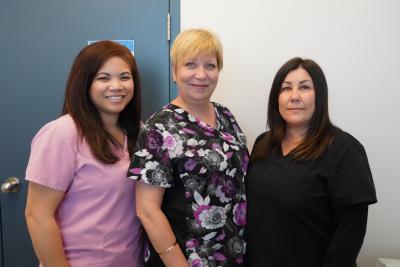 Katherine, Alanna and Tracey are the glue that binds Care4You together; when Care4You lost two physicians during the height of COVID our office was turned upside down, and without their calm steady approach we wouldn't have made it through. Friends away from work, these 3 All Star MOAs make each day a joy to work, helping our team find the positive when tough times hit. Always up for a challenge, they have gone above and beyond to welcome and bring on board four new practitioners in the last year. Care4You is truly a family thanks to these three!
Thank you to Suzanne from the Port Moody Maternity Clinic - June 2021 MOA All-Star of the Month!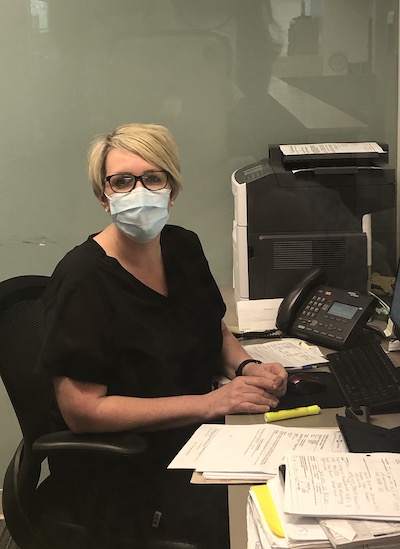 Suzanne has been with CMC since the beginning of the clinic, and we would truly be nowhere without her. She loves her work and her caring and respect for our patients is evident every day. She not only is an understanding voice on the phone, but does whatever it takes to ensure patient needs, as well as the needs of all the doctors and other staff are attended to. To the point of contacting ultrasound facilities on weekends, calling for missing labs even on her days off and going to all lengths to help unattached families navigate finding a new family doc. We recently have had a new MOA and Nurse in Practice both start the same week, and Suzanne has been there to support their becoming part of our team in their new roles on top of her usual activities.
Thank you to Caroline Van Nes and Danielle Serna - May 2021 MOA All-Stars of the Month!
Burke Mountain Medical says they are blessed to have two outstanding MOAs in their office – Caroline Van Nes and Danielle Serna!
At the beginning of the COVID-19 pandemic, they were one of the few practices that did not close their office. Unfortunately, they lost three MOAs during that period and both Caroline Van Nes and Danielle Sernathe stepped up and helped them with running the clinic for close to 6 months together with the referral desk and the manager.

Ms Serna has an outstanding clinical performance. She is keen on mentoring new MOAs by teaching them precise efficient methods of completing their specific tasks in a friendly upbeat manner. She is a key person in the overall cheerful & professional atmosphere of the clinic.

Ms Van Nes has an outstanding clinical performance.  She has the ability to see the clinic as a whole & determine what needs to be done and how, all the while maintaining a receptive and friendly manner.
Both of these young women give 100% in everything they do and do it in a very understated, cheerful and professional manner.

Thank you to Caroline Van Nes and Danielle Serna at Burke Mountain Medical!
Thank you to Parr Bains - April 2021 MOA All-Star of the Month!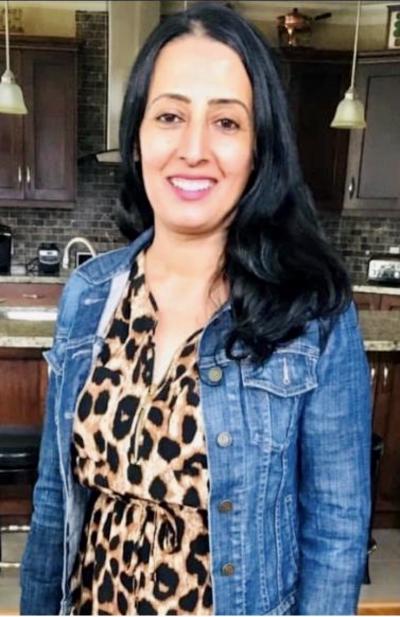 Our office, Meadowbrook Family Practice, would like to nominate our senior MOA Parr Bains. She has been our rock since the start of the pandemic. In 2020 she helped us navigate changing our EMR, integrating our nurse in practice, starting telehealth, and training new staff, all in the face of keeping our office open every day since the start of the pandemic. She has been so dedicated and consistent. She has faced all these challenges with calmness and kindness. Here are some quotes from our team of doctors: When I joined Meadowbrook in November Parr was interested in getting to know me as a person. She made me feel welcomed and immediately accepted me to Meadowbrook Team. She is always professional. She is very capable MOA wearing many hats. Parr is a true "MVP" - most valuable team player - because of her commitment, reliability and work ethic. Parr projects calmness and quiet confidence. She is highly organized and always willing to learn new skills. My favorite Parr quote is "I am not really in charge of ....., but I will take care of it."
---
Connect with Fraser Northwest on social media @FraserNorthwest