Building Team-Based Care
Through the Primary Care Network, Nanaimo will welcome new allied health and nursing supports into Primary Care. This opportunity will allow for health professionals (such as Nurses, Mental Health Clinicians, and Social Workers) to work together with Family Physician Practices to enhance the coordination and delivery of care to patients. 
In anticipation of this shift to team-based care (and official approval of our PCN Service Plan) now is a good time to learn more about what team-based care is and what to expect.   
Below we are highlighting key learning resource(s) appropriate for this early stage of preparing for team-based care.  
---
Preparing For Team-Based Care 
Team Up! Webinar & Podcast Series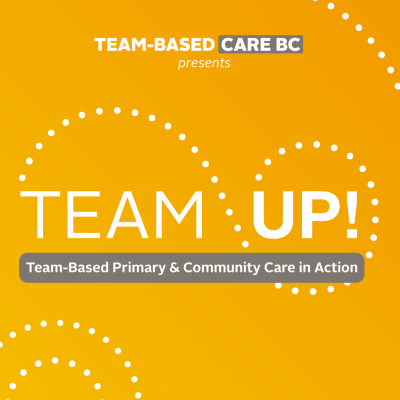 Team Up! Team-Based Primary & Community Care in Action is a webinar and podcast series that aims to connect individuals and teams, identify tools to apply to current work underway and share experiences in team-based care across the province.
Upcoming Team-Up Webinars
Team Up! Reflections from the Field: STEPS Community Health Centre -Thursday May 19th, 2022 / 12:00 pm to 1:00 pm PDT
Team Up! Reflections from the Field: Chickadee Maternity Collaborative - Thursday June 16th, 2022 / 12:00 pm to 1:00 pm PDT
Team-Up Webinar Recordings 
Please click on the links below to watch the recording of the following webinars:
September 24: Partners in Care: Preserving and Enhancing Longitudinal Relationship-Based Care in the Patient Medical Home
October 22: Getting to the "How" of Team-Based Care: A Dialogue Circle
---
For additional Team-Based Care resources, please visit this website: