NELSON - Kootenay Lake Medical Clinic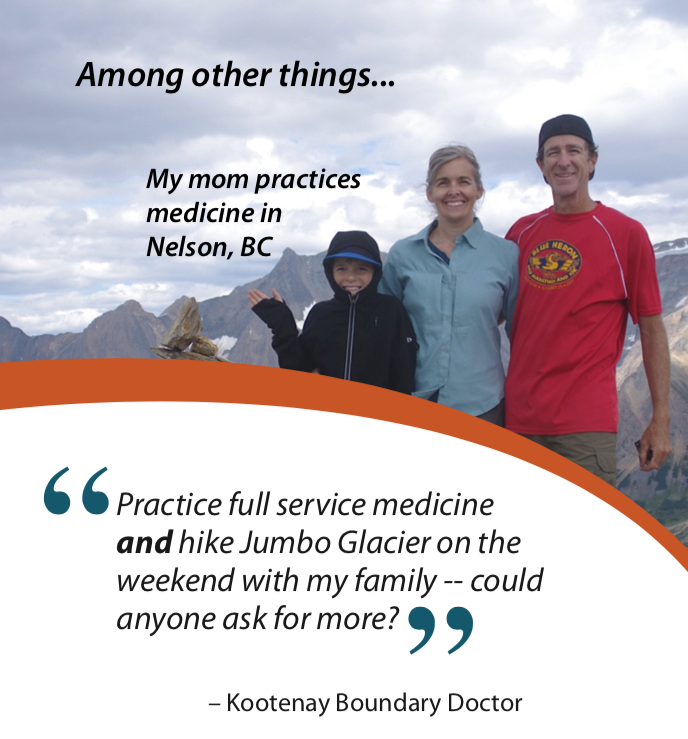 THE OPPORTUNITY
Kootenay Lake Medical Clinic (IHA-5997)
Join our Primary Care Network (PCN) team of experienced and supportive practitioners (3 physicians, 1 nurse practitioner and 1 registered nurse), 4 medical office assistants, 2 dedicated billing specialists and a non-physician business owner /administrator, working together to provide flexible working patterns and an enjoyable work culture. Our well-established, open access family practice strives to offer prompt and efficient appointments for attached, unattached and visiting patients. Our goal is to provide consistent, good quality continuity of care to all patients. 

We are looking for two family practice practitioners with lots of energy, who enjoy working in a busy and friendly environment. You will work with a highly efficient and supportive team, in a good-spirited work environment. 
DETAILS
Enjoy a vibrant and interesting patient population at this well-established, open access family practice clinic. Open Monday to Saturday in beautiful Nelson BC. The clinic offers extended hours, but has super flexible shift coverage and work hours. Ideally, candidates should be interested in working a minimum of 3 shifts a week and from 24 to 35 hours per week (a mix includes Saturdays and shorter shift days). Specialist support is available from the local and regional hospitals. This is a well-managed, private clinic with efficient staff and a congenial work culture. Currently on Telus Health Wolf EMR. Located in the main shopping mall in Nelson with free parking (for patients and staff) and incredibly easy, ground floor access for patients. The mall is located on the West Arm of Kootenay Lake and close to all Nelson amenities.
COMPENSATION
Compensation Type : Fee-for-Service / Longitudinal Family Physician Payment Model
Estimated Remuneration: up to $450,000 dependant on work volume, and based on the Longitudinal Family Physician Payment Model and a high quantity of 3rd Party Billings
Physician Overhead: % of billings based on work volume and terms of service negotiated contract.
BENEFITS AND INCENTIVES
Vacation Leave: Open for discussion
May be eligible for additional remuneration in accordance with the Rural Subsidiary Agreement (RSA) including:
Retention Premium: 11.34%
Retention Flat Fee: $17,209.26
Relocation Funding Available: $9,000 - $15,000
Recruitment Incentive: $15,000 (pro-rated to FTE)
Other Benefits/Incentives
In addition to the above incentives, Rural CME support is also providing in increasing amounts reaching a max of $4,840/year by your 5th year in practice. Current rural incentives rates are confirmed at time of offer and are subject to change annually. Candidates with a BC or Canada student loan may be eligible for loan forgiveness programs.