Kootenay Lake Medical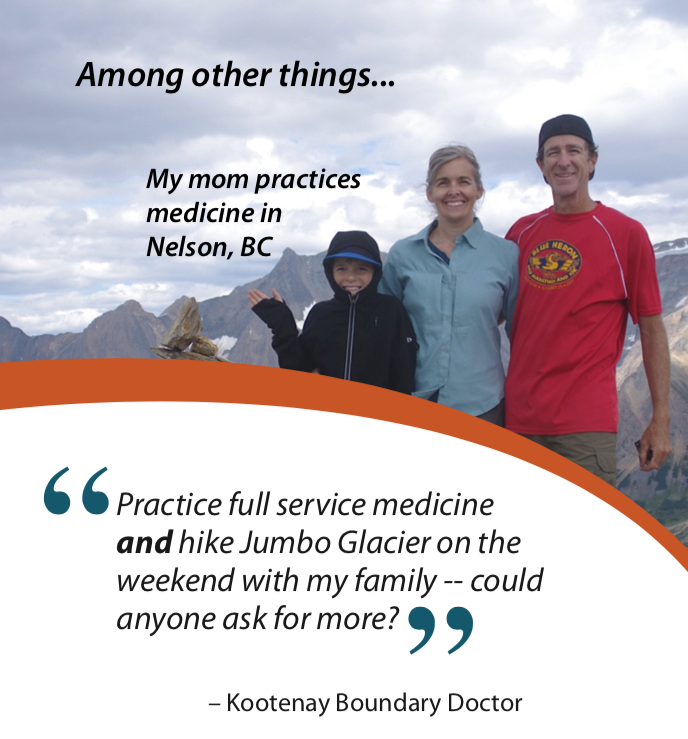 THE OPPORTUNITY
Join our team of experienced and supportive doctors, receptionists (MOAs), CDM nurse, and management working together to provide flexible working patterns and an enjoyable work culture. Our well-established family practice strives to offer a prompt and efficient same-day appointment service for patients and good quality continuity of care to our attached family practice patients. 

We are looking for physicians with lots of energy who enjoy working in a busy and friendly environment. You will work with an efficient and personable team, in a good-spirited work environment. 
 
CLINIC DETAILS
Open access (walk in) or family practice, or combination
Build your own hours around our flexible seven-day-a-week shift schedule
Clinic is located in the only indoor mall in eclectic, culturally rich, historic Nelson
Billing Optimization is in place, with all billings done onsite by the clinic owner
We are on very well-supported Telus Health Wolf Electronic Medical Records. Excellent onsite training on all aspects of the system
Large Volume of 3rd Party and Out of Country Patient Billings
COMPENSATION
Fee for Service: Gross billings $300,000 (Full time) 

Overhead: 40% of billings

Rural Incentives*: 
Recruitment incentive, $15,000
Retention fee premium, 11.62%
Retention flat fee, $9,914.40
Relocation funding $15,000
Rural Continuing Medical Education: $440 - 2 years or less, $2,640 3-4 years and $4,840 - 4+ years

Retention incentives - must live and work in RSA community for 9 months of the year and bill $65,000 or greater in MSP billings for the previous calendar year
Incentives and benefits are as per current Ministry of Health and Interior Health policies and are subject to change

* Rates as at: 09/01/16
 
NOTE: Candidates with a BC or Canada student loan may be eligible for BC or Canada loan forgiveness programs.