COVID-19 Information and Resources for Community Members

COVID-19 Vaccination Updates
Back to School and COVID-19
Below are some helpful resources for navigating the challenges of returning to school during COVID-19.
Flow Chart: Managing Symptoms at Home and At School
Guidance About School Attendance Including Guidance for Immune Suppressed Individuals
Going Out? Do it Safely!
Are you wondering how to stay safe as provinces reopen? The graphic below offers a handy visual guide.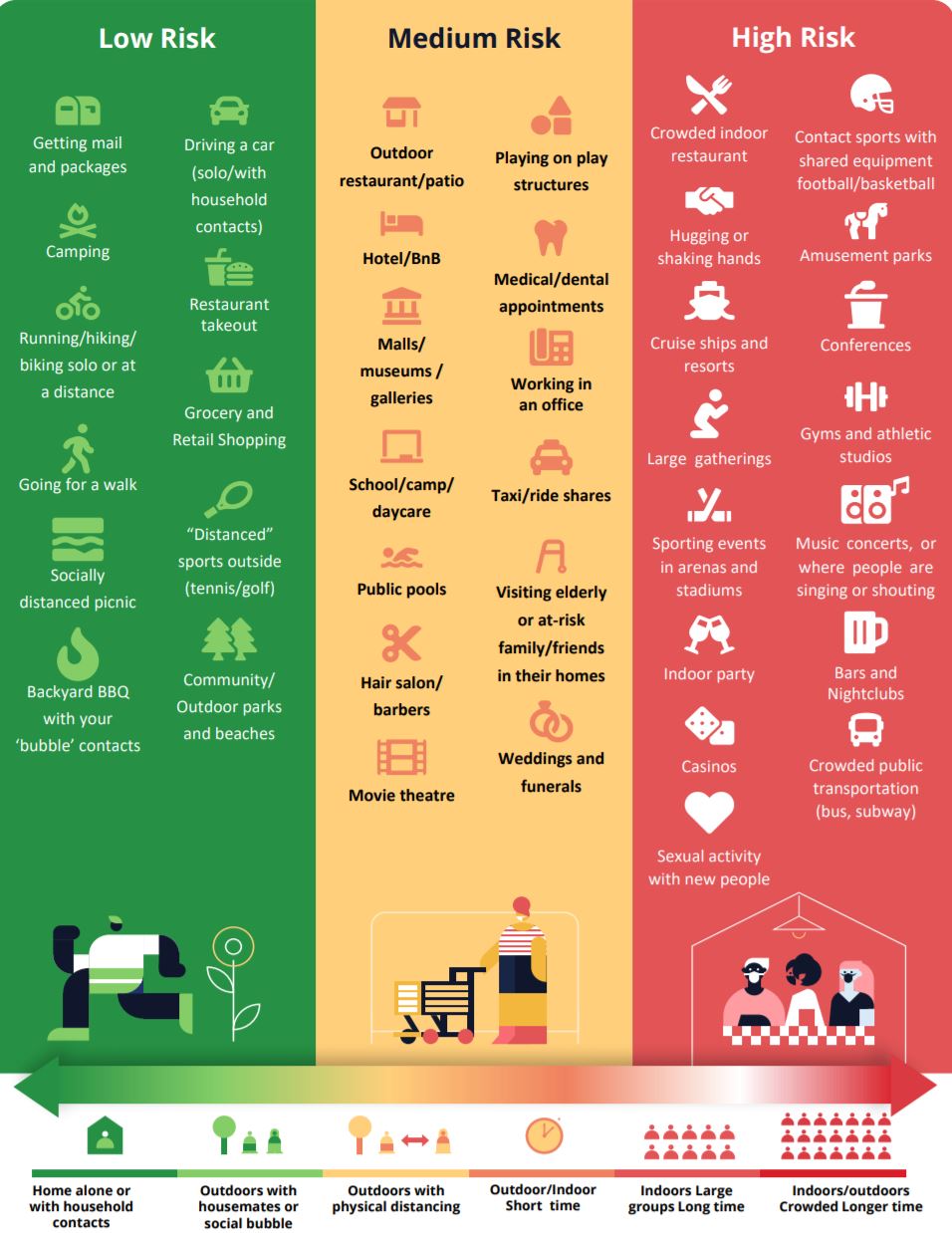 Where to Access General COVID-19 Information
For accurate, up-to-date COVID-19 statistics around the province, visit the BC COVID-19 Dashboard. 
If you have any questions about COVID-19, measures to take, and BC Ministry of Health Guidelines, call 1-888-COVID-19 (1-888-268-4319).
For updates, alerts and trusted resources, download the BC Ministry of Health COVID-19 Support App

Do you have a health concern that is NOT related to COVID-19? Family physicians in Surrey and North-Delta are still seeing patients.
Call your family physician to find out what their current policies are. 
Many family physicians are now providing virtual care. Visit the Pathways Virtual Directory to Find Family Physicians who are providing virtual care in our community.  
To learn more about virtual care and how to access it, click here. 
Further Learning
Video: Healthcare During the Pandemic (Dr. Lu)

Symptoms of COVID-19 include: 
cough
fever
sore throat
difficulty breathing
If you are experiencing any of these symptoms, DO NOT visit a clinic, Urgent Care Centre or Emergency Room UNLESS it is an emergency.
Instead, book an appointment at a COVID-19 Testing Site.
For detailed information about COVID-19 testing in Surrey and North Delta, visit this Fraser Health website.
Further Learning
COVID-19 Symptoms (BCCDC)
How COVID-19 Spreads (BCCDC)
BC Self-Assessment Tool (BC Ministry of Health)
Video: COVID-19 FAQ (Dr. Lu)
Video: MORE COVID-19 Questions Answered (Dr. Lu)

The Fraser Health Authority is asking people in the following situations to self-isolate for 14 days:
people who have tested positive for COVID-19
people who have been in contact with someone who has COVID-19
people who are returning from travel
people who have symptoms of COVID-19 
Self-isolating involves the following steps:
limit contact with others (do not leave the house,  maintain a distance of 2 meters from others, do not touch pets if in a shared household, use a separate bathroom from other household members, if possible)
keep hands clean (wash regularly with soap, avoiding touching your face, couch or sneeze into your elbow)
avoid contaminating items and surfaces used by others (put the toilet lid down before flushing, clean surfaces at least once daily, do not share personal items)
care for yourself (monitor your symptoms, get enough rest,eat healthy foods)
contact your health care provider immediately if symptoms worsen 
Further Learning
Self-Isolation Fact Sheet (Government of Canada)
COVID-19 Self-Assessment and Self-Isolation Web Page (Healthlink BC)
Self-Isolation Guide (Fraser Health)
Video: Do I Need a Mask? (Dr. Lu)

While the COVID-19 vaccine is now being rolled out, the best way to avoid becoming infected or infecting others is still to practice social distancing. The BC Ministry of Health is recommending that all residents practice social distancing in order to help limit the spread of the virus.
Social Distancing involves:
avoiding any non-essential gatherings
avoiding physical greetings, including handshakes, kissing or hugging
avoiding crowded spaces, including cafes, restaurants
limiting contact with people who are at higher risk, including the elderly and people in poor health
keeping a distance of 2 meters from others
In order to protect their staff and their patients, many clinics and family doctors are limiting physical interactions with patients. They may do this by:
Offering services via telehealth (either online or by phone)
Requesting that patients wait in their cars for their appointments rather than in waiting rooms
Asking patients to self-screen for COVID-19 symptoms before entering the clinic
If you have a medical concern that is NOT related to symptoms of COVID-19, please contact your family physician or a walk-in clinic to find out what your options are for receiving treatment. 
**Physicians, nurses and other health care workers are working hard to help patients -- please help them by staying away from Emergency Rooms and Urgent Care Centres if your health concern is not an emergency.** 
Further Learning
COVID-19 Prevention and Risks (Government of Canada)
Provincial Health Officer Orders (Government of BC)


Resources from the Division
Resources from Fraser Health
Translated and Downloadable Information
Resources from the Government of BC
Resources from the BCCDC

(COVID-19) سوالات متداول درباره ویروس کرونای جدید  
Resources from HealthlinkBC
Resources from Canadian Medical Association (COVID-19: Stop the Spread)