Indigenous Learning & Supports
We are pleased to share the Truth and Reconciliation Health Care Committee met on January 24, 2023 to honour Dr. John Trepess in a Blanket Ceremony and Metis Sashing Ceremony.
The ceremonies were held to recognize Dr. Trepess' contributions to Truth and Reconciliation with our Indigenous Partners in Nanaimo.
Snuneymuwx Hulit Lelum Director, Marina White and Home and Community Care Nursing Manager, Connie Paul, presented the Blanket to Dr.Trepess, while Vice-President  of the Mid Island Metis Nation, Tim Low, presented the Metis Sash. The witnesses in attendance were Tim Low, Vice-President MIMN; Dr. Ryan Danroth, Medical Director at Snuneymuwx First Nation Health Centre; Jennifer Jones, Central Island Manager - Island Health; Deborah Harver, Primary Care Network  Manager - Island Health; Laura Loudon, Nanaimo Division PCN Manager; Juanessa Prince, Administrative Assistant – Nanaimo Division of Family Practice, and Gloria Harding, Nanaimo PCN Indigenous Relations Manager.
The heartfelt gratitude we have for Dr.Trepess cannot be expressed enough for his efforts in building trusting, strong relationships with Indigenous Health Professionals and Indigenous Patients in Nanaimo.
We raise our hands to you Dr. John Trepess, Huy ch q'a and Maarsii!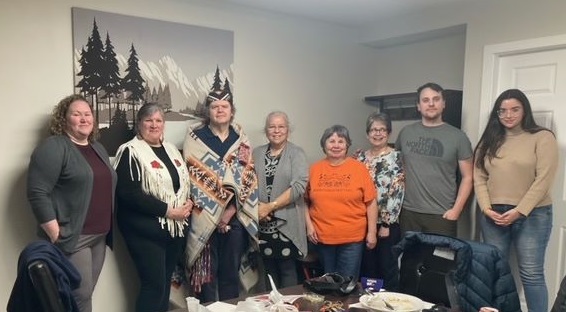 Learn more about our Indigenous Relations Manager.

View the Nanaimo Division's Cultural Relevance Strategy