Indigenous Learning & Supports
---
At our Members engagement event on August 22, 2023, we hosted displays about the Primary Care Access Strategy and the Cultural Relevance Strategy, there were cedar boughs at one of the displays and on the table floral arrangements. The cedar is used for various reasons by the Coast Salish people, the branches are used in homes and events to help brush off negativity. They are hung in doorways, used in special occasions, and if you are feeling bad, you can go for a walk and let the cedar branches gently brush away negativity. In a cedar brushing ceremony in Vancouver two years ago, the Mayor and Council were brushed off to cleanse their spirits and open their hearts to collaboration and cooperation. Cedar brushing can be healing, restorative, cleansing, and purifying. It helps us do our work intentionally, it is a great alternative when buildings do not allow smudging. There are Elders in Snuneymuxw and Snaw-Naw-As that can do cedar brushing at our event sand ceremonies. Huy ch q'a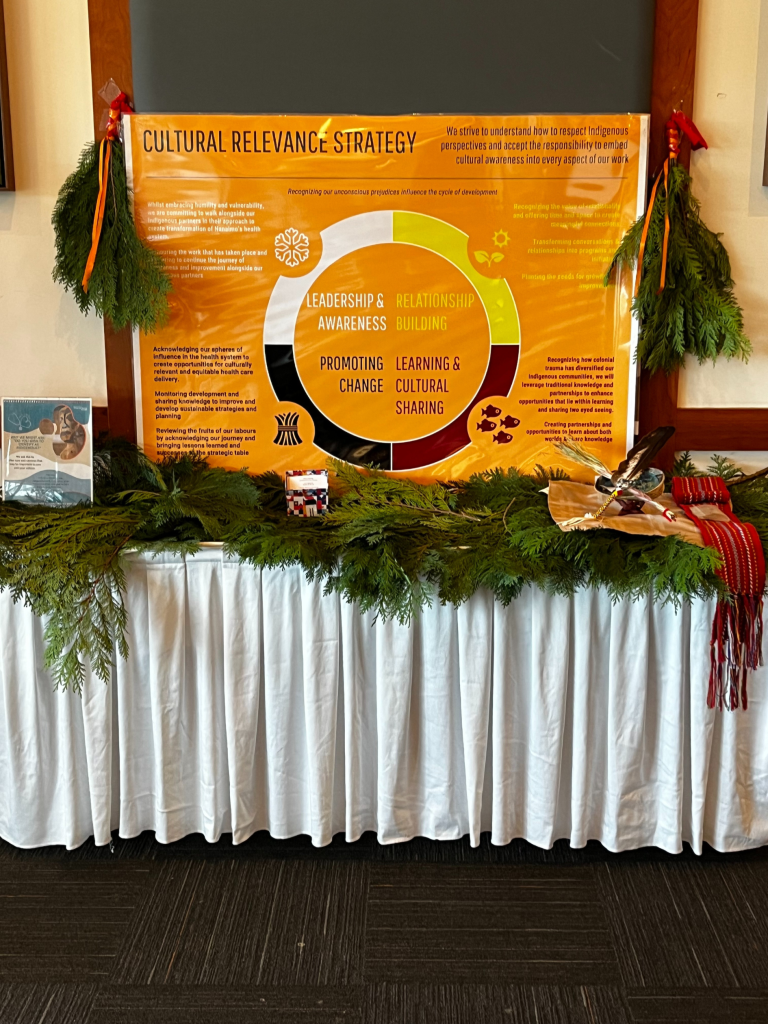 Where to Find Orange Shirts

Orange Shirt Retailers – full/partial proceeds to Indigenous groups  

Website: Orangeshirtday.org, Official Orange Shirt Day website with information, resources, and shop selling official orange shirt day shirts.
---
Congratulations to Board Member Courtney Defriend

We are honored to extend congratulations to our Board Member Courtney Defriend on another great achievement!

We raise our hands to you Courtney and thank you again for your contributions to the Nanaimo Division of Family Practice and the Nanaimo Primary Care Network.

https://www.fnha.ca/about/news-and-events/news/courtney-defriend-awarded-governor-generals-gold-medal
---
Snuneymuxw Historic Signing Ceremony

102 acres of land has been transferred to Snuneymuxw First Nation in a historic signing ceremony. Click here to read more.
---
Tillicum Lelum: A Saving Grace

Tillicum Lelum is pleased to announce that the documentary "Tillicum Lelum; A Saving Grace" can now be watched on demand anytime. The documentary chronicles the life's work of Grace Elliott Nielsen and her staff in creating and maintaining one of Canada's longest-running Aboriginal Friendship Centres. It originally aired on National Indigenous Peoples Day, June 21st, 2023, and can now be watched on Vimeo or through the CHECK+ on-demand service.

Blanket Ceremony and Metis Sashing Ceremony

We are pleased to share the Truth and Reconciliation Health Care Committee met on January 24, 2023 to honour Dr. John Trepess in a Blanket Ceremony and Metis Sashing Ceremony. The ceremonies were held to recognize Dr. Trepess' contributions to Truth and Reconciliation with our Indigenous Partners in Nanaimo.

Snuneymuwx Hulit Lelum Director, Marina White and Home and Community Care Nursing Manager, Connie Paul, presented the Blanket to Dr.Trepess, while Vice-President  of the Mid Island Metis Nation, Tim Low, presented the Metis Sash. The witnesses in attendance were Tim Low, Vice-President MIMN; Dr. Ryan Danroth, Medical Director at Snuneymuwx First Nation Health Centre; Jennifer Jones, Central Island Manager - Island Health; Deborah Harver, Primary Care Network  Manager - Island Health; Laura Loudon, Nanaimo Division PCN Manager; Juanessa Prince, Administrative Assistant – Nanaimo Division of Family Practice, and Gloria Harding, Nanaimo PCN Indigenous Relations Manager.

The heartfelt gratitude we have for Dr.Trepess cannot be expressed enough for his efforts in building trusting, strong relationships with Indigenous Health Professionals and Indigenous Patients in Nanaimo.

We raise our hands to you Dr. John Trepess, Huy ch q'a and Maarsii!
---
Learn more about our Indigenous Relations Manager.

View the Nanaimo Division's Cultural Relevance Strategy