Annual Report 2023
---
Welcome to our 2023 Kootenay Boundary Division of Family Practice *virtual* Annual Report. Here, we warmly invite you to learn more about our collective impact over the past year and explore our strategic directions.
---

Over the past year we've continued to implement Kootenay Boundary (KB) Division's four-pillar strategy. Anchored by our vision for Equitable, Resilient, and Vibrant Primary Care in Kootenay Boundary, we remain dedicated to assisting practitioners to meet patient and practice needs while navigating an evolving primary care system. 

Fundamental to this evolution is a worsening Practitioner supply gap, and the burden this places on our members and patients.  Our work focuses on mitigating the stress on practitioners, while addressing patient needs. Your critique of and participation in the activities outlined below is critical. Please reach out through our Feedback Form.

We welcomed 12 new Family Doctors (incl. 3 Hospitalists and 1 Emerg. Doc) and 6 new Nurse Practitioners this year. To further support existing practitioners, we've provided EMR training and process optimization, improved forms creation and distribution through Pathways (including 'forms in EMRs' integration for Profile and Med-Access), and delivered detailed financial analysis to help clinics optimize billing processes.

We utilized $1.6 million in expansion funding to hire an additional 10 PCN health care providers. Since 2020, we've added a total of 11 NPs, 9 RNs, 15 SWs, 6 PTs, 2 dietitians, 1 OT, 1 RT, and 3 Aboriginal Health Coordinators/Lead to Primary Care with the support of PCN funding. Effort to share the responsibility of care is showing signs of progress with almost 50,000 appointments since the inception of the PCN, supported by $6M of annual new funding for staff.

In fall 2022, we leveraged a window of opportunity associated with the Primary Care Crisis to submit a 'Community Led Clinics' concept to the Ministry of Health. Supported by local government leaders, we held multiple regional and local engagements with practitioners and conducted 1:1 meetings with all potentially impacted Patient Medical Homes (PMHs). This fall we received ~50 commitments to participate in "Prima Health Community Led Clinics" from doctors and nurse practitioners across Kootenay Boundary, and submitted a Regional Service Plan with a three-year implementation schedule and budget on October 31, 2023.

We are supporting the KB Patient Advisory Committee & Community (KBPACC) in rolling out the 'Empowering the Citizen Patient' article series, aimed at demystifying the complexities of the healthcare system, and providing tips to better support one's own health for all residents of Kootenay Boundary. Importantly, we've also taken the committee's insights into account in formulating and improving several of our key initiatives, notably in the Future of Clinics and the governance of our Primary Care Network.

While these milestones are promising, the number one issue facing us continues to be patients' inequitable access to Primary Care, and the burden this places on our Division members and patients. An analysis we led on behalf of all Interior Divisions projects today's shortfall in longitudinal and sub-specialty Practitioners will grow by ~60% in the next five years. We cannot recruit our way out of this nation-wide problem. There are simply not enough practitioners graduating or immigrating to fill retirement gaps, and with an aging population, family practitioners are needing ever more resources to address growth in complex care. 
This is not a problem of our making, and the Division will continue advocating to health care leaders for the resources we need in KB to mitigate the impacts. However, we are increasingly understanding that re-building an equitable system of Primary Care is also going to require actions that can't be mandated from above, but will be the result of choices we make here in KB. 
In the fall of 2022 we hosted a series of member engagements exploring potential changes in practice to better serve unattached patients. Division members expressed their desire to work towards a more equitable system, and expressed a willingness to explore practicing differently to accomplish this. These engagements sparked new work in PCN (Optimization), Shared Care (Screening and Episodic Care), Future of Clinics (Infrastructure) and at the Division Board (Clinic Supports), all of which is likely to result in changes to your practice in the coming years.
Common to much of this work is the principle of triage in an environment of resource scarcity. Triage is a cornerstone in medical care. We begin with exploring how to decrease demand. Examples include triage at booking, directing patients to pharmacists, nursing and allied team members, and the growing variety of online supports for mild to moderate MHSU. In-practice supports to improve the patient / provider experience of care while simultaneously decreasing paperwork, such as AI-based scribes and more automated EMR forms, are also part of the solution. But these changes alone are unlikely to result in full attachment.  Accordingly, we are actively considering new community-based services that could facilitate large numbers of family practitioners supporting episodic care and preventative care, while still spending most of their time providing longitudinal or sub-speciality care to those that need it most. 
These discussions serve as a challenge to the status quo in our approach to delivering primary care within the region. A fundamental part of this work is continuing to ensure KB Division practitioners lead, as we collectively decide how to tackle this 'wicked' problem. And with 45% of local physicians reporting symptoms of burnout in last year's member survey, it's clear that the conversation must focus on working differently, not working more.

While these new ways of working are being explored, we've also expanded our investments in retention and resilience. With a concerning 43% provider turnover in the past four years—we knew it was imperative to act. This past summer, we completed a comprehensive research project (evidence review, exit interviews, etc.) aimed at understanding the multifaceted dynamics affecting why physicians leave, and stay, in certain areas of care. Four core themes emerged: Work-life balance, clinical teams and collegiality, personal values and spouse/family needs, and community connectedness and lifestyle.
The project also identified strategies for retaining physicians, assessed which of these strategies fall within our scope of influence, and evaluated our existing investments in Clinic Supports. With this lens, new work has been initiated in all these areas, where we have the ability to make impactful changes. 
For work-life balance, we are exploring AI options like Tali AI to reduce workload, along with increased efforts around locum recruitment, and cross-coverage within clinics. For clinical teams, we're designing more supports to help clinics build and articulate positive clinic culture. On a more personal level, we're making it a systematic component of the recruitment process to inquire about spouse and family needs, including employment and the potential for social connection. For community integration, we are expanding our "red carpet" welcome by engaging community partners to assist in helping new physicians and NPs feel at home in Kootenay Boundary.
In closing, a heartfelt thank you to all KB Division members for your continued engagement, support, and invaluable ideas. We encourage you to share your thoughts with us through this Feedback Form. Your input is not only welcomed; it is essential for our collective journey towards equitable, resilient, and vibrant primary care in Kootenay Boundary.
 

This 5-minute video highlights strategic directions and featured impacts within our mission to help practitioners meet patient and practice needs, lead change in an evolving primary care system, and work with partners to shape a better future for health care in BC.

A collection of KB Division project highlights from 2022 - 2023 is captured below, alongside photos from our KB medical community. Explore a complete snapshot of all current KB Division projects here → 

Welcomed 8 new GPs and 6 new NPs to family practice in KB, and supported the recruitment of 3 FP hospitalists and 1 ED physician.
Delivered robust regional medical education via the CPD Program including 3 Dine & Learn events, with integration of our accreditation into the Shared Care Emergency Medicine Retreat and the Powder Creek Sk Week, for a total of 108 attendees and 386 credits awarded. Additionally, 37 Regional Rounds sessions were held on diverse topics with 573 attendees in the last year and 461 credits awarded. Finally, the 39th Kootenay Conference was delivered both virtually and in-person.
Provided EMR support to 10+ clinics including process for creating tickets and following up with vendors on behalf of clinics, coordination of training for MOAs for Profile EMR and development of process to determine when new forms are released, convert them to fillable forms and upload to Pathways.
Worked with a clinic to design a process to improve online onboarding workflows and saved approximately 2.5 hrs/week in phone calls over the subsequent month.
Supported five clinics with detailed financial analysis on how to optimize their fee-for-service billings and project their income under the Longitudinal Family Physician Payment model.
Held an Office Manager retreat and ongoing meetings and an MOA appreciation night to share workflows and experiences and optimize clinic efficiency.
Conducted clinic lunches with 18 clinics to share information regarding PCN refresh, initiatives to support unattached patients, and best communication approaches.


Continued to expand the KB PCN to all KB clinics. 
Used $1.6 million of expansion funding to hire another 12 PCN health care providers (NP, RN, SW, dietitian, OT.) 
Hired in total since the launch of KB's PCN – 11 NPs, 9 RNs, 15 SWs, 6 PTs, 2 dietitians, 1 OT, 1 RT, 1 clinical pharmacist and 3 Aboriginal Health Coordinators/Lead: total 49 PCN staff. PCN RNs and Allied Health providers had over 50,000 (!) appointments since the start of the PCN.
Engaged in a PCN optimization process to find ways to increase the PCN's capacity to attach more patients. All PCN partners were engaged to identify optimization opportunities. 

Through the optimization process we learned about opportunities and needs to refresh our PCN Learning Lab. 

Continued focus on culturally safe care provision - https://kbculturalsafety.org/
Continued to expand KB's Health Connect Registry which now lists over 7,000 patients who are looking for a primary care provider.
Exploring new opportunities associated with the 'PCN Refresh' announced by the province, including that clinics can hire RNs & LPNs directly, unlimited NP contracts, and an expanded scope of the PCN to become a full spectrum primary care planning table. Watch this space!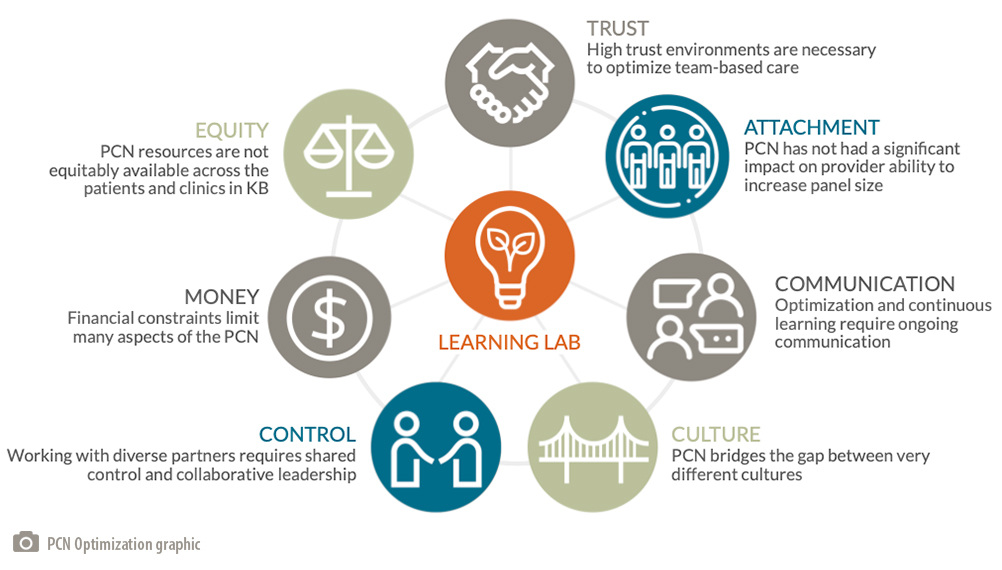 Leveraged window of opportunity associated with the PC Crisis to submit Network of Clinics concept to MoH fall 2022. Received MoH approval to proceed to detailed planning Spring 2023. Submitted full Regional Service Plan with a three year implementation schedule and budget on Oct 31, 2023.
Prepared Mini-Service Plans, Detailed Budgets, Key Concept 1 pagers, Detailed architectural work and Quantity Surveys for six prospective sites.
Hosted AMA (ask me anything) Zoom sessions with Practitioners in similar models from Sidney, Whistler, Sicamous, Penticton and Kamloops.
Received support of Local Government Leaders in meetings with Minister Dix & local MLAs. 
Facilitated multiple regional and local engagements with Practitioners, presenting visions and soliciting feedback, including two 1:1 meetings with all potentially impact PMHs.
Received ~50 Commitments to Participate from Docs & NPs across KB.
Evolved strategy for community acquisition of one (possibly two) private clinics.


Adding Indigenous member to Board this AGM.
Held extensive engagements with Community Leaders via the Future of Clinics initiative (pls. see above) in West Boundary, Lower Columbia and Castlegar.
Funded independent Kootenay Boundary Patient Advisory Committee & Community (KBPACC).

Supported management, communications, QI, & admin support for patient advisory committee, including KBPACC website and semi-annual newsletters.
Accepted and/or implemented advice from committee on Future of Clinics, Primary Care Network governance and optimization, IH Clinic Phone Messages and Intake Forms, Patient Navigators, Selkirk Pre-Med curriculum, Increasing Patient involvement in PCNPatient Experience Survey and Quality of Care measures.
Provided communications & management support for the PACC's Citizen Patient Education Campaign, a 10 article series and resources to help community members participate more effectively in their health and health care.

Worked with KBPACC to develop the 'Empowering the Citizen Patient' series of articles with the objective of sharing practical information to help community members better understand the health care system, alongside tips & resources to support each individual's health & support them to better navigate care in Kootenay Boundary.


The Kootenay Boundary Division of Family Practice extends sincere gratitude to all of our members across the region and to our many health care and community partners for your collaboration and shared dedication.
We gratefully acknowledge the funding of the Family Practice Services Committee, Shared Care Committee and Innovation Fund as well as the support of the Division of Family Practice provincial office and Shared Care central office.
To our passionate physician leads, dedicated committees, patient partners, and skilled contractors - thank you for your contributions and leadership.

---
The Kootenay Boundary Division of Family Practice acknowledges that we work on the unceded, traditional, and ancestral territories of the Ktunaxa, Secwépemc, Sinixt, and Syilx First Nations, home to the Métis and many diverse Aboriginal communities.
Acknowledging that we are on the traditional territories of Indigenous communities is an expression of cultural humility and involves recognizing our duty and desire to support the provision of culturally safe care to First Nations, Inuit, and Métis people in Kootenay Boundary and BC.
---