Play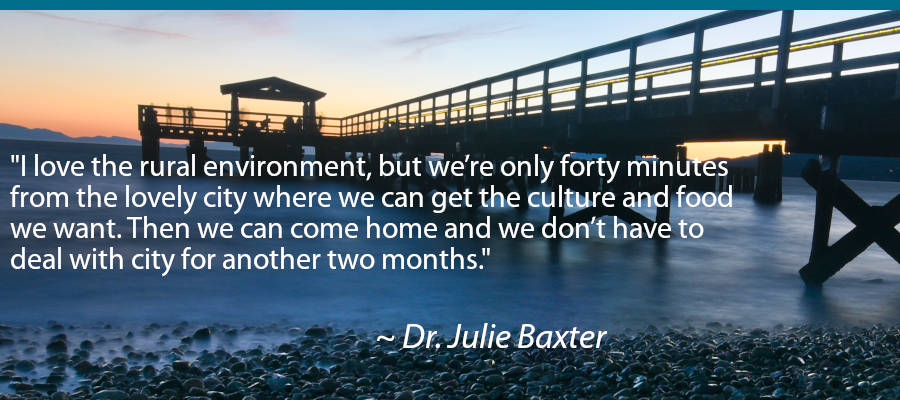 Living in a location like the Sunshine Coast encourages an active lifestyle. Whether you prefer boating, hiking, camping, fishing, golf or winter sports, the Coast has it all for you. Local Community Recreation Centers in Gibsons, Sechelt and Pender Harbour offer expansive programs as well as access to pools and workout equipment/weight rooms, squash courts and fitness classes. Clubs for everything from hiking, trail biking, skating and swimming to club (team) sports abound for both adults and children. Whether you enjoy kite boarding or simply a walk along the beach, the Coast has opportunities for you.
"We heard about the Sunshine Coast from a friend. They said it's perfect with trails, forest and a great hospital. We came for two locums and then bought a house. It's magical here. The Sunshine Coast is stunning. I drive home with the sun on the water and snow on the mountains. At first we were concerned that we might feel trapped by the ferry, but actually it's a real benefit because it creates a sense of community and the only people who are here want to be here. I feel so blessed that we fell into this place with a great hospital and community. I wish we'd come five years earlier."

~ Dr. Paul Dhillon 
Beyond active living, the Coast is a hotbed for everything arts and crafts. The Sunshine Coast Arts Council has provided vibrant leadership to the arts community since 1966 and has been a driving force behind events like the Sunshine Coast Art Crawl. The Coast is famous for its Jazz, Blues and Rogue music festivals and for its Festival of the Written Arts. During the winter months the Sunshine Coast Film Society brings in award winning films from around the world for those who want a change from Hollywood blockbusters. There are two movie theatres, one in Gibsons and one in Sechelt. 
For those wanting to explore Coast history, Sechelt Nation was the first BC self-governing indigenous community and has a wonderful First Nations cultural museum.
The Coast offers diverse shopping experiences at local boutiques or regular craft markets. Diners enjoy ready access to a plethora of opportunities ranging from quirky coffee shops to five star refined dining. Those more interested in home-prepared meals can access fresh local ingredients at Community and Farmers markets most of the year.
For more information about Coast leisure opportunities check out these resources: