Work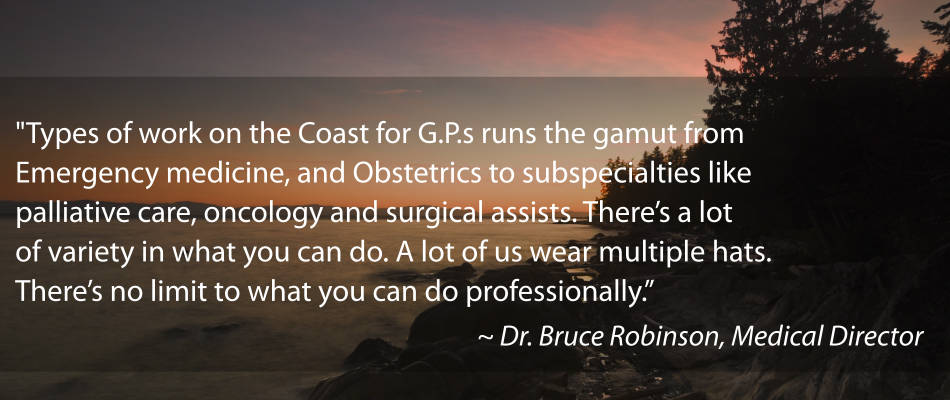 Sunshine Coast physicians provide both community and hospital services. Sunshine Coast Family Physicians enjoy collegial and supportive relationships with specialists both on the Coast and in the Lower Mainland. Depending on current need in the community, Coast physicians have the opportunity to practice sub-specialties including:
Anesthesia
Obstetrics
Emergency Medicine
In-patient Care
Addictions Medicine
GP Oncology
Palliative Care
Geriatric Medicine
Click here to watch our Recruitment Video

Five private clinics and the Pender Harbour Health Centre provide community physician care across the Coast. There is a walk-in clinic available at Gibsons Medical Clinic, and the Pender Harbour Health Centre will deal with urgent/emergent situations.
| | | |
| --- | --- | --- |
| Community | Clinic | Number of Physicians |
| Gibsons | Gibsons Medical Clinic | 12 |
| Roberts Creek (Wilson Creek) | Upstream Medical Clinic  | 5 |
| Sechelt | Arbutus Medical Clinic | 4 |
|   | Cowrie Medical Clinic | 5 |
|   | Sechelt Medical Clinic | 8 |
| Madeira Park/Pender Harbour | Pender Harbour Health Centre | (visiting physicians from Sechelt) |

Sechelt Hospital, located centrally on the Sunshine Coast, offers acute care, surgical, and Emergency Department services. This newly-renovated, 46-bed, acute care hospital serves the 30,000+ residents of the Sunshine Coast including the communities of the Sechelt First Nations, from Port Mellon to Egmont.
The hospital provides a full range of services, including:
Emergency Department
Inpatient medical and surgical care, as well as a Critical Care Unit
Obstetrical Care
Surgical Services (including endoscopy, general surgery, obstetrics and gynecology, ophthalmology, and visiting urology)
Mental Health and Substance Use Services, including a psychiatric in-patient unit, as well as ECT
Regional Laboratory medicine
Imaging services such as CT, Fluoroscopy, Ultrasound, Mammography and x-ray, as well as interventional radiology procedures
Rehabilitation services (such as Physiotherapy and Occupational Therapy)
Outpatient Medical Day Care services

Chemotherapy
Dialysis
IV antibiotics, dressing changes, etc.
Coastal physicians provide services at their respective clinics, and also collectively provide emergency and inpatient coverage at the hospital (including a rotational system for covering weekend inpatient rounds).These services are well-supported by local and visiting specialists, as well as access to lower mainland specialty services.
Fetch and Pathways provide further information for physicians regarding available specialists and estimated wait-times.
Providing continuity of care for their patients across the ages and stages of their lives, Coast Family Physicians attend the three Coast long-term care facilities, participate in the doc-in-school programs, and provide services to SUMAC place (a residential mental health facility.)