COVID-19 Updates
     
               
B.C.'s doctors are now available to provide care to patients using telephone or video during the COVID-19 pandemic, in addition to providing in-person care when necessary.
We urge patients to call their doctor first when they need medical care. Doctors will let their patients know if an in-person visit is needed, and their staff will follow up to make arrangements. 
Things patients should know to get started:
Doctors are not seeing people in-person as much as usual, but they are still booking appointments, even though they will be different than what patients are used to.
Patients should call their doctor's office just as they normally would. Medical office staff will book the appointment and tell you how to prepare for the telephone call or video conference. Some doctors' offices have online booking systems, as well.
Patients should not arrive at their doctor's office without phoning first.
The virtual appointment is covered by MSP like any visit with the doctor. There is no additional cost for the service.
---
Public and Community Resources:
Public can now call 1-888-COVID19 or text 604-630-0300 for non-medical information on the virus covering everything from travel recommendations to social distancing.
The line will be manned by service representatives from 7:30 a.m. to 8 p.m. seven days a week, and information will be provided in more than 110 languages.
Self-Assessment Survey - Should You Be Tested? 
https://covid19.thrive.health/
Anyone concerned that they may have been exposed to, or are experiencing symptoms of the novel coronavirus, should call their primary care provider, local public health office, or 
call 8-1-1
Online Resources:
Fraser Health Website (Includes FAQs, General Information, Prevention...) 
BC Centre for Disease Control (Includes About COVID, Testing & Prevention, Press Statements...) 
COVID Provincial Support and Updates ( Provincial Updates, Testing & Prevention, Employee FAQs...)
A COVID-19 glossary: What the terms mean and some subtle differences
Mental Health and Substance Use Resources:
Click HERE for a list of free/low cost mental health supports 
Coping with COVID-19 - Bounceback: COVID Mental Health Supports
Alcoholics Anonymous - is still conducting meetings and are available to help anyone struggling
to stay sober and would be happy to help any family members who are struggling with
a loved one's drinking as well. Langley Intergroup Office: 604-533-2600.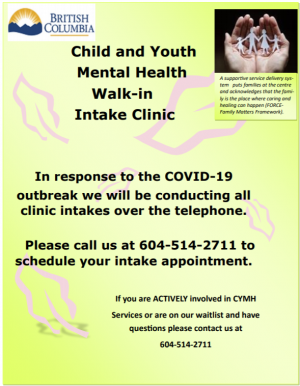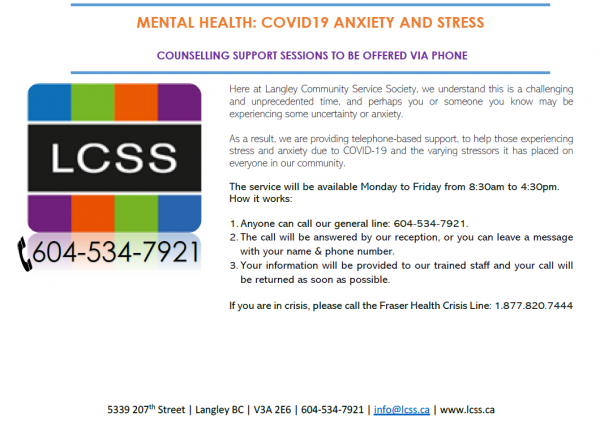 ---
Senior's Resources 
Langley Senior Resources Society - Meal Pick-Up Program
Langley Meals on Wheels - Meal Delivery Program
Langley Seniors In Action has a list of local resources with senior specific hours of operation click here.   
BC211 - call 2-1-1 or visit their website for Safe Seniors Strong Community program and COVID resources 

Self-Management BC's one-on-one telephone-based Health Coach Programs is available to support people living with chronic health conditions.
For many people, coping with chronic health conditions can be extremely trying. Fatigue, pain, breathing difficulties, sleeping problems, loss of energy, activity limitation, depression and anxiety about the future are common. Individuals may benefit from having the additional support, in the form of a Health Coach, to face the daily challenges of living with chronic conditions and set themselves a health goal to achieve. 
Health Coaches connect with participants by telephone once a week for 30 minutes for a period of three months.  Through this contact, Health Coaches can support participants who would like to:
•             Choose goals and actions they want to take to better manage their health
•             Identify and problem-solve barriers to being healthier
•             Become more self-confident
•             Be motivated to initiate and maintain health-behaviour changes.
Health Coaches provide a dimension of support that complements and enhances professional health care; they do not provide medical or clinical advice or treatment.
Interested?  email selfmgmt@uvic.ca or visit: https://www.selfmanagementbc.ca/healthcoachprogram 
---