Our Communities
The Central Interior region offers a truly four season climate and a diverse range of activities.  If you are planning to visit, please fill out our Activity Checklist and let us customize something just for you.
100 Mile House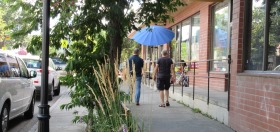 The towns of 100 Mile House and Williams Lake offer childcare, french immersion elementary schools, and several secondary schools, along with recreation centres, ice-rinks, soccer grounds, cross country and downhill skiing, mountain biking and hiking trails, legendary lakes and horse-riding opportunities. It really is a four-season wonderland for the outdoor enthusiast. Many of our physicians and their families partake in cross country skiing, tennis, biking, and hiking. There are several resorts at 108 Mile Ranch that offer additional spa, pool, tennis, and fitness activities.

We have a small art gallery and gift store that supports a thriving arts community, a local theatre group who put on an annual production, and there are choirs, band groups, and blue-grass workshops and house concerts throughout the year. We also have a bustling farmer's market in the summer months.  

We are also fortunate to have affordable housing, which is an increasing rarity in BC. We are a secret pocket of undiscovered heaven! Real estate ranges from cozy and historical log cabins to hobby farms and expansive lakefront executive homes. To receive an information package, or set up a virtual meet and greet contact our team at 
The Medical Community
---
Williams Lake

Williams Lake is blessed with spectacular back-country and cultural amenities. 
Residents and visitors enjoy our nature, swimming pool, recreation centres, cowboy museums, and art galleries, and enjoy our natural surroundings in their hip waders, in kayaks, on mountain bikes, or even on the back of a horse! With a wide variety of retail shops, spas, farmers markets, and an arts and culture scene, Williams Lake is a great choice of city to live, work and play. Our regional airport means that you're only a one hour flight from Vancouver. Read a physician testimonial.
The Medical Community