Megan Purcell - Executive Director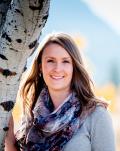 Megan has been with the Division since 2013, first as an evaluation and research contractor, and then began as the Executive Director in April 2016. In this role, Megan brings her experience in project management, policy development and strategic planning to implement the Board's governance and strategic priorities. She also oversees the development and implementation of all projects, and works closely with the Operations Lead to manage day to day operations.
Megan has an Honours Bachelor of Arts degree from UBC (Political Science), and a Master of Arts degree (Political Science) from the University of Victoria. Her academic specialties are in health policy and health promotion, and Megan has previously worked for the BC Ministry of Health, BC Ministry of Children and Family Development, the Alberta Alcohol and Drug Abuse Commission, and the University of Alberta School of Public Health.
With a toddler and another baby on the way, Megan and her husband are busy enjoying the Kootenay lifestyle and spending time with family. Megan's other passion is horses, and she is a certified Equine Canada Competition Coach, teaching and riding in show jumping and dressage whenever life permits.