Medical Community
East Kootenay is part of the Interior Health Authority and home to five hospitals.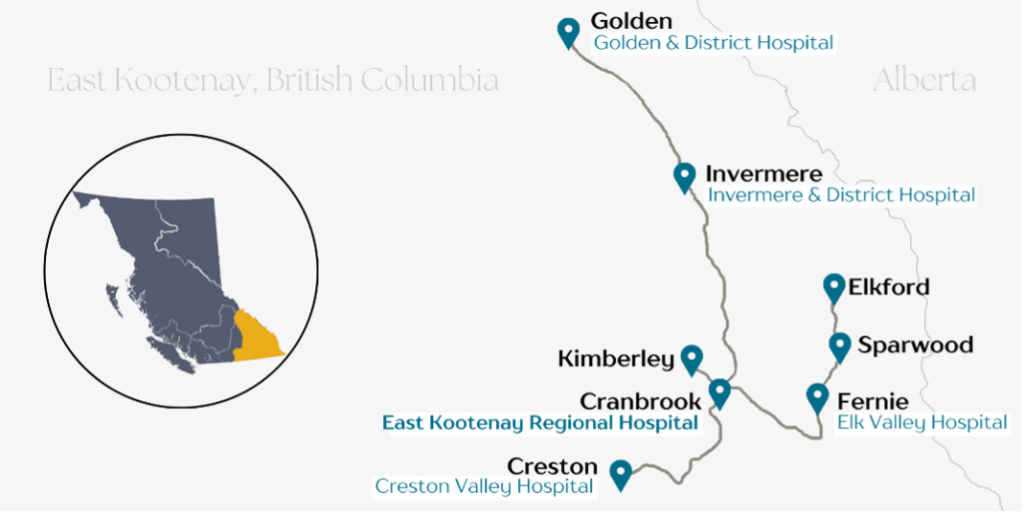 East Kootenay Regional Hospital
The East Kootenay Regional Hospital (EKRH) serves the entire East Kootenay population of 85,000 people. It is responsible for providing core medical and surgical specialty services to patients throughout its service area. Located in Cranbrook, EKRH offers services including core physician specialties, 24 emergency and trauma services, Level 3 laboratory, acute and obstetrical care.
 
Family Medical Clinics
The East Kootenay has 19 medical clinics including:

Some family physicians also deliver healthcare services from other locations in and around their communities, such as: school clinics, maternity clinics, long-term care facilities, local hospitals and emergency departments, and First Nation health and wellness centres.

Maternity Clinics
Across all EK communities you can be connected with local maternity services and pregnancy care through your family doctor, clinic, or health care provider.

Specialists
EK Family Physicians are supported by a number of local specialists, including:
Anesthetics

Cardiology

Internal Medicine

Obstetrics

Oncology

Ophthalmology

Urology

Orthopedics

Pathology

Pediatrics

Psychiatry

Radiology

Respirology, Rheumatology & ENT

Surgery
Learn more about out EK Communities and Lifestyle opportunities.