IN THE NEWS
Provincial government and Doctors of BC announce the PMA and new payment model for family physicians.
Ratification of the Agreement will commence on November 14, 2022.  Details will be sent to physicians via the Doctors of BC.
---
Making Mama Well: new resources available for perinatal care in Campbell River
Read about the new website, peer group and podcast among an expanded collection of resources – Campbell River Mirror, July 20, 2022
---
BC Family Physicians Day - May 19, 2022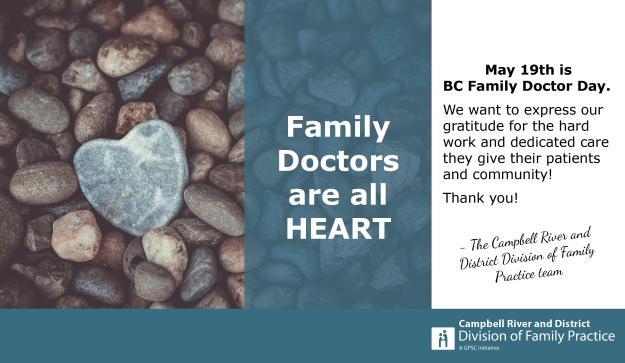 ---

Campbell River's 2020 Spirit Awards Highlighted in the Doc's of BC 2021 Report to Members - Physician Health & Wellness.
---
BCMJ - Physician Wellness: Doctors Taking Care of Doctors
The 2020 Campbell River Spirit Awards receives a nod in the BCMJ article:  Physicians Wellness - Doctors Taking Care of Doctors.  Read the article here.
---
Mobile Outreach in Campbell River
Mobile Outreach for those who are vulnerable isn't something new, but to Campbell River it is. Whether homeless or helpless, Leanne & the Moose (with support from many local government agencies) are successfully coordinating health services for those who need it the most.  Click here to watch the video produced by Shaw Spotlight. 
---
Primary Care and Addictions Outreach Team
As part of the response to COVID-19 an outreach team has been working to help address care gaps for vulnerable and unsheltered people in Campbell River in the context of the current pandemic. The team has been following a set schedule to provide outreach to various locations in Campbell River in collaboration with the MOUHSS (Mobile Outreach Unit for Health and Support Services). The MOUHSS ("Moose") is a project created by the Kwakiutl District Council (KDC) and supported by the Division of Family Practice as well as other local sponsors. Services on board the mobile unit at present include social work, counselling, nursing (primary care nursing and connection to positive wellness), GP for urgent primary care (including COVID screening and swabbing) and addiction treatment.   
For more information, including a copy of the schedule, please click here.
---
Michele Babchuk, MLA North Island speaks in the Legislature Assembly of BC 
Michele Babchuk, MLA North Island spoke in the legislature today (March 10, 2021) and acknowledged the Campbell River & District Division of Family Practice and the Campbell River Medical Staff Engagement Initiative Society on our first ever Spirit Awards. Awards that honoured our local physicians and community heroes supporting health care in our area. Thank you Michele!   Watch Video here:  MLA Babchuk's 2-Minute Statement in the Legislature - YouTube 
---

Doctors Urge Everyone to do Their Part - Campbell River Mirror, 13May2020
Ear Savers - 100 ear savers made locally and donated to Campbell River's family practice clinics
Non-COVID-19 Health Issues should not be overlooked, says Campbell River Division of Family Practice (Campbell River Mirror - April 17, 2020)
March 21, 2020 Press Release - From the Campbell River and District Division of Family Practice COVID 19 – Updates and Actions
---
Community Health and Social Services Fair
The Campbell River & District Division of Family Practice hosted the Community Health and Social Services Fair on Thursday, June 6, 2019.  The following video was created from those who attended and visited the video station.   Watch Video HERE
---
Multi-division partnership means optimal care for mental health and substance use patients in Northern Gulf Island rural communities
November 4, 2019
Improving access to mental health services is a top priority for divisions across BC, but many divisions experience logistical challenges in achieving this goal—particularly rural and remote communities. To address barriers to access in rural communities—such as geographical distance, transportation limitations, and/or financial barriers—the Rural and Remote Division of Family Practice (Gabriola Chapter), Campbell River and District Division of Family Practice, and the Comox Valley Division of Family Practice utilized funding from the Shared Care Committee to develop the Northern Gulf Island and Gold River Mental Health and Substance Use (MHSU) project. The project, initiated in October 2017, uses a team-based care approach to provide timely support for patients experiencing mental health or substance use issues in five rural communities: Cortes, Quadra, Hornby, and Denman Islands, and the Village of Gold River.  Read more...
---
Patients take active role with medical team for better results
Campbell River Mirror
September 26, 2018
(From left) Patient Sherilyn Redekopp, family doctor Dr. William Prinsloo, and surgeon Dr. Leanne Wood discuss Redekopp's patient passport for her colon cancer surgery. Photo: Island Life Photographics
Read the whole Campbell River Mirror Article
---
What Matters to You?
In partnership with the Patient Voices Network's Oversight & Advisory Committee and health care organizations across the province, the BC Patient Safety and Quality Council are encouraging providers to have "What matters to you?" conversations each and every day with the people they support or care for. Because patients are the true experts on their own needs and experiences – asking, listening and responding to what matters to patients is a key feature of patient- and family-centred care.
https://bcpsqc.ca/advance-the-patient-voice/what-matters-to-you/
 
---
Child and Youth Mental Health Substance Use Referral Helper
The Child and Youth Mental Health and Substance Use Referral Helper referralmap.crh-er.ca is an online resource developed by the Campbell River and District Division of Family Practice under the CYMHSU Collaborative to support clinicians in discharge planning for children and youth who present to the Campbell River Emergency Department.  Designed for use by Physicians, Medical Residents, Locums, Crisis Teams, Social Work and Aboriginal Health; it can also be used by other professionals needing information on resources and referral pathways to CR Community services including island-wide resources for Aboriginal services.
The tool has 4 main referrals streams:
Mental Health
Substance Use
Sexual Assault
Child Protection 
Based on the referral stream selected, the Referral Helper presents the user with a few short questions and then proposes the most appropriate referral options. Supporting documents such as assessments and screening tools are organized by referral stream for easy access and reference.
Simply click on referralmap.crh-er.ca to access and feel free to share. Please note that all information contained on the site has been checked for accuracy to the best of our ability. Organizations/agencies will be asked to verify content ongoing to maintain current and accurate information. The site will be in a pilot phase until March 2018.
---
Local Action Team Supports Child and Youth Mental Health
September 12, 2017
Tracy Kennedy was becoming increasingly alarmed by the rates of youth suicide in Campbell River.  As the as Director of Instruction, Student Services & Safe Schools for School District 72, knew that something had to be done. "Our community has had enough suicides," said Kennedy. "We need to do whatever we can to keep our kids safe."

Kennedy had heard about an exciting new initiative called the Child and Youth Mental Health and Substance Use (CYMHSU) Collaborative ... she reached out to Campbell River and District Division of Family Practice Executive Director Christine Colbert.

Read Full Press Release: Campbell River Local Action Team Supports Child and Youth Mental Health.pdf 
 
---
Community Enjoys FETCHing Resource!
Campbell River Mirror
February 10, 2016
The Campbell River and District Division of Family Practice has launched Year Two of "FETCH," a community web-based resource that helps the public and health care providers access comprehensive information about community health and social services in the region.
FETCH (For Everything That's Community Health) is an online, public, user-friendly, searchable website at campbellriver.fetchbc.ca. Starting Feb. 12, Shaw's Ch. 4 will air a feature on this valuable community resource. Read t​he full story >

Watch the video (compliments of Shaw TV) >
 
---
Campbell River and District Division of Family Practice Launches FETCH,
A Public Online Resource for Community Health and Social Services 
August 13, 2015

The Campbell River and District Division of Family Practice is pleased to announce the launch of "FETCH" (For Everything That's Community Health). FETCH is a new, community web-based resource that helps the public and health care providers access comprehensive information about community health and social services in the Campbell River area. Read the full press release >