Resources
The Campbell River and District Division of Family Practice was formed in August 2013 and represents family practitioners throughout the Strathcona Region - Campbell River, Quadra Island, Cortes Island, Gold River, Oyster River and Sayward.

Campbell River is located at the 50th parallel on the east coast of Vancouver Island. We are situated at the start of Discovery Passage, which is midpoint on the island and at the beginning of the famous Inside Passage. The majestic mountains of Vancouver Island are at our back door and from our front door, you can see the Coastal Mountains on the mainland. We are the third largest city on the island, with a population of more than 37,000. The living and working regional population is approximately 60,000. 
Our city offers eco-adventures and internationally renowned salmon fishing; skiing at Mount Washington; golfing; fine dining; community festivals; parks; biking and walking trails for all ages and abilities.  Choosing Campbell River and District is choosing a life balanced between work and leisure - on a mountain top, at the ocean or anything in between.  It is a lifestyle choice!
---
Work * Live * Play 
Campbell River & District 
PHYSICIAN WELCOME PACKAGE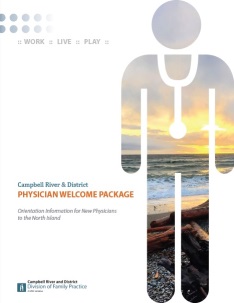 Download the full  Welcome Package.pdf  that provides both professional and area information about Campbell River.

City of Campbell River - 2019 Community Profile
---
Quick Links
​Below are just a few resources available to you, including information to assist you in finding Job Opportunities and researching the Campbell River area. 
Questions, additional resources and support, please do not hesitate to contact the Campbell River and District Office: Sadie Mack 250-286-7100 ext. 67208
 
---
Locum Resources 
Combine your career with an opportunity to explore Vancouver Island and adjacent islands. Locum in Campbell River and tour the region and make a vacation of it. For more information, read our Locum Brochure.

Locum opportunities within the Division are posted under our Job Opportunities page, on the CASPR (Canadian Association of Staff Physician Recruiters) website, locums.ca, and on Island Health's website.
Please contact Sadie Mack to add or inquire about physician recruitment, locum opportunities or accommodation listings for locums.