Committees
Board of Directors
The Campbell River and District Division of Family Practice (the Division) represents family physicians in the communities of Campbell River, Oyster River, Quadra Island, Cortes, Sayward and Gold River.
The Division gives area physicians an opportunity to work collaboratively with the Health Authority, the Family Practice Services Committee, the Ministry of Health, Doctors of BC, First Nations Health Healthy and numerous community partners to identify health care needs in the local area and develop solutions to meet those needs.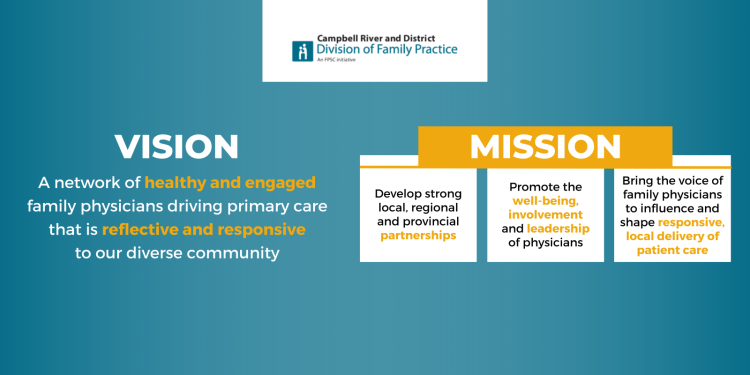 ---
Collaborative Services Committee
The Campbell River and District Collaborative Services Committee (CSC) is the committee through which family physicians collaborate with other stakeholders in the local primary care system, including representatives from Doctors of BC, the Ministry of Health, Family Practice Services Committee (FPSC), First Nations Health Authority, Island Health, and the Campbell River Medical Staff Engagement Initiative Society. The committee can also call upon patients and others in the community to provide input when needed.

The work of the CSC is guided by the objectives of the Triple Aim:

•    Improve patient or provider experience of care
•    Improve population health
•    Create and enable financial sustainability in the system

The Campbell River and District CSC first met in June 2014, and continues to build relationships with all partners.

The CSC meets regularly throughout the year.
 
---
Physician Advisory Committee
The Physician Advisory Committee (PAC) will provide recommendations to the Board and Executive Director on Division projects/activities, provide members' perspectives on primary care issues and, monitor and enhance member engagement.
This committee was created in part to adjust to the need for Board Diversification to comply with the BC Non-profit Society Act fully in effect this coming November.  Beyond that, is just a really great addition and continues to move forward the development of the Division.