Volume 14 - December 2019
Saying Goodbye to Executive Director, Terrie Crawford
The Rural and Remote Division of Family Practice Board of Directors would like to thank Terrie Crawford for supporting the organization as our Executive Director over the past year and a half – she stepped down from her role at the end of October. While her enthusiasm for our Division and the work ahead remains as strong as ever, Terrie has faced some health challenges and needs to focus on her recovery.  We are exceptionally grateful to Terrie for her leadership over these last 15 months and wish her the very best moving forward.
The Board is actively recruiting for Terrie's successor, and the goal is to have a new Executive Director announced in the next week. In the interim, the Division's Management team has been working collaboratively to ensure that Division business moves along, and momentum is not lost on high priority projects.
While a more formal celebration of Terrie's contributions will be convened when Terrie's health allows, please join us for now in wishing her all the best and thanking her for her strong leadership. Terrie has been an exceptional leader and we will miss working with her very much.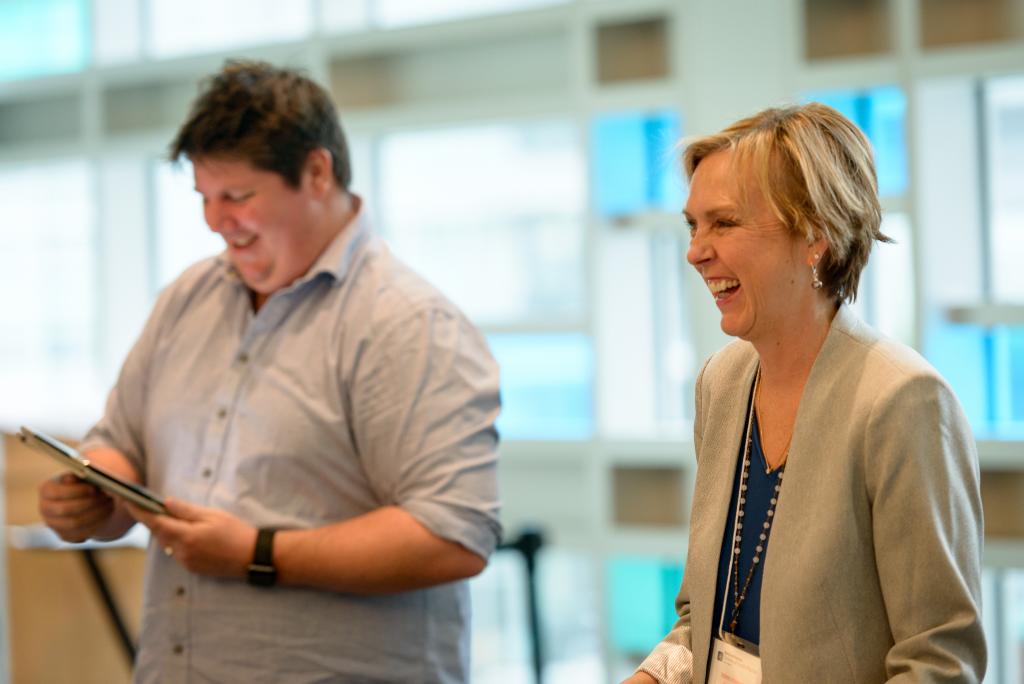 QUICK UPDATES
2018-19 Annual Report
At this year's AGM on September 24th, the Division released its 2018-19 Annual Report. The report covers the last fiscal year and highlights the achievements and great ongoing work of all our Chapters. The full report can be found on our website here.
Celebrating Staff Achievements
As the Division concludes its 6th year, we are incredibly thankful to all of our staff and contractors who make this work possible. We would especially like to thank and congratulate three long-time staff members who are celebrating 5 years of service this year: Vancouver Coastal and Northern's Helen Truran, Gabriola Island's Nancy Rowan, and North Vancouver Island's Patti Murphy. Their hard work and leadership these past 5 years have been truly exceptional, and the reason our Chapters and Division have seen so much success.
We would also like to thank and congratulate Clearwater's long-time Chapter Coordinator, Laura Soles, who retired from her work the Division this past September. We want to thank Laura for her contributions over nearly 5 years of service with the Division and wish her all the best in retirement.
Changes to Nurse Practitioner and Midwife Pathways Access Policy
As Pathways continues to expand into new and exciting areas, there is no doubt that the benefits of Pathways are not limited to only GPs and specialists, but to a multitude of healthcare practitioners and their practice teams, particularly as PCN work ramps up across the province. It is recognized and appreciated that Pathways was developed and funded by physicians, via FPSC, from the very beginning. As a matter of equity and to ensure the sustainability of Pathways over time, the Pathways organization finds it reasonable and necessary to ask other healthcare professionals that benefit from the Pathways platform to contribute to ongoing operational costs.
To that end, Pathways will begin to offer the choice of two levels of access to both NPs and midwives – full Medical User access, or the slightly more limited PCN User access. Those users that request the full Medical User access will start to have costs assessed for that access as of Jan 1, 2020. Since access will now be tied to costs for these users, user accounts for NPs and midwives will be managed by the Provincial Pathways team moving forward. There will be no prerequisite for NPs to have associate membership with a Division as they can now come directly to the provincial team for that access.
If you have any questions about this new policy, please contact Ryan at ryanlammertsen@pathwaysbc.ca for more information.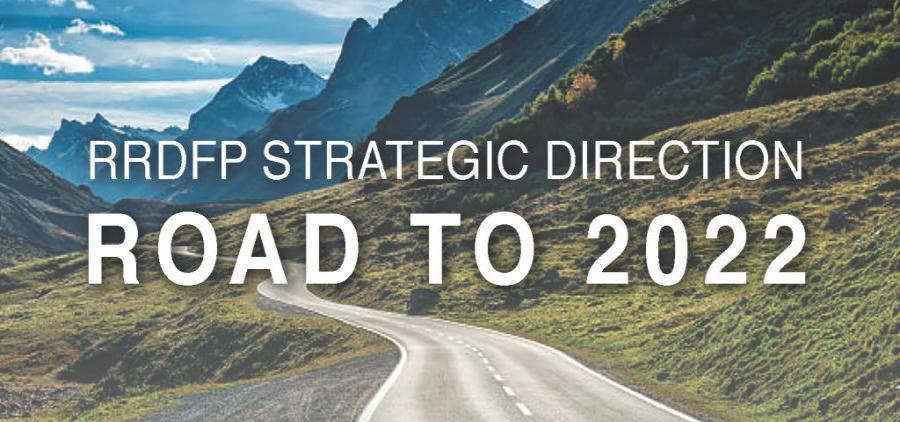 NEW STRATEGIC PLAN
Six Years In: Refining the Plan
"When the Rural and Remote Division of Family Practice started to review and update its Strategic Plan earlier this year, we wanted to hear what was important to our members," said former Executive Director, Terrie Crawford. "We also wanted to consider how to support Chapters for the upcoming rural primary care network planning at the local level. 
"Starting at the annual retreat in March, we heard very clearly that we needed to look at ways to support our Chapters, how we can help our Chapters connect with other Chapters across the Division, and actually feel like we are a part of the Division," Crawford explained. "The next stage is answering the questions: Where are we going now? What are our members' emerging needs and how do we support them?"
The new Strategic Plan was approved by the Board of Directors on September 17, 2019, and presented to the Membership at the Division's Annual General Meeting on September 24, 2019. The new plan, "The Road to 2022" sets the vision and 3-year direction for the Rural and Remote Division.
"We began by looking at our priorities through a local lens – what do communities want and need? And how do we support them in getting ready for the upcoming primary care network planning work?" Crawford said. "Then, we asked: how can we best support these community priorities across the whole organization? We created new regional managers and regional physician leads to support local chapters, physicians and coordinators. The goals are to increase capacity across all the Chapters in the Division, support collaborative partnerships so all our Members can share experience, advocate for common issues, and influence priorities at the local and provincial level."
The Strategic Plan is posted on the Division website. Key priorities include:
Supporting physician leadership, increasing capacity within the chapters and strengthening relationships across the division
Building partnerships, collaboration and relationships
Supporting the rural physician voice through advocacy and influence at provincial tables;
Strengthening governance and organizational health and
Providing opportunities for continuous learning, knowledge-sharing and quality improvement.
 
Pride in the process
One of the positive benefits in updating the strategic plan has been the opportunity to see how the organization has matured over the years.
  "Our great strength at Rural and Remote is our diversity," says Division Board Chair, Dr. Dave Whittaker. "We have such fantastic experience across our division, and we needed to find a way to channel it to help direct the Division. Through strategic retreats and bringing our physician leadership together regularly, we are seeing that voice come through."
"What I am particularly proud of is that we are building on work that has already been done and preparing for the work that's ahead," explained Crawford. "We used a multi-step approach to develop the strategic plan. We started with a cultural audit in the summer of 2018. We followed up with the Division's annual retreat, which was a really organic process. What we heard was that physicians wanted to feel more connected with each other, and the broader organization. We heard that they value the importance of being grassroots and the benefits of working together. That reflects what we saw when we looked at the organization's growth, and what is needed for the division.
"It continued to flow through the organization, and the next step was a strategic planning session with the Board, senior staff, and physician leadership.  All of this input was incorporated into a draft strategic plan. The regional management team, Chapter Coordinators, and Chapter Physician Leads reviewed the plan and provided feedback. In September, after all of this consultation, the plan was approved by the Board and presented to the Membership."
Dr. Whittaker is looking forward to the successes of the Division and our Chapters over this 3-year plan. "We know that we will have been successful when our members come up with ideas and initiatives, and they think of the Division first to help them develop and achieve their goals."
"With the exceptional work and engagement of our physician membership and the support of our now full complement of staff across the province, we look forward to working together to achieve great things in our communities and across our regions." The Division's new Strategic Plan, which can be found in full on our website, sets the stage for the great work to come.
Strategic Planning Process Summary:
Step 1: Division Retreat: March 14th and 15th 2019 in Vancouver
Chapter Physician Leads, staff and board came together to discuss organizational priorities and the direction they would like the division to move in.  The summary of the Cultural Audit was shared with the group.  A participatory approach to priority setting was employed that translated into the group identifying several priorities with a view that ensures each chapter is growing in directions that are responsive to community needs. The priorities identified were:
Improving physician engagement capacity
Building and coordinating partnerships and services
Developing and understanding of rural communities and communicating rural care
Advocating for equity in health care services within and across communities
Strengthening supports to chapters
Sharing and exchanging ideas between the chapters
Step 2: Strategic Planning Day May 10, 2019
The Division Board, Regional Physician Leads and Regional Managers participated in a strategic planning day that was facilitated by the Executive Director and Director of Operations.  Feedback from the Division Retreat was used to inform the development of a new Strategic Plan for the Rural and Remote Division. with an updated Mission (why we exist), Vision Statement (where we want to go), Core Values (how we operate), and Goals/Priorities (what we want to achieve). The priorities we received at the Retreat constituted a mixture of these items and were integrated into the development of the Strategic Plan.
Step 3: Drafting the plan – Approved in Principle by Board June 17, 2019
The strategic plan was drafted and incorporated the feedback from the Division Retreat and strategic planning day.
Step 4: Chapter Feedback
Regional Managers met with Chapter Physician Leads and Coordinators to review the Strategic Plan to explore:
Does it reflect what they expressed during the division retreat?
Is there anything missing? What stands out as most important to them?
How would your chapter benefit from this?
What would success look like for them?
Step 5: Board Approval – September 17th
The Board incorporated Chapter feedback into a final draft and approved the plan.
Step 6: Strategic Plan presented at the AGM on Sept 24th, 2019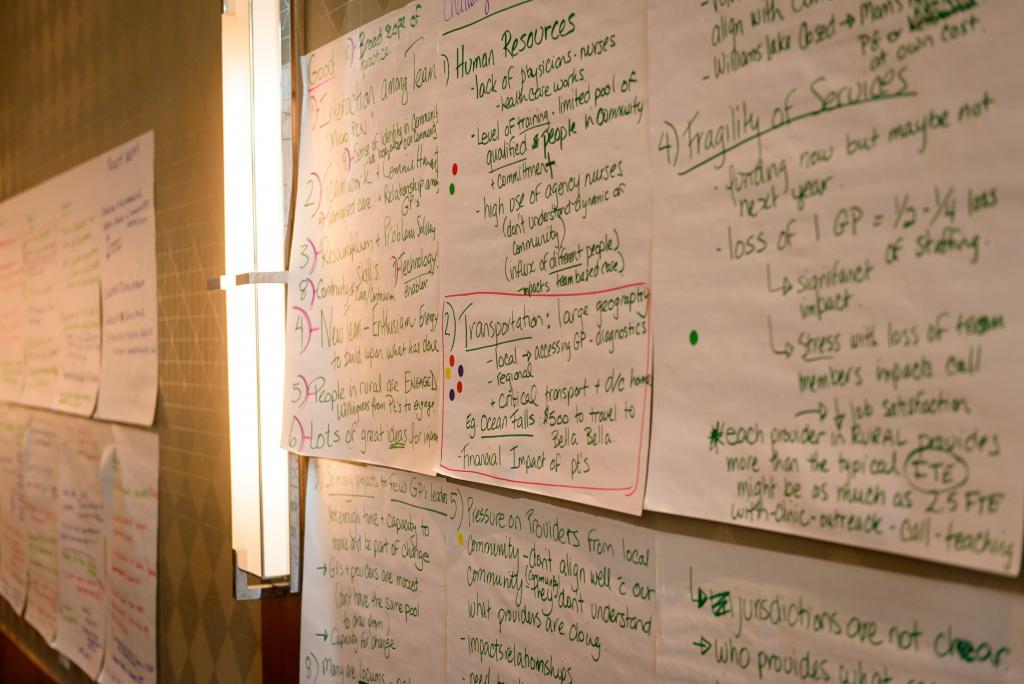 Our 2019-2020 Board of Directors: Year Two of Our New Structure
The Rural and Remote Division's Board of Directors was confirmed at the September 24th AGM, and we are excited to welcome back 6 of our 7 directors. This diverse board continues to bring additional expertise to complement that of our general membership. Their focus for the year will be the implementation of the new Strategic Plan, finding innovative ways of evaluating and sharing the great work of the Division, and working with the new Executive Director.
At this year's AGM the Membership approved the appointment of Dr. Donald Sutherland as the newest member of the Board of Directors. Dr. Sutherland, a retired family physician living on Gabriola Island, brings a wealth of rural and international medical practice experience, and a distinguished career in policy and organizational development. The Division is happy to have Dr. Sutherland help with the great work of the Rural and Remote Division.
At this year's AGM the Division also thanked Salt Spring Island's Dr. David Butcher for his more than 6 years of service on the Board of Directors. Dr. Butcher served as the Board's Treasurer for the last two years and has demonstrated exceptional leadership in the Division from its inception and through this time of exciting transition. We want to thank Dr. Butcher for his years of service and wish him all the best with his future endeavours.
Here is a brief introduction of all Board Members. Full bios are posted on the website.
Dr. Donald Sutherland is the Board's newest member. As a retired family physician on Gabriola Island, with rural and international experience, Dr. Sutherland was elected to a one-year term at the September 24th AGM.
Dr. Danette Dawkin is a GP in Fort St John, Vice Chair of the NPDOFP, board member of the RCCbc, and now Vice Chair of the Rural and Remote Division. Danette served on the Board this past year and is excited to a second one-year term.
Travis Holyk, EdD is the Executive Director of Research, Primary Care and Strategic Services at Carrier Sekani Family Services, and Adjunct Professor at the University of Northern British Columbia. Travis is also pleased to be serving the second year of his term on the Board.
Dr. John Soles is the Chief of Staff at Dr. Helmcken Memorial Hospital in Clearwater, where he also serves as Chapter Physician Lead. This past year Dr. Soles also took on the leadership role of Interior Regional Physician Lead supporting the Division's four Interior Chapters. Dr. Soles is serving the second year of his Board term. 
Lori Verigin, NP is a Family Nurse Practitioner at Waneta Primary Care in Trail, and now Rural and Remote Board Secretary. Lori was elected to a second one-year term on the Board at the AGM.
Laurie Walters is the Facilities Engagement Manager at Cariboo Memorial Hospital in Williams Lake, and former City Councillor. Laurie has recently also taken on the role of Rural and Remote Division Treasurer in the second year of her Board term. 
Dr. Dave Whittaker has been the staff physician in Port McNeil for the last six years. Dr. Whittaker has been with the Division since the beginning. Currently, he is the Chair of the Rural and Remote Division of Family Practice and a member of the Telehealth Working Group.
Introducing New Staff Across the Province
Vancouver Island Region
Nancy Rowan, long-time Gabriola Island Chapter Coordinator became the Vancouver Island Regional Manager in December 2018. Nancy joined the Gabriola Chapter in 2014 and has just recently celebrated her 5-year anniversary with the Division. Nancy grew up in rural Ontario and is delighted to now live on Gabriola Island. Nancy practiced as a Registered Nurse in Ontario and Alberta prior to completing her Master's degree in Health Services Administration at the University of Alberta. This led to an exciting and diverse consulting career with a special focus in quality improvement and issues management and now serves as part of the senior leadership team of the Division.
Angela Pounds joined the Division this past January to take over as Gabriola Island Chapter Coordinator. Angela and her family have lived on Gabriola in the traditional territory of the Snuneymuxw people since 2010. Angela is a Registered Social Worker and has worked within the health care system for the last 9 years, currently, in addition to her work with the Division, she works with Island Health as a Mental Health and Substance Use Clinician. Angela is focused on the community she lives in and is dedicated to addressing the social determinants of health.
Brooke Wood became the Division's Long Beach Chapter Coordinator this past February. Brooke is a mother of two boys and works as the Outreach Coordinator with the Clayoquot Biosphere Trust (CBT), as well as the Literacy Coordinator for Coastal Family Resource Coalition. A lifelong Vancouver Islander, Brooke was born and raised in Nanaimo and has called Tofino home for two decades. Brooke has been instrumental in the initiation and growth of CBT's successful Neighbourhood Small Grants (NSG) program over the past four years and is now co-leading the development of an NSG Island Network that supports community-building initiatives in Parksville, Salt Spring Island, Nanaimo, and Northern Vancouver Island.   
Katie Watters began working with the Division in June as the Salt Spring Island Chapter Coordinator. Katie has lived on Salt Spring Island for 12 years, is the mother of 4 kids ages 4-9, and has strong connections with her local community. Katie and her family run a hobby farm with Nubian milking goats, turkeys, chickens and ducks. Katie also works in RCMP based victim services part-time working with victims of crime and assisting the local RCMP members with call outs. Katie also manages a collaborative table that reviews referrals from high-risk domestic violence cases to increase safety and reduce the risk of harm to clients and their children. 
Vancouver Coastal & Northern Regions
Helen Truran became the Division's Vancouver Coastal and Norther Regional Manager in December 2018 after serving four years as a Project Manager. Helen is also celebrating 5 years with the Division this Fall. Helen has 25 years of practical front line and administrative experience in a variety of health care settings. She has worked within her community and local institutions as a front-line health care employee, coordinator, public administrator, program manager and more recently as a project lead of A GP for Me. Helen holds a Master's of Public Administration and Bachelor of Science in Nursing from the University of Victoria. Helen is passionate about being part of system changes that improve population health and work satisfaction for service providers. Having lived in remote communities of BC, she is especially interested in reducing barriers to care for rural and remote communities.
Selina Stoeppler is our new Hazelton Chapter Coordinator, joining the Division in January. Selina has 17 years of experience working in a variety of healthcare settings, including Dental Clinic Manager, Community Services Manager, and Administrator on-call at Wrinch Memorial Hospital in Hazelton. She also co-leads the Quality Improvement work at the Hospital. Selina has used her passion for Quality Improvement to lead numerous projects within the hospital and mentors other Health Authority staff in the Northwest during their Quality improvement training and first projects. Born and raised in Hazelton, Selina has a passion for her community and is excited to be a part of the Hazelton Chapter. She looks forward to working with the Physicians to create change and improvement of the care and access in the rural and remote area of the Hazeltons.
Nina Van Den Hogen became Pemberton's Administrative Assistant in February of this year. 
Interior Region
Christianne Kearns joined the Division in February of this year as Interior Regional Manager. Christianne was born and raised in Blind River, a beautiful small Anishinaabe, English and French-Canadian town in Northern Ontario on the shores of Lake Huron, which gave her a deep appreciation for community development, the environment and rural issues. Christianne holds a Master of Public Policy and Public Administration from Concordia University, and spent the first five years of her professional career focusing primarily on Indigenous reconciliation, working closely with First Nations as a program evaluator for the Federal Ministry of Indigenous Services, as the Interior Regional Advisor for the First Nations Health Authority and the Okanagan Nation's Health Lead. Now living in the Interior of British Columbia, Christianne remains passionate about systems change that doesn't leave small communities behind, but rather is adaptable and considerate of their unique context, strengths and challenges. In her past life, Christianne was a touring musician and still loves to play, listen and write music in her spare time.
Amy Thain became the Division's Clearwater Chapter Coordinator this past September. Amy works as a Registered Clinical Counsellor and has extensive experience working in rural and remote communities in BC and the Northwest Territories. Amy holds a Master's of Arts in Counselling Psychology from Adler University and has worked with a broad range of non-profit organizations.
Sarah Sandusky became our first Merritt Chapter Coordinator at the end of September. Sarah has a strong background in development and communications, having supported a number of international organizations in creating positive change. Her experience in outreach is welcomed by the Merritt Chapter as the newest Chapter of the Division.