Shelley Sim - Chapter Coordinator, Clearwater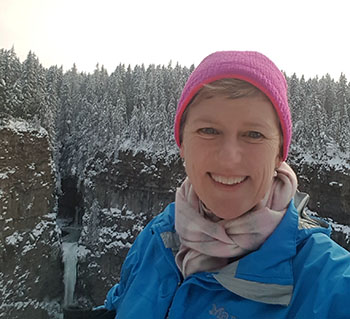 Born and raised in Vancouver, BC, Shelley moved to Clearwater in 1993 where she found her "home".  While growing up in the city and loving the experience, it was in Clearwater where she discovered her passion for rural living and never looked back.
As the primary owner of Original Holidays Inc, and now Managing Director, Shelley has over 20 years business experience with specialized knowledge of the inbound tour and travel market and selling British Columbia as destination.  Shelley brings a rounded skill set to the table including sales, marketing, business analysis and trend evaluations.  Along with her business experience, Shelley is a committed community volunteer and has spearheaded many local events and projects to better the community.
Shelley established herself as a vocal spokesperson for the needs of physician recruitment and retention within rural regions of the province and has consistently advocated for stronger representation to small communities.  She was part of the first Clearwater Recruitment and Retention Committee and was integral in organizing the Heart of the Matter Rural Health Symposium in 2009.  The symposium was exceptionally successful in bringing together rural communities and leaders from all over the province including the Minister of Health, key stakeholders and participation from the College of Physicians and Surgeons.  Shelley worked with the University of Northern British Columbia to develop the Healthcare Travelling Roadshow which was conceived as a grassroots initiative to address rural healthcare workforce shortages.  It involved bringing together a multidisciplinary group of health-care students from post-secondary institutions around BC traveling to rural communities to showcase career opportunities to high school students.  The first Roadshow launched in 2010 and continues today with great success. 
Today, Shelley is serving as a third term Councillor for the District of Clearwater and a second term School Board Trustee for the School District 73 as a representative for the North Thompson Valley.  She is committed to working with others to build strong and sustainable communities that foster social, emotional and economic connections that ensure people have place and space to thrive, flourish and feel that they belong. 
Shelley sits on a number of other boards and while not on ZOOM, she is head cook, cleaner and chauffeur for her family, writes a blog and continues to take courses at SFU.  She and her husband have three lovely children, two who have recently graduated from the University of Victoria.  Their youngest keeps them busy with soccer, hockey, ball and mountain biking. Recently, her family embarked on a journey of small scale food security which means they have a large garden that produces a superb selection of weeds along with some vegetation, 30 chickens and 2 pigs.