Rural Health in the News
Website provides information on locally accessible health care services and social supports.
By Alex Cooper - Jan 15, 2019

From left: Dr. Kate McCarroll, Jill Zacharias, Stacie Byrne, and Katherine Brown. Photo: Alex Cooper
---
Revelstoke's medical community focused on change-making initiatives
By Revelstoke Mountaineer staff -  Nov 14, 2018

From left: Dr. Kate McCarroll, Physician Lead of the Revelstoke Chapter, Rural and Remote Division of Family Practice; Katherine Brown, Revelstoke Health Services Development Project Manager; Dr. Sara Brown, Queen Victoria Hospital Medical Staff Association President and Physician Lead, Facility Engagement; and Dr. Vikki Haines, Physician Lead – Rural Surgical and Obstetrical Networks.
---
February 2018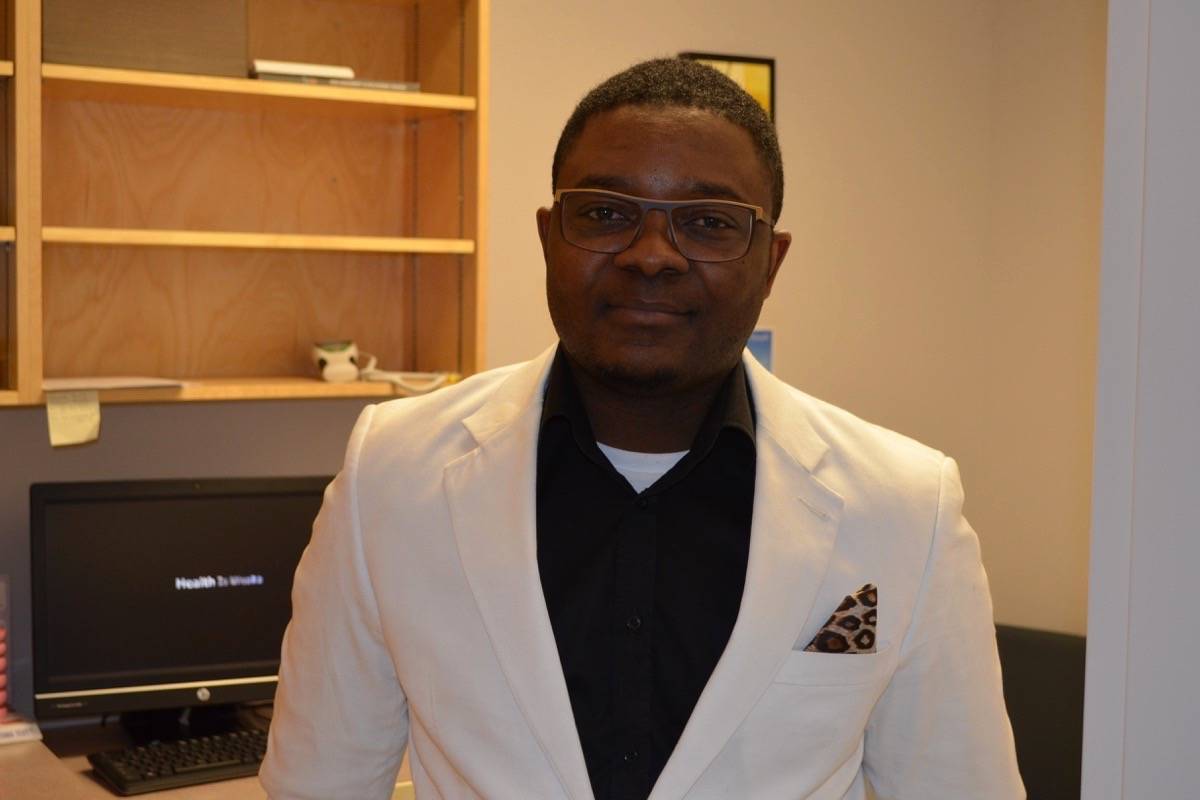 Dr. Abayomi Adetola is the most recent doctor to join the Ashcroft Family Medical Clinic.
Photo: Barbara Roden. The Ashcroft-Cache Creek Journal
---
In response to a shortfall of rural preceptors for the Year 3 MD rural clerkship program at UBC, there is an urgent call out to all rural physicians to consider taking Year 3 MD students for a rural clerkship this coming year. For more information contact ​Kathryn Hill at ugsec@familymed.ubc.ca or 604-827-4194. Download the rotation form >
---
November 2017
Erica - the amazing NP joined Pemberton as a result of the IPCC table some years ago....it is great that the partnership continues.  A nurse practitioner fully supported by the physician community....working alongside, and with....as a member of the team.
---
November 2016
Thanks to the determined staff at Pemberton Health Centre, who spent 90 minutes doing CPR, a local man is still alive.
---
November 2016
Dr. Amgad Zake (Image Credit: Chad Klassen / CFJC Today)
---
VCH News
April 28, 2016
Congratulations to Michel Bazille on her upcoming well-earned retirement! After 43 years in health care, Michel was most recently the Director of Bella Coola General Hospital and Bella Bella's RW Large Memorial Hospital. All the best to you, Michel, as you venture onto a new path!
---
Educated and trained in North Sudan, Dr. Safi Saeed has filled the previous care gap in Logan Lake with the opening of his practice on March 1, 2016. Meanwhile, practicing out of the Ashcroft Health Centre, Dr. Deborah Obu and Dr. Amgad Zake join a team of talented health care providers.
 
For more information, click the links below.
---
Gabriola Sounder
March 22, 2016


Photo: Angela Pounds, Community Social Worker, with Dr. Tracey Thorne. (Photo by Derek Kilbourn)
Island Health will provide bridge funding when the A GP for Me grant for the social worker expires on March 31st of this year.
---
VCH News
January 20, 2016


Meet Gary Housty of the Heiltsuk Nation, leader in rural health, and learn more about health care and community in Bella Bella.
---
Gulf Islands Driftwood
January 20, 2016
Effective Access to Specialist Services has introduced the Heart to Heart patient education program to Salt Spring Island. 
 
---
2015 News  
The Kelowna Daily Courier
December 17, 2015
In this letter to the editor, Dr. Trina Larsen Soles of Golden, BC responds to an article that ​associates rural recruitment incentives with the apparently disparate distribution of physicians across BC​​.
---
Gulf Islands Driftwood
December 16, 2015
As a part of the Shared Care ​Effective Access to Specialist Services, physiatrists will make bi-monthly visits to Salt Spring Island to provide care for patients living with chronic pain and limited ​mobility.  
---
December 10, 2015
Mayor Shirley Ackland at 250.956.3111. 
The North Island is one step closer to developing a new model of care that better serves residents of this rural region, following the award of $475,000 to the Mount Waddington Collaborative Working Group by the Joint Standing Committee on Rural Issues.
---
Gulf Islands Driftwood
October 21, 2015
The Effective Access to Specialists working group ​of Salt Spring Island consults its community on issues surrounding access to specialists.
---
August 31, 2015
The Penticton Herald 
Innovative outreach clinics are improving Princeton residents' access to specialist care. Read more about both family physicians' and specialists' responses to the project.
---
August 12, 2015
By Warren Brock, story by Kerry Blackadar

UBC is now in the implementation stage of its decentralized residency program. Read more about the first cohort of residents to practice in rural BC and what this could mean for rural communities.
---
August 16, 2015
Hannah Griffin, North Island Gazette


Photo of Port Alice courtesy of Darrell McIntosh
Maintaining an adequate number of ​physicians in small, rural communities presents numerous obstacles and impacts ​population health. Read here about how the communities of North Vancouver Island are overcoming the challenges of rural practice.
---
May 26, 2015
Nancy Rowan in the Gabriola Sounder


The Gabriola Chapter of RRDFP integrates social worker, Angela Pounds, into its community and medical practice to facilitate access to services for vulnerable community members and to enhance the capacity of the primary care system through collaboration​.
---
Winter, 2015
BC Health Recruiter News, Health Match BC
Meet Dr. Carrie Marshall, Long Beach Chapter Physician Lead, and her young family, and learn more about living and practicing medicine on Vancouver Island's rural (and wet) West Coast.
---
February, 2015
Rural Health Research Network of BC


Physicians in BC access dermatological consultations remotely through the use of BCConsultDerm, a digital imaging and online information storing and forwarding program. 
---
---
Salt Spring Island Chapter, Division of Family Practice
The Provider Profile features partners of the Patient Voices Network from within the community and highlights the value of the patient voice in their process..

In the fall of 2014, the Salt Spring Island Chapter of the Rural and Remote Division of Family Practice reached out to the Patient Voices Network for support with its first Shared Care project. The Rural and Remote Division of Family Practice brings together family doctors from smaller and remote communities across B.C. to enhance the delivery of rural health services.
 
"Having a patient voice changes how we think about system improvement," says Janine Gowans, chapter co-ordinator, Salt Spring Island. "It reminds us who we're serving and helps create empathy within the system."

For Salt Spring, as an island community, many specialist services are provided off-island requiring referrals and often multiple trips for the patient. With the aim of streamlining this process and reducing the logistical planning for patients, a patient partner was requested to provide input as part of a working group collaborating on the improvement process.

"I am so impressed with the collaborative nature of the team and their dedication to make things better for our community," says volunteer Barb Aust. "Working with the chapter has been a really wonderful opportunity and the doctors made me feel that my voice is valued and my time respected." 
---
March 4, 2015
Alicia Wallace
The University of British Columbia has decentralized the way it delivers medical education.
UBC has developed curriculum for delivering medical training in rural remote communities including the Kootenay Boundary and it has certainly been a big undertaking.
There is an innovative shift in UBC's Family Medicine residency training programs from traditional urban academic structures towards a distributive model where the training is delivered in rural, remote sites and incorporates frontline rural family physicians and specialists as medical educators.
This change has occurred within both undergraduate and post-graduate educational programs and is evidenced by the many successfully established integrated clinical clerkships rural elective programs and rural family medicine residency programs.