Volume 17 - April 2021
Strategic Plan Update

Division members approved our first Strategic Plan in September of 2019. As we move into the final year of implementation, consultants Adam King and Dr. Ron Lindstrom were engaged to help collect data on progress with the five strategic priorities. They explored how the new regional structure is supporting the Chapter and Regional Physician Leads in their roles and in building collaborative partnerships. The Division is interested in collecting, analyzing, sharing, and applying findings to continually improve our work. The consultants conducted key informant interviews with Regional and Chapter Physician Leads in fall of 2020.  Due to overlapping roles and availability, nine leads were interviewed. A thematic analysis was conducted to generate significant insights and the following themes emerged:
Overall, the regional structure is now stronger and accomplishing things the prior structure could not have accomplished, e.g., policy development, transparency, chapter support, equitable distribution of funds. The key role of the Chapter coordinators is highlighted as critical to the Division's model. 
The regional structure needs to facilitate and follow-up with more regular sharing of information and enable inter-chapter connections and communication, particularly as it relates to key activities including advocacy.
The Covid-19 pandemic is having a significant impact and has spurred action and revealed the strength and support by the regional structure through enhanced multi-stakeholder relationship building and communications.
The consultants joined the Board of Directors in January to discuss the findings in detail and the Board provided input as to how the Division can incorporate the positive and constructive feedback into the operational plan for 2021-22.  Among other action items, it was determined that this evaluation will be repeated next fall to include the broader membership, in addition to the Chapter and Regional Physician Leads.  For more information on the Division evaluation, email ruralandremote@divisionsbc.ca.
---
Highlighting Successes
The Strategic Plan has five strategic priorities.  Below are a few examples of how each strategic priority is progressing.  This is not an exhaustive list as the examples are numerous at a community, chapter, regional and provincial level.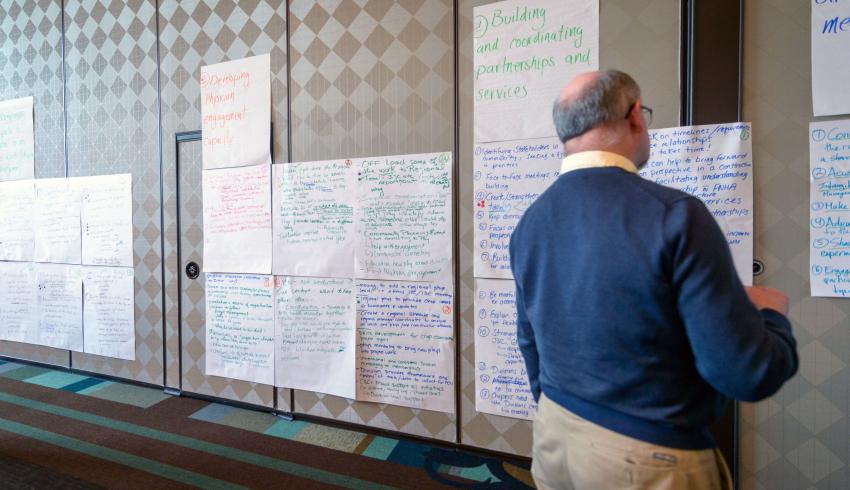 Strategic Priority One: Building Physician Leadership and Capacity & Strengthening Relationships Across the Division
The Division welcomed New Chapter Physician Leads in North Vancouver Island, Gabriola Island, Lillooet and Lytton, Hazelton and Clearwater.  Many thanks to Dr. Dan Cutfeet, Dr. Maciej Mierzewski, Dr. Vicci Weber, Dr. Jamie McKeen and Dr. Kayode Bamigboje for taking on these important leadership roles.  A Chapter Physician Lead Orientation Manual, position description and project repository was created to support new leads in their roles. All new Chapter Physician Leads received a formal orientation with the Division's Physician Lead and Executive Director.
Physicians in the Island Region have been connecting regularly for the Island Chapters and partners meeting. An Island Health Rural and Remote Division Regional CSC was formed.
Local projects have flourished including four FPSC Maternity Projects in Hazelton, Lillooet, Revelstoke and Salt Spring Island. A new Long Term Care Initiative (LTCI) began in Clearwater. Revelstoke began a third Shared Care Project on Pain Management.  Shared Care Projects continued in Salt Spring Island, Revelstoke and North Vancouver Island.
Strategic Priority Two: Partnership & Collaboration
Physicians in the Hazelton, Pemberton, Bella Coola, North Vancouver Island and Long Beach Chapters have been engaged to participate in First Nations Primary Care Initiatives.
The Revelstoke and Interior Rural CSCs have completed Expressions of Interest for Primary Care Networks.  Both EOIs have been endorsed by the Board of Directors at the Division and Interior Health and are eagerly awaiting word from the Ministry of Health.
Gabriola Island and Pemberton were able to access an early draw Nurse Practitioner as part of their PCN planning process.
The Lillooet physicians and Northern St'at'imc Nation created a series of videos to document the first vaccination clinic in the community. Kudos to Dr. Nancy Humber and all involved in creating this video.  Click here to view.
Strategic Priority Three: Influence & Advocacy           
Based on feedback from physicians across the Division, the Chapter Support Team prepared and circulated a briefing note highlighting some of the successes and opportunities for improvement identified in phase one of the vaccination campaign.  This was shared with physician leadership at RCCbc, FPSC, the Network of Rural Divisions and the Ministry of Health. The Regional Physician Leads, and Executive Director met with Dr. Mathew Chow, President of Doctors of BC to elevate our concerns.  Click here to view the briefing note.
The Division advocated to the College of Physicians and Surgeons to modify a proposed amendment to the non-sexual boundary violation standard that would have been prohibitive to rural physicians.  Perhaps in part due to our submission, the draft standard was amended to include more specific language that was less restrictive to rural physicians living, working, playing and socializing in their communities.  Click here to view the submission.
The Division secured funding from FPSC to create a PMH Innovation Project to investigate the ideal conditions of a stable patient medical home.  The objectives of this project include:
Developing a clear understanding of the systems designed to support a stable patient medical home in our communities.
Understanding the opportunities for the Rural and Remote Division of Family Practice to meaningfully engage and support initiatives intended to stabilize the patient medical home including recruitment and retention activities without duplication of existing supports.
Investigating how our Division can support the internal readiness of patient medical homes to receive new physicians to create a stable and welcoming environment given the parameters of the existing programs and services.
Identifying any barriers, incentives, or opportunities to access systems and initiatives established to programs and initiatives.
The outcome of this project is to develop a set of recommendations aimed at removing barriers to these initiatives in our communities with the objective of stabilizing the PMH and preparing for PCN. 
Governance & Organizational Health
The Board Development Committee recruited three new Board Members, Dr. Kate McCarroll, Dr. Tracey Thorne and Dr. Liz Whynot.  This transition allowed for a balance of continuity and fresh ideas and energy to the Board.
The Board Policy Committee created a series of new policies including the following: Employee Performance Management Policy, ED Performance Management Policy, ED Recruitment Policy, Human Resource Management Policy, Complaints Policy, and Risk Management Policy. Click here to review the Division's policy manual on the members only site.
The Board Finance Committee approved a balanced budget for fiscal year 2021/22.  To balance the budget, the Division's management and operations team was streamlined and the office at 1665 West Broadway was permanently closed. These changes helped ensure sustainability and ongoing efforts to ensure that funds are invested where they will most benefit our communities. 
A business continuity plan was developed to supplement annual risk management activities to ensure critical operations continued during the pandemic including developing key redundancies for key positions and functions in the organization. This plan forms the basis of many of our succession planning efforts.
Continuous Learning, Knowledge Sharing & Quality Improvement
The Division's PMH Evaluation is underway.  Many of our Chapters began their projects back in 2017.  While some have long since completed, others are still in progress.  Click here to view the completed evaluations from North Vancouver Island, Gabriola Island and Bella Bella. Other reports are near completion as projects wrap up.
Drs Will Ho and Nick Fisher along with Chapter Coordinator, Cathy Lawton of the Pemberton Chapter delivered a rapid fire presentation at the BC Patient Safety and Quality Council's Quality Forum on their simulation project and their PMH social determinants of health project. Dr. Jo Collins and Chapter Coordinator, Dana Hibbard of the Hazelton Chapter presented on their PMH project, Patient Partners. 
Dr. Maciej Mierzewski became the latest Chapter Physician Lead from our Division to participate in the SFU Physician Leadership Program.
The Division conducted our first employee engagement survey to identify key areas where we can enhance the experience working with the Division. This is part of our HR strategy to ensure our staff team are best positioned to support our physicians.
---
New Faces and Grateful Farewells
Dr. Jamie McKeen, Chapter Physician Lead for Hazelton
Dr. Jamie McKeen is a rural physician in Hazelton, BC, who received her MD from the UBC Northern Medical Program and completed her Family Medicine residency in Western Newfoundland. Since finishing her training, she and her partner have lived and worked in a number of mountain towns throughout BC for the experience of a variety of clinical work and ready access to the outdoors. They are thrilled to have settled in Hazelton, drawn there by the beauty and magic of its mountains, rivers, and people.
In addition to her clinical work and her role with Divisions, Dr. McKeen is involved with CAEP as a member of the Rural and Small Urban section and is a part of the Clinical Teaching Faculty with the UBC Faculty of Medicine. She has a keen interest in emergency medicine, women's health, addictions medicine, and provision of healthcare to First Nations and indigenous populations.
When not working she can usually be found hiking, sailing, gardening or fishing in the summer, and backcountry skiing in the winter.
Dr. Paula Ryan, Interim Chapter Physician Lead Salt Spring Island
Paula has been practising on SSI for over 18 years. She received her Masters degree in Microbiology from UBC and medicine at University of Toronto.
Having raised her family with husband Michael in the community, she has deep ties with the island. She has a particular interest in dermoscopy and spends time working in northern rural communities and travelling overseas.
Jane Worton, Salt Spring Island Project Coordinator
Jane lives with her family on a small rural farm in the Cowichan Valley.  Jane's professional expertise is as a management consultant. She has worked on a range of projects within the health care system, including several with a rural focus. Some examples include work with a team conducting a qualitative study of the barriers and facilitators to serving traditional foods and Indigenous recipes in BC public institutions; helping to develop and evaluate a rural locum program for midwives; working with the BC College of Nurses and Midwives to support the development of a Nursing Community Assessment Service, which provides a competency assessment service for BC Care Aides, Licensed Practical Nurses, Registered Nurses, and Registered Psychiatric Nurses; and helping to develop a pregnancy outreach program in the Mt. Waddington area. Jane will be supporting the physicians with the Shared Care, Intersections of Care project, the Long Term Care Initiative and the FPSC Maternity initiative and will report to Helen Truran, Regional Manager. 
Beth DeMaio, Interim Chapter Coordinator, Hazelton
After 10 plus years of leadership in the community economic development non-profit sector, Beth currently supports the physicians in Hazelton as the Practice Support Coach and Wrinch Memorial MSA Project Manager.  Beth holds a bachelor's degree in Business Administration from Bishops University and has resided in Hazelton for 14 years.  Beth will be filling in for the next 12 months during Dana Hibbard's parental leave.
Carrera Teal, Chapter Coordinator North Vancouver Island
Based in the Courtenay, Carrera has had diverse experience in community development, communications and stakeholder relations.  Most recently, she held the role of Director, Ancillary Services for Quest University in Squamish.  Carrera holds a bachelor's degree in Management from UBC Okanagan and over 5 years' experience working within the health charity sector. 
Karen Stevens, Chapter Coordinator Pemberton Chapter
Karen has many years of experience working as a nurse in both urban and rural hospital emergency departments in triage, trauma, ambulatory care, pediatrics, and medical/surgical. Karen has a long career working at the Whistler Health Care Centre in the Emergency Department and at the Royal Columbian Hospital, and more recently started working in the Pemberton Health Care Centre in the Emergency Department in November 2020. As if this was not enough, Karen has extensive experience in clinical research as a clinical research coordinator, clinical research associate, senior associate and manager. Karen lives with her partner in Whistler and loves hiking, biking and paddling. She is very excited about working with the Pemberton team.
Szymon Szymczakowski, PCN Lead and Bella Coola Chapter Coordinator
Szymon is based in Victoria. He has leadership experience in remote primary care, interdisciplinary practice and large-scale health authority operations. With over two decades of healthcare experience, he is committed to supporting a culture of change within Canadian healthcare.
Szymon has led international quality assurance and improvement projects for large scale health authorities and ambulance systems. He has aligned organizations to comply with quality standards and led a project to be recognized as leading practice in resolution and re-establishing trust for a regional health authority. Szymon has relevant experience to serve the needs of the Rural Remote Division, having led remote collaborative and interdisciplinary teams to improve care in isolated "fly-in" Indigenous communities.
In addition to his health care endeavours, Szymon had undertaken a consulting role, providing support to non-profits, in developing and executing governance, strategic and operational initiatives. Currently, Szymon is strengthening his professional and experience-based knowledge concluding his Executive Master of Business Administration studies from the Sandermoen School of Business at the University of Fredericton. Registered as an Advanced Care Paramedic with over two decades of clinical and business-related experience, Szymon is excited to support and make real differences happen!
Farewells
Dr. Manya Sadouski, Chapter Physician Lead, Salt Spring Island
After over nine years, Dr. Manya Sadouski has stepped down from her role as Chapter Physician Lead.  Manya's leadership and involvement has been vast and ranges from serving on the Division Board of Directors and acting as project lead for the Chapter's Intersections of Care Shared Care Project. Manya has led the Chapter through the COVID-19 response and has laid the foundation to start the Chapters first Collaborative Services Committee.  She has devoted endless hours and much energy and passion into her work and her contributions are greatly appreciated by the members, staff and Board of the Division. 
Katherine Brown, Acting Interior Regional Manager
Katherine was with the Rural and Remote Division of Family Practice for almost 4 years.  In her time with the Division, Katherine was a valuable contributor and leader to a number of initiatives including Revelstoke's Patient Medical Home project which included the creation of Revelstokelife.ca.  She supported the Chapter Physicians to successfully apply for two Shared Care projects and was instrumental in supporting the development of the Revelstoke Collaborative Services Committee.  In her role as Acting Manager, Interior Region, she supported Chapters across her region to engage meaningfully in both pandemic and primary care network planning and has been a valuable contributor to the management team at the Division. We are fortunate to continue to work with Katherine in her new capacity as a Primary Care Network Liaison with Doctors of BC.
Nancy Rowan, Regional Manager for the Vancouver Island Region
Nancy joined the Division in December 2014 as Chapter Coordinator on Gabriola Island and was involved in supporting the Chapter's A GP for Me and Patient Medical Home projects among her many other contributions.  In 2018, Nancy was promoted to Regional Manager and was instrumental in developing our new regional structure.  Nancy has been a valued contributor to the Chapter Support Team and given her significant health system knowledge has been a trusted advisor for staff and physician leadership alike.  Nancy's strong work ethic, inquisitive nature and commitment to the Division is missed. We wish her well with retirement. 
Patti Murphy, Chapter Coordinator North Vancouver Island
After over 6 years with the Division, Patti has retired from her work with the Division.  Throughout the course of her time with the Division, Patti supported a handful of Chapter Physician leads and managed numerous projects including a GP for Me, Patient Medical Home and the Shared Care Maternity Project.  Patti was a valued team member and was generous with her time with new hires and the Division-wide team. She developed strong relationships with local partners and will be missed.
---
Register Now for the BC Rural Health Conference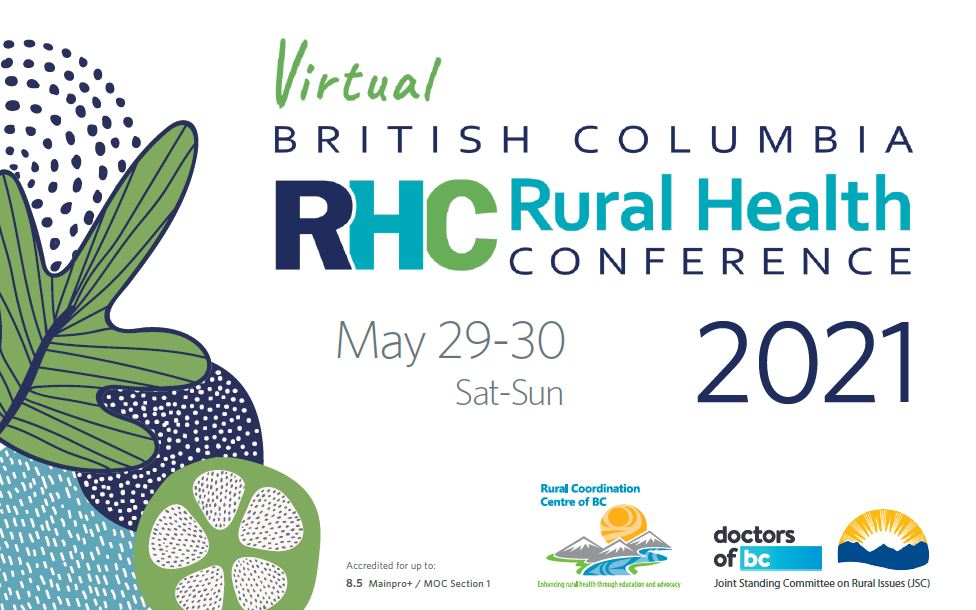 The Rural Coordination Centre of BC invites rural health practitioners to register for its BC Rural Health Conference (RHC) on May 29 and 30, 2021. This dynamic and unique Rural Medicine conference, supported by the Joint Standing Committee on Rural Issues, is designed for rural physicians, nurse practitioners, allied health professionals, residents, and medical students.
Due to ongoing pandemic restrictions, RHC 2021 will be held virtually, allowing participants to attend from wherever they are located in British Columbia and beyond. Participants will have the chance to expand their knowledge and skills by choosing from more than 25 rurally-relevant plenaries, sessions, and "add-on" workshops (Rural Airway Management in the Time of COVID-19; PICC Like a Pro: Ultrasound-guided Peripheral Central Line Insertions; and Basic Suturing Techniques).
As always, RHC 2021 will focus on connecting rural colleagues and fostering community and collaboration. Participants will have access to open corridors and a space for friends and colleagues to run into each other, allowing for conversations to meet and catch up. In addition, a special "Rural Booster Shot Social Hour" will be held for medical students and residents, along with an "rMEET Coffee Break" for new and experienced physicians.
Wellness and social activities are also peppered throughout the RHC 2021 program. Participants can engage in a Mindfulness Workshop and yoga and stretching sessions. And on Saturday evening, fun-filled social events, including a "Virtual Cocktail Hour and Mixology Class" and—for the whole family—a "Virtual Magic Extravaganza Show", will be held.
RHC 2021 participants can earn up to 8.5 Mainpro+/MOC Section 1 credits. For providers engaged in their first two years of practice in a Rural Practice Subsidiary Agreement (RSA) community, funding to attend RHC may be available through the Rural Education Action Plan.
For more information about RHC 2021 and to register, visit the following links—and be sure to join the RHC social media conversation using #RHC2021:
RHC webpage: www.rccbc.ca/rhc 
Registration link: https://events.eply.com/RHC2021 
RHC brochure: https://rccbc.ca/wp-content/uploads/2021/02/RHC-2021-Brochure-002.pdf 
We look forward to welcoming and connecting with you in May!