Find a Family Doctor
If you are a White Rock-South Surrey resident and do not have a family doctor, visit Medimap to find out which clinics are currently accepting new patients. Medimap also lists walk-in clinics and wait times.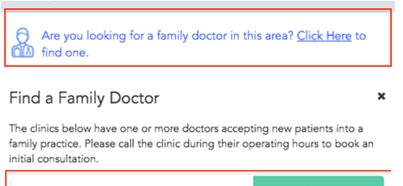 For the post-discharged care of patients without a family physician in the community, there is the Primary Care Access Clinic which is operated by nurse practitioners and physicians. It is located in the Berkley Pavilion at Peace Arch Hospital, 15476 Vine Avenue, White Rock. Phone 604-531-3111. 
At any time of the day or night, every day of the year, you can call 811 to ask a registered nurse your health questions.

Your Partner in Health
Having a regular family doctor can help keep you healthier. Over time, your doctor gets to know you and your medical history. This knowledge makes it easier to diagnose concerns, order the right tests or refer you to the best person to help address your health issues. Your doctor is your main partner in your health care.