Strategic Framework 2021-2024
Mission, vision, values, goals
As a member-driven organization representing family physicians, our vision is to make family practice in Victoria fulfilling, sustainable, and attractive to family physicians, to support the provision of excellent longitudinal primary care.
The Division has developed a new strategic framework for 2021-2024 to guide us in achieving our vision. The framework's new mission statement Happy Doctors, Healthy Communities. reinforces that well-supported family doctors are foundational for healthy communities and doctors' ability to provide excellent primary care to patients. A happy doctor in this context is a physician who is fulfilled and re-committed to their work because they are supported, healthy, valued, and empowered. Patients are at the centre of the healthcare system and continue to be the ultimate focus of our work.
Goals to achieve our vision encompass:
• Improving family doctors' wellness and job satisfaction,
• Supporting family doctors' ability to meet their patients' needs, and
• Affirming the value of family doctors by amplifying their voice and experience.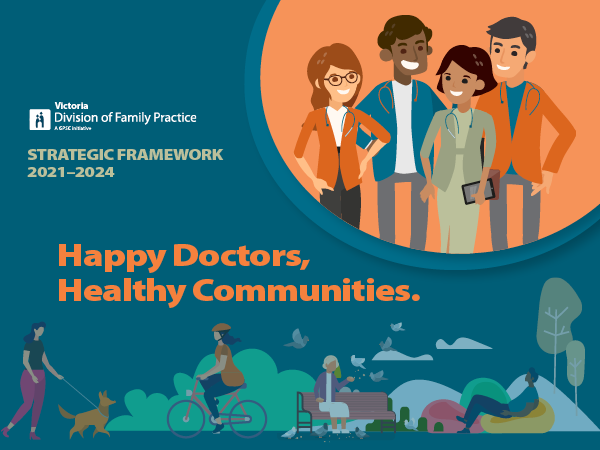 To learn more about the Victoria Division of Family Practice visit:
Not finding what you are looking for? Have an idea, question or comment?
Please contact us.