Technology
NIRD Technology Update: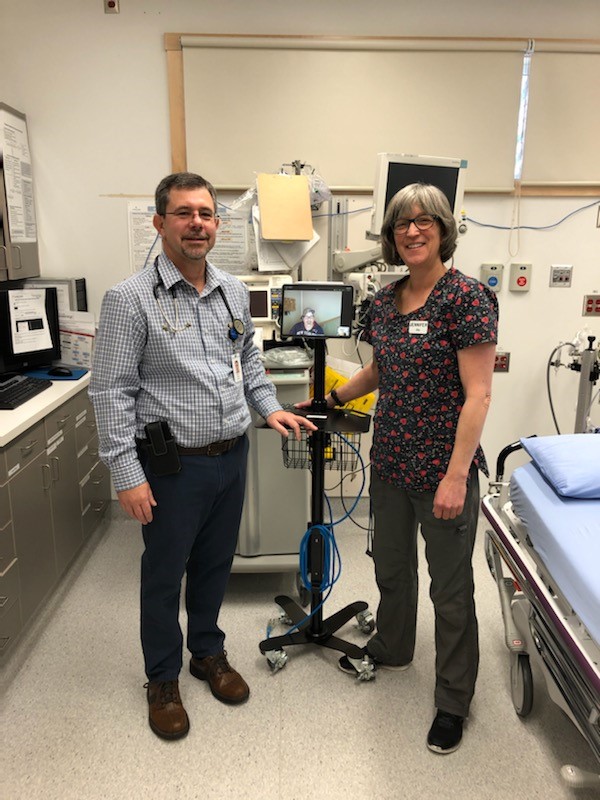 The NIRD has adopted the iPad as the new virtual care delivery platform due to its security, ease of use and cost. We have 11 NIRD purchased and supported iPad Pros in the region, 7 in Northern Health (NH) ERs, 3 with Carrier Sekani Family Services (CSFS) sites/physicians and 1 for administrative purposes. All have SIM cards for internet access to avoid issues with Health Authority WIFI. All virtual medicine initiatives are app based for ease of use. We also added clinical apps to the iPads for reference such as ACLS/PALS Advisor, BC Guidelines, Hypertension Guidelines, UpToDate, MD on Call, etc.
We've identified MedEx as the virtual medicine tool of choice for the Primary Care Network. MedEx is a clinical version of WebEx and provides a platform independent, device agnostic secure virtual exam room that can accommodate up to 200 participants. We plan to use MedEx on an iPad to bring specialists, family physicians and other clinical staff into the patient home fulfilling the team based care approach virtually. We will have virtual care coordinators responsible for the iPad facilitating these patient visits.
The proof of concept CODI experiment is now complete and showed there is a need for this type of on demand video based service. Using the lessons learned, we have embraced VSee as the clinical delivery app the family physician and other clinical support staff will use. This work is discussed in the bi-weekly Real Time Virtual Support (RTVS) Working Group and is led by the NIRD. What this will look like is any family physician, nurse, NP or resident can use VSee on their smart phone or tablet to engage different specialties 24/7 for acute or non-acute clinical cases. To date we have Intensivists, Emergency Medicine, Dermatology, Pediatrics, Psychiatry, PTN and peer family physicians onboard to provide guidance for those who need it. We are at about 80% readiness, and this solution is currently being piloted in the Robson Valley. Once we iron out the wrinkles, we plan to offer this service to the rest of the province. You can view it as a real-time RACE line with a video component.
We have a NAS (Network Attached Storage) that contains NH order sheets, FAST exams and other pertinent clinical documentation. These documents are available from all NIRD and South Peace Divisions iPads for reference. These order sheets can be accessed directly on the iPad which is bedside in the ER. The apple pencil can be used to fill out order sheets, then the sheet can be printed so it travels with the patient if they need to be transferred out.
We're at the proposal phase of implementing a virtual medicine SIM lab located centrally in Prince George. The idea is to provide a space in PG where we mimic the equipment the NIRD already has in NH and CSFS sites. This space will be used to test new virtual medicine technologies, showcase what we're working on for NH and other clinical groups in the region who may want to partner with us, and provide SIM training on virtual medicine tools staff may encounter in ERs throughout the region.
Normalizing on these virtual medicine tools as the responsibility of the physician, similar to its their responsibility to know how to use a stethoscope for example. We hope this virtual medicine tools SIM lab will help clinical staff to integrate clinical virtual medicine technology into their day to day duties. This lab will not be at an NH site and will be implemented solely as a Divisions/RCCbc initiative.