North Peace Division Locum House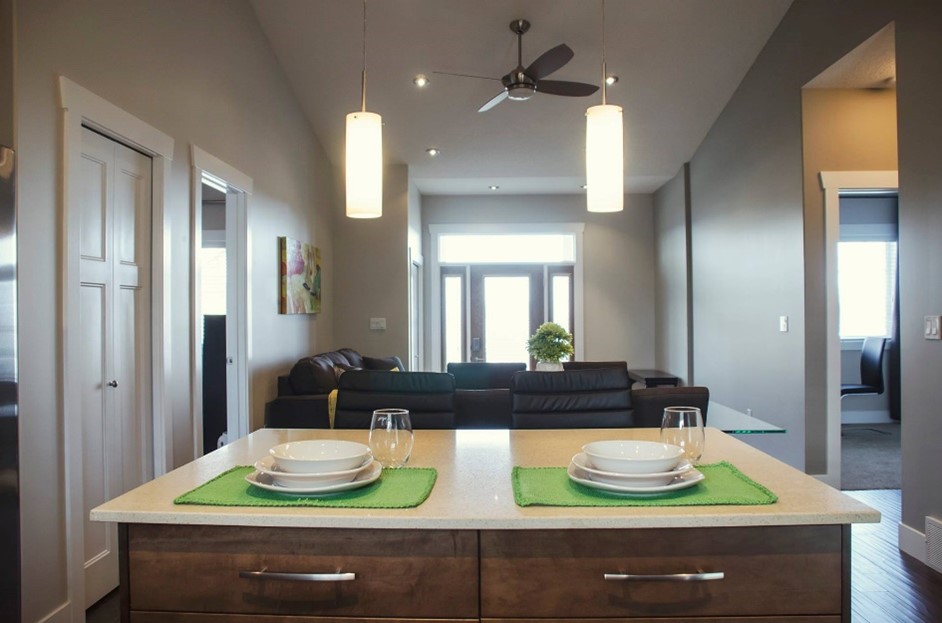 We know that securing adequate practice coverage can be a source of frustration for physicians that are seeking time away from their practice for vacation, CME, or other reasons. We also know that it can be particularly challenging to find suitable locum accommodations. As a part of the North Peace Division Recruitment and Retention Strategy we have rented a condo so that you can offer accommodation to the locum you are trying to recruit (This condo is to be booked on a first come first serve basis). 
We have a clean bright 2-bedroom 2-bathroom condo available for short term stays.  It has an excellent layout - the kitchen and living room are in the middle with the primary bedroom & on-suite on one side and the other bedroom & bathroom on the other, allowing for great separation when there are 2 guests.
Our locum accommodation is fully equipped with everything a locum will need for a comfortable stay, including linens, pots and pans, dishes, in suite laundry, etc. we also have 2 bikes available for use complete with locks and helmets! 
While the locum accommodation has a no pet policy, we are committed to assist you with finding an alternate accommodation. We will provide a list of hotels, other short term furnished accommodations, and B&Bs in the area that are pet friendly.  We also have compiled a list of doggie daycares, dog walkers and kennels.  We hope you are able to get the much-deserved R&R that you are looking for!
---
---

Dr. M. Nobar
"The locum apartment is a comfortable living arrangement which removes the stress of living arrangements from locuming in Fort St. John.  The kitchen is equipped with everything needed to cook for yourself, and the in-building small gym allows for a convenient means to exercising."

Dr. P. Mackey
"The locum apartment in Fort St John is excellent. The kitchen has a stove, microwave, and dishwasher and there is a separate laundry room. The beds are comfortable and the linens are good quality. The Wifi is sufficiently speedy. From the deck, the views of the sunset in spring, summer, and autumn are lovely. It is about 6 blocks' walk to the clinics and to downtown, where there are several restaurants (recommend Whole Wheat and Honey, The North Bar and Grill, Olive Tree). The apartment building is quiet and there is a gym. It is also close to a community trail and bikes are provided."

Dr. G. Smit
"I have stayed at the locum house in Fort St John on numerous occasions. The unit is situated in a modern and quiet block, has alway been very clean and has all the appliances needed for a short or long stay. 
It is of great help to me as a locum at the FSJ hospital and very much appreciated."

Dr. S. Morrison
"The location was convenient for a short 10 minute drive to the hospital or clinic where I was working as well as the local pool. The kitchen was well stocked. The building was quiet. Pickup and dropoff of the key was easy and flexible for my late arrival time."