COVID-19 Resources and Updates
Please note: 
Nanaimo's Family Physicians continue to see patients.
Call your physician if you are physically or mentally unwell.
The initial visit with your doctor will be by phone or video followed by an exam when needed.
Stay safe, practice physical distancing, and be well.
Please click the link below for more information on the walk-in services available at: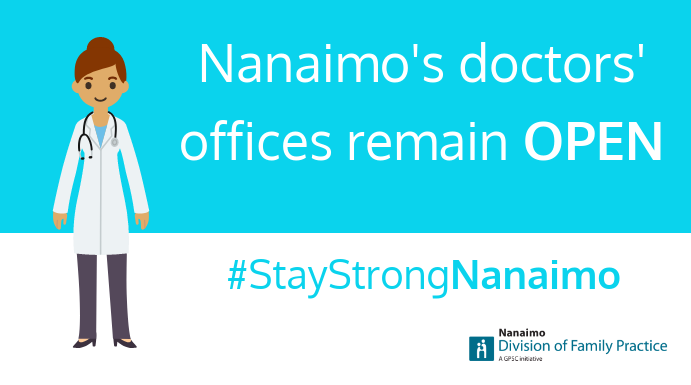 Press Releases from the Nanaimo Division of Family Practice re: COVID-19
---
COVID-19 RESOURCES
---
COVID-19 vaccine information tools for doctors
Doctors of BC's COVID-19 updates page contains a number of products specifically for doctors. These include answers to questions doctors have about their own vaccinations and the mass vaccination roll-out. There is a section for patients and a toolkit for doctors' practices. Materials arriving soon will include downloadable fact sheets and FAQs for patients. The Doctors of BC communications team is also developing a marketing campaign to address vaccine hesitancy and encourage the public to get vaccinated.
Please send suggestions and ideas for other possible useful resources to covid19@doctorsofbc.ca.
---
Walk and Talk with the Doc - Kids, Families, and COVID-19
---
Walk and Talk with the Doc - Social Work and COVID-19
---
Walk and Talk with the Docs - Mental Health and COVID-19
---
We have a comprehensive COVID-19 hub of reliable education and resources being offered by UBC CPD and other education providers.
Email us any questions or suggest resources: cpd.covid-19@ubc.ca.