Patient Medical Home
A Patient Medical Home (PMH) is a family practice that offers comprehensive, coordinated, and continuing care to their patients through a family physician  working with health care teams. The PMH supports the relationships between patients and family physicians and other health care providers as they develop and strengthen over time, enabling the best possible health outcomes for each person, practice population, and the community being served.  Supporting this model includes, educational events, patient engagement, improved communication between physicians and allied health professionals, and data supports.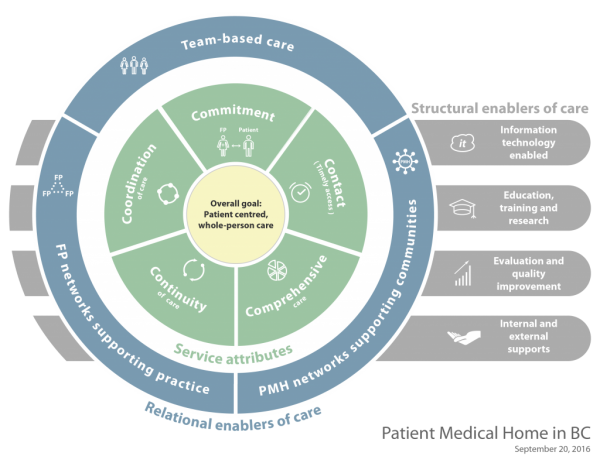 Dietitian Collaboration Program
Abbotsford has a high instance of chronic disease that can be managed and offset through preventative care. For ~3 years this team-based care pilot project has demonstrated impressive patient health outcomes and developed a model for working with Fraser Health staff in physician owned clinics. The Division and Fraser Health presented a storyboard at the 2018 BC Quality Forum which demonstrated health outcomes from the project. Results were on par with the Dietitians of Canada ideal results, and high provider and patient satisfaction has been consistently demonstrated from surveys and interviews.
This pilot program transitioned to a permanent program in summer 2019. Now called the Dietitian Collaboration Program, this team-based care program is a partnership between the Abbotsford Division of Family Practice, Family Physician Clinics, and Fraser Health.
Community & Clinical Pharmacist Collaboration
Enhancing relationships, developing streamlined processes (e.g. for med reviews), and supporting co-management of patients where appropriate between pharmacists and family physicians.
Telemedicine in an Urban Setting Pilot
Over the past three years, the Abbotsford Division launched two pilot projects to evaluate the use of telemedicine in an urban setting with attached patients. The evaluation of telemedicine's ability to enhance access and longitudinal care will inform local, regional, and provincial virtual care policies. Learnings and recommendations from this project have been sent forward to the Ministry of Health to inform Telemedicine policy. Development work initiated in this project will support the Patient Medical Home Network and the Primary Care Network.