For Patients

If you live in Abbotsford and do not currently have a family doctor, please click the above link to fill out our Care Connector survey to be added to our waiting list. You will be contacted if we need more information or when a physician is accepting new patients. 
If you are unable to complete the survey, please call 604-746-3302 to speak to Marnie, our Care Coordinator.

For a directory of resources available in and around our community click here.
Making the Most out of a Visit to Your Doctor
Learn what you can do before you go, while you're in your doctor's office, and after your visit to make your appointment as effective as possible. Click here for more information.
Tips for Seniors: Regularly Reviewing Your Medicines
Watch this short video hosted by Dr. Shelley Dhillon-Bhala, Abbotsford Family Physician and Lori Blain, Clinical Pharmacist with Fraser Health Authority on the importance of reviewing medicines regularly for healthy living.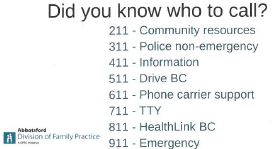 Clinics in Abbotsford
Abbotsford Maternity Group
32904 Ventura Ave #2
abbotsfordmaternitygroup.com
604.859.1211
Abbotsford Medical Centre
101-2051 McCallum Road
abbotsfordmedical.ca
604.744.5133
*Offers walk-in clinic services - please call first
Abbotsford Village Medical Clinic
302-2050 Sumas Way
604.504.7145
*Walk-in clinic
Abby Central Medical Clinic
Real Canadian Superstore: 2855 Gladwin Rd
primacyclinics.ca/locations/abby-central-medical/
604.557.1777
Aldergrove Medical Group
3113 272 St, Aldergrove
604.625.2001
Allwood Medical Clinic
102-2752 Allwood St
604.850.6893
Blue Oak Medical Clinic
200-31205 Maclure Rd
604.557.1155
Cannon Clinic
140-1575 McCallum Rd
cannonclinic.ca
604.853.3314
Clayburn Medical
3033 Immel St
604.852.6781
CareXus Clinic
104- 34143 Marshall Road
carexus.ca
604.859.3982
*Offers walk-in clinic services - please call first
Central Valley Medical
103- 2180 Gladwin Rd
604.852.1567
Chan Medical
2629 Cedar Park Pl
604.854.3117
Dr. David Froese Clinic
102-2975 Gladwin Rd
604.854.5777
Dr. G. Mitchell Medical Centre
1925 McCallum Rd
604.855.9455
Family Health Centre
102-2845 Cruickshank St
604.744.1010
Foundry Abbotsford
101-32555 Simon Ave
foundrybc.ca/abbotsford 
604.746.3392
for young people age 12-24
Fraser Valley Travel Clinic
2306 McCallum Rd
the-travel-doctor.com
604.755.4695
Gateway Healthcare
203-2051 McCallum Rd
gatewayhealth.ca
604.855.0677
Grover & Associates
270-32156 Hillcrest Ave
604.853.2120
Hillcrest Medical: Dr. Jaffri
110-32156 Hillcrest Ave
604.556.3550

Hillcrest Medical: Dr. Jan
110-32156 Hillcrest Ave
604.853.2125

Horizon Medical
304-2845 Cruickshank St
604.852.6659
Kaler & Associates / Ellwood
100-30495 Cardinal Ave
604.746.4700
MediMax
2479 McCallum Rd
medimaxhealth.com
604.852.2279
Olive Tree Medical Clinic
172-2655 Clearbrook Rd
olive-tree-medical.business.site
778.771.4480
*Offers walk-in services
Omnicare Medical Clinic
3010 Gladwin Rd
778.757.1770
Prajna Medical Clinic
106-32615 S Fraser Way
prajna-medical-clinic.business.site
604.776.2440
Primary Care Access Clinic
2296 McCallum Rd
604.504.0019
*by referral
The Mark Medical
104-32625 S Fraser Way
604.853.8641
Vivacare
Walmart: 3122 Mt Lehman Rd
vivacare.ca/locations/abbotsford-bc
604.381.4102
*Offers walk-in clinic services
West Oaks Medical Clinic
310-32700 S Fraser Way
604.557.9938
*Offers walk-in clinic services
Westview Medical
310-32700 S Fraser Way
604.744.1303
*Offers walk-in clinic services - please call first
Whatcom Medical Clinic
105-2362 Whatcom Rd
604.853.5424
Windermere Medical Clinic
32450 Simon Ave
windermeremedicalclinic.ca
604.859.6774
Learn more about opportunities to share your voice and experiences in healthcare.
Your Health, Your Voice, Your Community.