For Patients
We know having good access to primary health care services means better health for individuals and strengthens our community as a whole. The Abbotsford Division of Family Practice is helping to connect residents with the care they need.
If you are a resident of Abbotsford and you DO NOT currently have a primary care provider (Family Doctor or Nurse Practitioner) and would like assistance finding a primary care provider, please contact the Abbotsford Care Connector.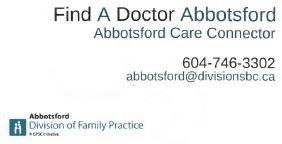 Note: Due to a limited number of Family Doctors in Abbotsford accepting new patients through the Care Connector at this time, we cannot guarantee a time frame of attachment. Please continue to seek care at a walk-in clinic (or if necessary, an Emergency Room) while you are waiting to be matched.
Community Resources 
For a directory of resources available in and around our community click here.
Making the Most out of a Visit to Your Doctor
Learn what you can do before you go, while you're in your doctor's office, and after your visit to make your appointment as effective as possible. Click here for more information.
Tips for Seniors: Regularly Reviewing Your Medicines
Watch this short video hosted by Dr. Shelley Dhillon-Bhala, Abbotsford Family Physician and Lori Blain, Clinical Pharmacist with Fraser Health Authority on the importance of reviewing medicines regularly for healthy living.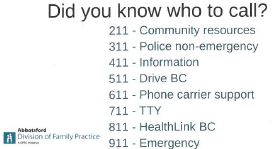 Learn more about opportunities to share your voice and experiences in healthcare.
Your Health, Your Voice, Your Community.