Wellness with Dr. Dan
Physician Wellness Column
 

"My goal, as Vancouver Division Lead for Physician Health, is for family doctors in Vancouver and all communities, to feel appreciated, valued, experience joy in their work and take care of their health."

 

We are excited to share Dr. Dodek's column, Wellness with Dr. Dan, featured in our Fast Facts member newsletter. It's a priority of the Vancouver Division to support our physician community in fostering an environment of health and wellness.

 

 
April 2020
DR. DAN'S DAILY WELLNESS TIPS
My email inbox makes me feel overwhelmed these days. However, I now give myself permission to unsubscribe and love it! This action makes me feel happy as I now have some control in my day.
Check out this amazing YouTube virtual orchestra singing "What the World Needs Now". Click here to watch.
Laughter can be a healthy diversion. My family has been watching comedy movies together at night as a source of distraction and therapy.
It is so important to be kind to yourselves in stressful situations. You are doing the best job you can in these trying circumstances. Thank you for your dedication and hard work.
Whether you are working from home or the office, make sure to connect to nature daily. Even if it is  just for a breath of fresh air, this can activate your parasympathetic response.
I have led a "daily huddle" in my office. This is a 5 minute check in where I ask staff: "How are you doing? What are your challenges? How can I support you?" This leads us all in the right path and reduces stress.
Connecting to others by phone or virtually is so important for us in times where we need to isolate ourselves and families. Make sure to connect to someone that fills you up with energy.
March 16, 2020
THE IMPORTANCE OF BREATHING
BREATHE APP BY DR. JUD
The past 7 days have been very stressful for me. The intensity and frequency of news regarding COVID 19 seems to change by the hour. My office has been extremely busy with concerned  and sick patients. We are all learning by the hour and changing the management plan daily. I have started to limit my reading of news and media and turn off my device at 9 pm to give my mind a break. In addition, I have recently found a simple app called Breathe by Dr. Jud. 

This app has one function only: a visual guide of taking an in breath where you feel the anxiety. I really like the simplicity of the app, as it only serves one purpose: focus on your inhale and exhale breath. Dr. Jud Brewer is the Director of Research and Innovation at the Mindfulness Center and associate professor of psychiatry at the School of Medicine at Brown University. Sometimes, during complicated and turbulent moments, a simple quick breathing exercise can help you feel  grounded.
March 2, 2020
WHAT BRINGS YOU JOY IN FAMILY MEDICINE? 
I have asked family doctors the question "What brings you joy in your work?" These answers have helped create the word cloud seen below. Thank you to everyone who contributed to this inspiring visual. I like to review this question every week, as it helps me find an equanimity in the practice of medicine. I want to highlight two words contributed during the poll:  
 
Wonder: Every week I am challenged by difficult situations, however many patients inspire me with their resilience. I am in awe about how they can cope with their illness. 
 
Good News: This is one of the best parts of being a physician. Seeing and hearing the relief and happiness of a patient is wonderful. Giving bad news is very emotionally draining for me. The transmission of news to patients is a very special and powerful responsibility we have as physicians.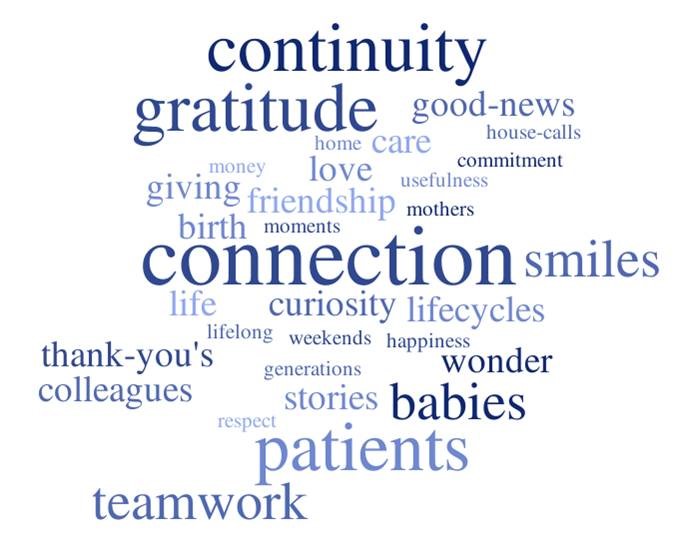 February 17, 2020
TECHNOLOGY AND THE DOCTOR-PATIENT RELATIONSHIP
I have recently started listening to an interesting and thought provoking podcast called Medicine and the Machine. It is hosted by Dr. Eric Topol and Dr. Abraham Verghese. Dr. Verghese is well known for his book, Cutting for Stone and has many articles published in the New York Times. The  first podcast takes a deep dive into how technology has interrupted the doctor-patient relationship. What ensues is a fascinating discussion on how the EMR has created a major barrier in communication with our patients and actually turned our attention into highly paid and overtrained computer clerks. They discuss different strategies to bring the humanistic side of our profession back. This podcast made me pause and feel hopeful.  

 
February 3, 2020
WHAT BRINGS YOU JOY IN YOUR WORK AS A DOCTOR?
It is easy to be ground down by the daily system challenges or emotional exhaustion of dealing with sickness. Each week we are faced with unique experiences that help our patients as we connect with them. Last week what brought me joy was when I saw the big smile on a 94-year-old woman's face during a house call. This made me forget about the mental and emotional challenges of my day. For the month of February, I will be asking for you to share one word that brings you joy in medicine. At the end of the month, this column will publish a word cloud for us all to enjoy. 

Please use this google form to submit your word(s).
 
| | |
| --- | --- |
| | Example of Word Cloud: A word cloud is a collection, or cluster, of words depicted in different sizes. The bigger and bolder the word appears, the more often it's mentioned. This is a word cloud analysis of the entire content of the British Journal of General Practice (BJGP) from 2011- 2016. Click on Word Cloud to enlarge.  |
January 20, 2020
POSITIVE PSYCHOLOGY FROM THE CANADIAN WHO WROTE BOOK OF AWESOME 
The Happiness Equation by Neil Pasricha
This is one of my favourite books I have read over the past year. It is written by a Canadian who has also authored the Book of Awesome and his most recent, You are Awesome. I would categorize this book in the positive psychology genre. The Happiness Equation is full of practical advice to help you develop more joy in your life. This is achieved through applying well studied techniques such as: writing in a journal daily about a positive experience, creating a gratitude journal and making time to completely unplug from technology weekly. He writes that "to be successful in life, you must be happy first."  
January 6, 2020
MY MOST UTILIZED APP FROM ANXIETY CANADA
One of my favourite Apps and most utilized is Mindshift. I like this App since it was developed by Anxiety Canada. It is a free App but requires a sign in registration. I find I use the Mindshift App most for accessing the "Chill Zone." This section provides guided instruction for meditation, visual imagery or calm breathing to assist me in feeling healthier and less stressed. I will also play the audio for my patients to introduce them to meditation or guide them in relaxation techniques. There is also other sections on dealing with social anxiety, perfectionism, public speaking, panic attacks and phobias. I suggest you look at this Mindshift App as the New Year begins, which can be a trigger for the stress response. Enjoy!

 
December 9, 2019
FOSTERING RESILIENCY RETREAT
Please join us for an immersive retreat offering a space for physicians to step back, reflect on burn out and learn skills in mindfulness-based approaches to resiliency. Our approach to developing personal resilience is based on cultivating equanimity, calmness and emotional intelligence, so that you are wiser in your work, more connected to your colleagues, patients, friends and family, and ultimately able to find greater satisfaction in what you do. The Vancouver Division looks to the participants of this retreat as having the opportunity to be a leader and champion for physician wellness. Date: January 30-31  |  Location: VanDusen Gardens.  Learn more and register for the retreat here.
November 25, 2019
LESSONS FROM THE BUSINESS WORLD
I am finding myself learning helpful lessons from the business world in regards to creating a culture of workplace happiness and employee wellness. Many of these concepts can be utilized in health care. An excellent article I recommend is called Manage Your Energy Not Your Time published in the Harvard Business Review. The author states "The core problems with working longer hours is that time is a finite resource. Energy is a different story." Despite the treadmill like day we experience in our daily work, we do have opportunities to change how we utilize our energy throughout the day. The article discusses many helpful tactics such as taking 3 minute microbreaks every 90 minutes throughout the day to refocus. The author has several suggestions for establishing daily rituals to help maintain clear and logical thinking throughout our day. Read the article to learn more.  

 
November 11, 2019
A PERSONAL PODCAST
I have recently started listening to podcasts while driving my car. I find this more interesting than the radio and better use of my time. My new favourite podcast is Behind the Stethoscope. This is locally developed by a group of doctors who are part of MDs4wellness at Royal Columbian Hospital. It is an honest look at burnout in the medical profession. I give full kudos to the physicians who discuss dealing with their personal challenges in the hospital and home. After listening to these podcasts I felt a greater sense of attachment to my fellow physician community and I gained a few helpful strategies to deal with the daily stress of medicine. Have a look at the website for more information.
October 28, 2019
A LIST OF MY FAVOURITE THINGS
I have started to compile a list, which I titled, Things I wish had been in my medical school curriculum.  At the top of the list is to read the book Attending: Medicine, Mindfulness and Humanity, by Dr. Ronald Epstein. As a professor of family medicine, psychiatry and oncology at the University of Rochester School of Medicine, he provides an amazing discussion on how to maintain the compassionate attitude throughout our career.  The core of the book discusses mindfulness techniques that are evidence based. This book has helped me to improve my resilience and to remain present at the patient bedside, and provided tools which support me to stay focused on the things that I can control and not get bogged down by the big system issues that seem overwhelming. One of my favourite strategies from the book states "research shows that if physicians spend even 20 percent of their work time in the activities that they regard as the most meaningful, they're much less likely to be burned out, meaning that they're more able to tolerate the difficult moments". This book is a must read for all physicians.  
October 14, 2019
THE FIRST STEP TO PHYSICIAN WELLNESS
As the first feature in my physician wellness column, I am excited to share an incredibly important website, physicianhealth.com. The Physician Health Program is a valuable resource for BC physicians, medical students, and residents as well as their partners and children. The program provides 24-hour access to a confidential helpline – anytime you need it - to receive support, referrals and counselling for challenges such as mental health, relationship stress and career and life transitions. I encourage all members to take the time to learn more about the Physician Health Program, please visit their website.