Physician Recruitment
Contact:  Recruitmentvan@divisionsbc.ca  |  604-569-2010

---
Our physician recruitment work has engaged over 1,500 family doctors and 100,000 patients
---
Information on Alternative Payment Plan (APP) contract opportunities within Primary Care Networks can be found here.
Information on Nurse Practitioner (NP) opportunities within Patient Medical Homes can be found here.
Information on the Practice Ready Assessment BC (PRA-BC) program can be found here.
Why do more than 1,100 family physicians practice in Vancouver? 
View our brochure here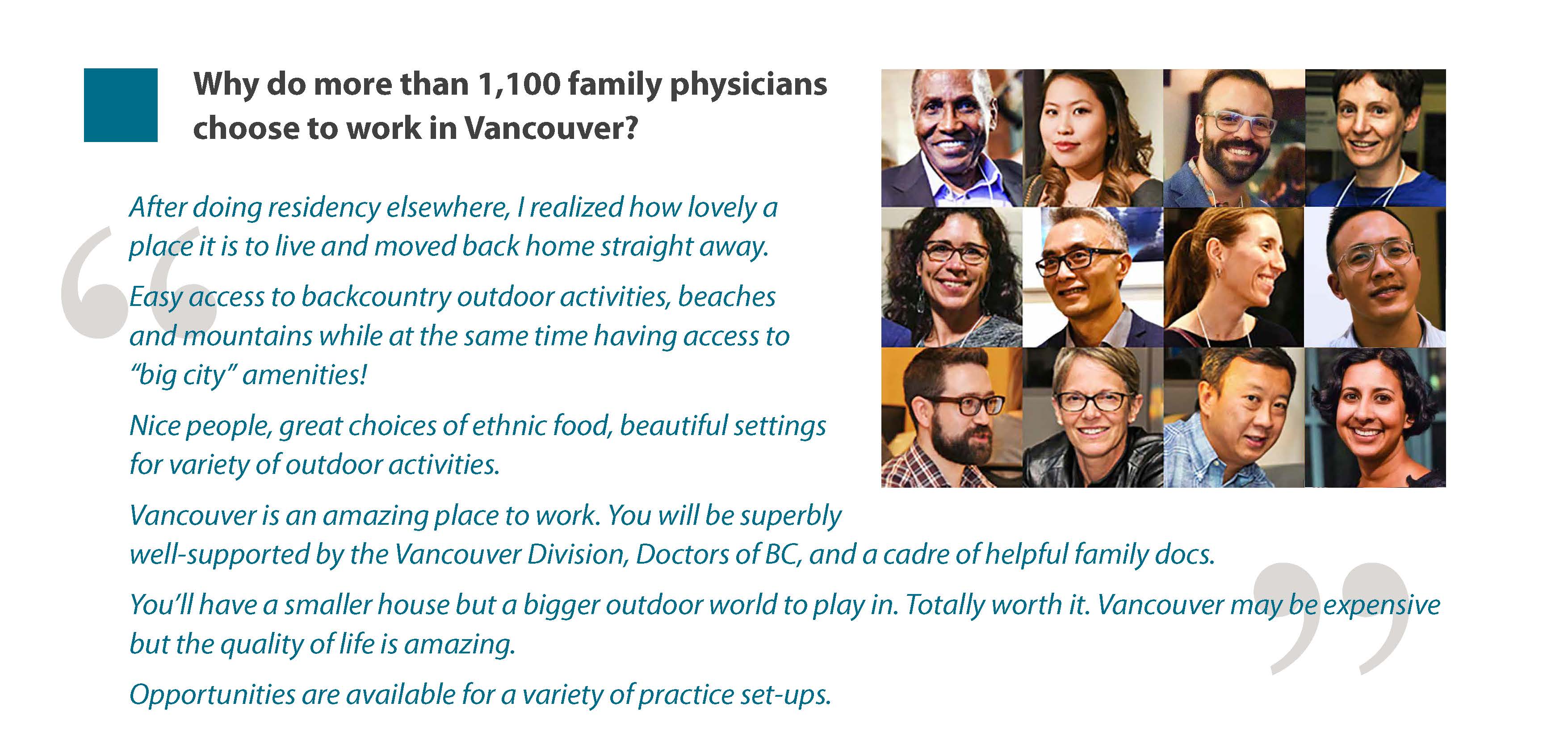 Who Do We Support?
Family Medicine Residents

Family Doctors from Canada, USA, Australia, Ireland, and United Kingdom

Fully & Provisionally Licensed Family Physicians

Clinics within the city of Vancouver

Retired Family Doctors looking for locum work
How Can We Help You?
As a family medicine resident, we can help you by providing resources to support your transition into practice following your residency (i.e., billing resources, work placements, networking opportunities, etc.)!
 
As a practicing family doctor in Vancouver, we can support you through our locum and permanent clinic matching program that works with over 100 clinics in the city of Vancouver. We can also help you set up a practice of your own, join an existing practice, or take over a practice from a retiring physician!

As a family doctor from one of the countries listed above, we can help support you in obtaining a license to practice in BC!

As a clinic owner, we can help by recruiting for locum and permanent family doctors to work at your clinic!
Where to Find Job Opportunities?
We post all our job opportunities online on locums.ca, SGP, and Health Match BC (if you apply online, your application will go straight to us).

For a personalized clinic matching experience connect with our team.
Can You Provide Care for Chinese Patients? 
There is currently a very high need for family physicians in Vancouver that can speak Cantonese and/or Mandarin. 
 
In addition to our general retirement support for Vancouver FPs, the Vancouver Division is working with several FPs serving Vancouver's Chinese community who are planning to retire in the next 1-5 years . With thousands of Cantonese and Mandarin speaking patients projected to be in need of care in the upcoming years, there are many practices that are ready for complete takeover or patients ready to be moved. 
 
If you are a Cantonese/Mandarin-Speaking family physician licensed to work in BC and are looking to either take over an already established family practice, or to add some patients to your already existing patient panel, please contact our team.
Licensing Info for BC
More information on licensing for BC can be found here.
Quotes
"I found your support services very helpful and personalized, and I would recommend any new grad be in touch with your team. Thank you for your time and help over the last year!"
"You have been great in terms of being able to reach you and your assistance with finding opportunities."
"Thanks for all of your help sorting things out as I get to Vancouver. It has made it much, much easier to set up a job!"
"I really think that you have provided us an invaluable service to link up with potential locum. Keep up with your fabulous work."
"I am feeling more relaxed and re-energized. I think I can keep working for few more years…Thank you so much for your help since the beginning of this year! My horizon has certainly extended a little bit more now."
Click On The Video Below To Explore The Beautiful City Of Vancouver, BC!