Patients
The Vancouver Division does not offer a public family doctor matching ​program.  
Are you looking for a family doctor in Vancouver? 
The Vancouver Division does not hold a list of publicly accepting family doctors and is unable to manage the public demand of attachment.
Our recommended approach to finding care:
If you have a medical emergency, call 911 or visit your nearest emergency department.
For medical related questions, consider calling 811 to speak with a nurse.
Visit Medimap.ca to locate the nearest walk-in clinic and their wait times.
If you are expecting and do not have a delivery plan, visit Pregnancy Vancouver.
The City Centre urgent care centre is open for regular care with extended hours, visit citycentreupcc.ca
Choose the right care at the right place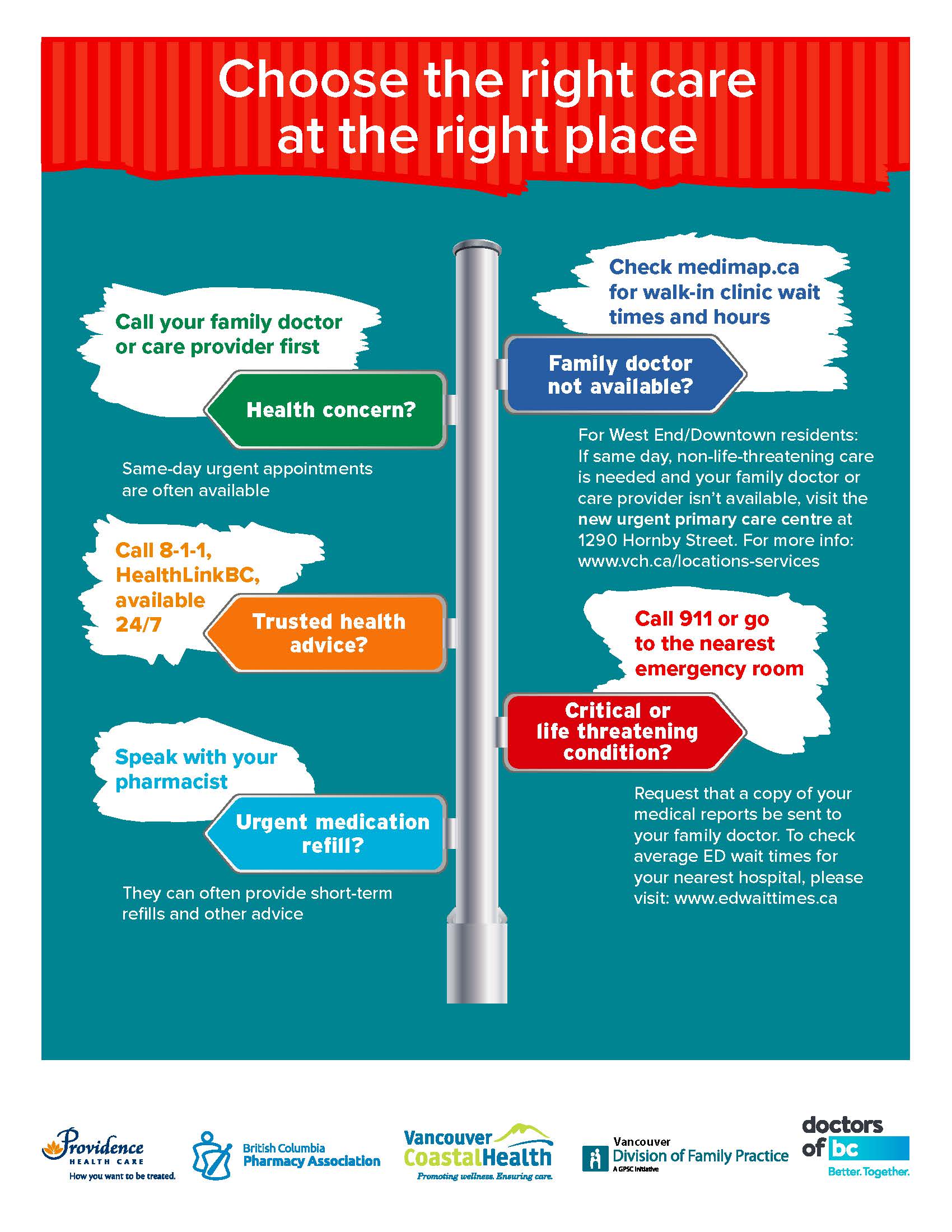 What is your family doctor's role?
Your family doctor (also known as family physicians or GPs – general practitioners) is the first medical professional you should see when you have a health concern.
Research has shown that people who get regular care from a GP receive more preventative care, are more likely to be accurately diagnosed, and are generally healthier. (Starfield and Mackinko, 2005).

Your family doctor is your advocate in the British Columbian health care system and will help you navigate through it.
Family doctors are trained to care for all your health care needs from pregnancy to end-of-life care and to be part of the health care team for treatment of serious diseases like cancer.
 
When appropriate, your doctor may refer you to another health care provider for specialized services.
 
Your family doctor will also communicate all pertinent information to other care providers, maintain your medical records, and ensure you receive follow up care.
 
What is your role as a patient?
The relationship with your family doctor takes time to develop and requires ongoing communication.
Be patient. Unexpected emergencies can occur for patients who are seeing your family doctor before you. You may have to wait for your appointment even if you have booked a specific time. Consider booking appointments early in the day to decrease the likeliness of wait times.

Book an appointment at least one week in advance. Tell the receptionist the purpose of your visit. Staff are trained to identify the urgency of your appointment.
 
Communicate directly with your family doctor if you are concerned about the care that you are receiving.
Be prepared for your appointment with your family doctor 
Click here for a printable version of this checklist.