Dr. Tiffany Hornbeck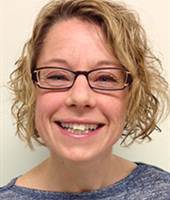 Tiffany Hornbeck grew up in Edmonton, attended the University of Alberta medical school, the Queen's University family medicine residency program, and the Northern Ontario Family Medicine GP Anesthesia program. She lives in and loves Kamloops for running, biking, cross-country skiing, and raising a family.
Dr. Hornbeck has been keen about obstetrics throughout her medical training and enjoyed 11.5 years working with the TRFO clinic. Although still sharing call with TRFO, Dr. Hornbeck now sees prenatal patients at the Nicola Women's Wellness Clinic. She is excited to have her own patients to follow and hopes to attend as many of their deliveries as possible. Dr. Hornbeck has been a core team member of the MoreOB program at Royal Inland Hospital since October 2012; a "comprehensive performance improvement program that creates a culture of patient safety in obstetrical units."
Tiffany values women, their families, and their unique experiences — finding it remarkable to be a part of their pregnancy, labor or postpartum journey.
544 Nicola Street, Kamloops
250-372-7706