Dr. Randal Mason - Co-Chair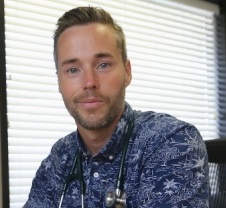 Randal was born and raised here, on Vancouver Island and has lived in the Western Communities off and on since 2005.  His background and path into medicine is fairly atypical, starting medical school in 2011, with a partner and three children along for the journey.  In 2014 the family moved back to the Island where Randal completed his residency in UBC's Indigenous Family Practice Training Site.  Since then, he has worked in several First Nation's communities across the Island and helped to establish two practices in communities that focus on providing team-based care and responding to the needs of each community.  Randal also played a role in the development of the high school-based primary care centres that exist in several high schools across the Island.  Since 2017, and moving back to Victoria, his practice has been focused more on providing primary care and addiction medicine services in a team-based setting, to a growing number of people living in the Western Communities.
Randal's passion in medicine is in reducing barriers to care, particularly for underserved populations.  He values innovation and application of novel approaches to the way we provide care and responding to feedback from our communities.
When not at work, Randal enjoys spending time with his family and doing anything but sitting still,  He has a love for being outdoors: surfing, cycling, running/hiking and always up for some basketball.