South Island Division Events Calendar
UPCOMING EVENTS: 
Division Member Meetings will be held quarterly at the Vancouver Island Tech Park. More information will be distributed ahead of each meeting.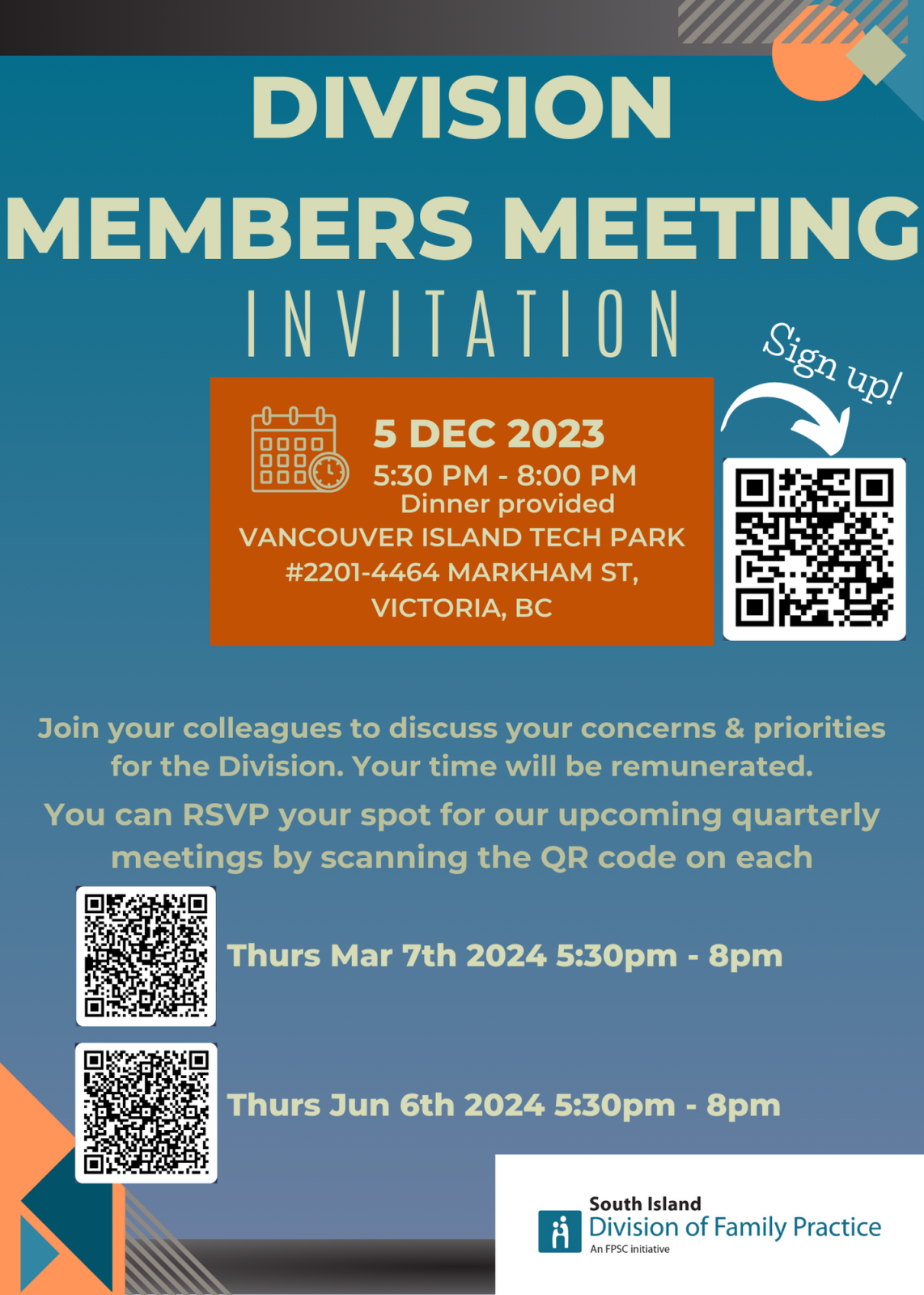 Register for December 5, 2023 (5:30-8:00pm)
Register for March 7, 2024 (5:30-8:00pm)
Register for June 6, 2024 (5:30-8:00pm) 
Can't make it? No problem! Our team will send all Division members a detailed summary of each meeting. 
---
You're Invited! Pediatric Bronchiolitis Webinar
Choosing Wisely Canada's new Pediatric Bronchiolitis Toolkit features easy-to-use tools and resources to help clinicians and caregivers manage pediatric bronchiolitis appropriately. Developed with experts from across Canada, the toolkit provides guidance on bronchiolitis care in emergency and primary care settings.   
Explore the toolkit with Dr. Claire Seaton, pediatrician, BC Children's Hospital and Dr. Tracy Monk, family physician, Pathways BC, during a virtual education session on Tuesday, Nov. 28, 2023, from 12:00 – 1:00 PM PST. This session is for health-care teams across BC who work in primary, urgent and emergency care.
Join the webinar via this Zoom link. No registration is required. Learn more about this event here!
The session will be recorded and posted on the Child Health BC website 5-7 days following the session.
---
Webinar: FNHA's Primary Care Vision and Strategy
The First Nations Health Authority (FNHA) will discuss the initiatives and partnerships that are transforming the way primary health care is delivered to Indigenous people in B.C., with a focus on the First Nations-led Primary Health Care Initiative (FNPCI).
Featured Speakers:
Dr. Terri Aldred, Executive Medical Director for Primary Care, First Nations Health Authority
Lisa Montgomery-Reid, Vice President of Regional Operations, First Nations Health Authority
Dr. Michael Dumont, Medical Director, Lu'Ma Medical Centre
For more information, visit the iCON website: https://indigenous.iconproject.org/
Register HERE!
Dec 4 (Mon) | 12pm - 1:30pm | Virtual via Zoom | Up to 6 Mainpro+ credits
---
Webinar: Introduction to Métis Nation British Columbia
Join us for this virtual session with Tanya Davoren, Executive Director, Health, Mental Health & Harm Reduction and Elders & Veterans Wellness of Métis Nation British Columbia (MNBC). Tanya will speak to MNBC's role in health care delivery within British Columbia and the unique cultural safety considerations when working with Métis patients in health care settings. 
Register online now. Questions about this event? Email jcc@doctorsofbc.ca
Dec 6 (Wed) | 5pm - 6pm | Virtual