E-Bulletin
The SIDFP e-Bulletin gives members and partners a heads-up about upcoming events and new resources. We use it to introduce new people to the Division and talk about some of our accomplishments. The e-Bulletin is distributed every first Thursday of the month. The deadline for submission is the previous Thursday. To submit an item or should you wish to be added to the mailing list please email us at info@sidfp.com.
---
September 7, 2023, South Island Division E-Bulletin
---
---
BOARD REPORTS
Please click here for the most recent Board meeting summary.
---
PRIMARY CARE NETWORK NEWSLETTER
Check each bulletin for the most recent edition(s) of the PCN News.
---
PHYSICIAN HEALTH & WELLNESS HUB 
The Physician Health & Wellness Committee has created a Wellness Hub where you can find upcoming events, resources and more! 
Access the Wellness Hub here.
---
THE OPERATING ROOM
The "Operating Room" is a short monthly blog provided for our members by Tanis Wynn, our full-time In-Practice Consultant. Tanis will share her knowledge on topics related to the "Operations" of your practice.
"Operating Room" - September 2023
Doctors Technology Office: IT Support Selection Checklist for Clinics
---
IN THE NEWS
ENCOURAGE YOUR COLLEAGUES TO JOIN THE DIVISION
We encourage all members to promote the Division with their colleagues and encourage them to join us. The closer we are to 100% enrollment, the more we ensure we're representing the family practice community. Applications can be submitted online via this link.
PEER SUPPORT PILOT PROGRAM IN THE SOUTH ISLAND!
Physicians face unique challenges, and support from colleagues can have a positive impact on wellbeing and workplace experiences.
On behalf of the South Island & Victoria Divisions of Family Practice, South Island MSA, and the Saanich Peninsula Physicians Society, we are so excited to launch the Greater Victoria Peer Support Pilot Program! This program offers short-term, one-on-one peer support to doctors across our region. For more information and to speak with a peer supporter, please click here.
NEW – TEMPORARY SAANICH PENINSULA HOSPITAL EMERGENCY DEPARTMENT SERVICE HOURS EXTENDED
The SPH emergency department will continue the current temporary overnight closure from 10:00 p.m. to 7:00 a.m. BC Emergency Health Services ambulances will continue to be diverted to Royal Jubilee Hospital or Victoria General Hospital from 10:00 p.m. to 7:00 a.m. Read the full news article here.
NEW – WELCOME THE NEW ISLAND REGIONAL ADVISOR & ADVOCATE (RAA)
Doctors of BC would like to introduce you all to the new Regional Advisor and Advocate (RAA) for the Island – Ms. Leanne Bulmer.
Leanne comes from her previous role as a Clinical Manager in Nanaimo. Leanne is a nurse by training from UBC and has an MBA. Leanne has worked with physicians in several roles, from managing large practices, to working directly in occupational health and safety roles in Vancouver Coastal Health to developing billing education for the Divisions of Family Practice to name a few.
Leanne's first day with Doctors of BC is September 5th. Her email is lbulmer@doctorsofbc.ca and her cell number is 250-889-0204 (Alanna's old cell number). Leanne and her family live in Nanaimo.
NEW – PHSA'S MYGUIDE LONG COVID ONLINE TOOL ANNOUNCEMENT
Post-COVID-19 Interdisciplinary Clinical Care Network (PC-ICCN) has created a new online tool to help patients find best-practice information to self-manage long COVID symptoms. Learn more here.
NEW – ENGAGEMENT OPPORTUNITY FOR TRAINED MAiD ASSESSORS
Are you a trained assessor for MAID and a family physician in Greater Victoria?
The Advocis Vancouver Island team is holding a Professional Development Day and is seeking 1 trained assessor to share in-depth knowledge of the MAID process. This event will be held on November 22, 2023 at the Olympic View Golf Course.
If you are keen to learn more or would like to present, please contact Karen at vancouverisland@advocischapter.ca.
NEW- AFTER HOURS COVERAGE PROGRAM SIGN UP & LAUNCH DATE
FPSC is excited to announce the upcoming launch of the After Hours Coverage Program, on Tuesday, September 19th in four pilot regions: Langley, South Okanagan Similkameen, Thompson Region, and Greater Victoria. After a 6-month pilot, we anticipate it will expand across BC. Learn more & sign up here!
NEW – 9 TERMS TO AVOID IN COMMUNICATIONS WITH INDIGENOUS PEOPLE
Click here for a good read!
NEW – WELL'S OCEANMD TO ROLL OUT eREFERRAL & eORDERS PLATFORM TO HELP PROVIDERS & PATIENTS IN BC DIGITIZE & MODERNIZE CLINICAL WORKFLOWS
WELL's subsidiary OceanMD has signed a $38.5 million contract with British Columbia's Provincial Health Services Authority to provide an array of digital services, such as eReferrals, eConsults, and eOrders to help further empower providers with best-in-class digital interoperability tools.
This is the third Canadian province, in addition to Ontario and Nova Scotia, that has materially partnered with OceanMD to enable eReferrals, eOrders, and eConsult requests.
The Ocean Platform currently supports almost 1 million eReferrals and eConsults annually and is Canada's largest community of connected healthcare solutions.
The Ocean Platform will streamline healthcare processes by integrating various clinical systems, enabling digital patient engagement, and reducing paperwork, thus improving efficiency for providers, and granting patients easier access to their health data.
NEW – NEW REFERRAL PROCESS AT PACIFIC HEMATOLOGY
Pacific Hematology has refined their referral process and is available to view here. For any questions regarding referrals, please contact 250-384-7377.
ISLAND HEALTH MEDICAL STAFF BULLETIN
DIVISIONS DISPATCH 
Check each bulletin for the most recent edition(s) of the Divisions Dispatch newsletter.
MEDICAL HEALTH OFFICER UPDATES
For any health updates, please click through to the Island Health website – this will include any measles status updates. 
---
GET INVOLVED
NEW – WEBINAR: INTRODUCTION TO THE NEW PROVINCIAL ATTACHMENT SYSTEM
All family physicians are invited to participate in a webinar that will provide an overview of the recently announced Provincial Attachment System (PAS), with a focus on the parts of the PAS that will be used by physicians. Family physicians, medical office assistants/clinic managers, and executive directors of Divisions of Family Practice (or delegates) are welcome to attend. Learn more & register here.
Sept 14 (Thurs) | 5:30pm – 7pm | Virtual via Zoom
NEW – QUARTERLY DIVISION MEMBERS MEETING
We're excited to invite you to our first Division quarterly members meeting, where we'll be discussing issues impacting primary care practice and your ideas for solutions. Your presence and insights are invaluable to the success of our community, and we genuinely appreciate your support. You will be remunerated for your time! Register here.
Sept 21st (Thurs) | 5:30pm – 8pm | Vancouver Island Tech Park - #2201- 4464 Markham St, Victoria, BC | Dinner included.
21ST ST. PAUL'S EMERGENCY MEDICINE UPDATE
Sep 22-25 (Thu-Sat) | Whistler Conference Centre |In-person Conference
Audience: family physicians, emergency physicians, hospitalists, internists, pediatricians, rural physicians, nurse practitioners, nurses, paramedics, residents, and students.
Up to 18.0 Mainpro+/MOC Section 1 Credits
 
UBC Faculty of Medicine has more upcoming Mainpro+ credits events, check it out here.
NEW – BC-CfE WEBINAR LEARNING SERIES: HIV CURE RESEARCH: AN UPDATE – REGISTER NOW!
BC Centre for Excellence in HIV/AIDS is hosting their next BC-CfE Webinar Learning Series event in September. Learn more & register here.
Sept 27 (Wed) | 12pm – 1pm | Virtual | Up to 1 Mainpro+ credit
NEW – YOU'RE INVITED! LTCI VIRTUAL LEARNING SERIES – OSTEOPOROSIS
Enjoy a presentation by Jennifer Carefoot from the Provincial Academic Detailing Team. Learn more & register here!
Sept 27 (Wed) | 5pm – 6:30pm | Virtual via Zoom | 1.5 Mainpro+ credits
NEW – 35th ANNUAL DIABETES DIRECTORS SEMINAR INVITATION
UBC's Division of Endocrinology is inviting you to their 35th Annual Diabetes Directors Seminar. Their speakers will cover a variety of topics in the field of diabetes and provide interactive case-based reviews of common issues encountered in the care of diabetes patients. Learn more & register here.
Oct 13 (Fri) | 8am – 4pm |Arbutus Ballroom, 711 W. Broadway @, Heather St, Vancouver, BC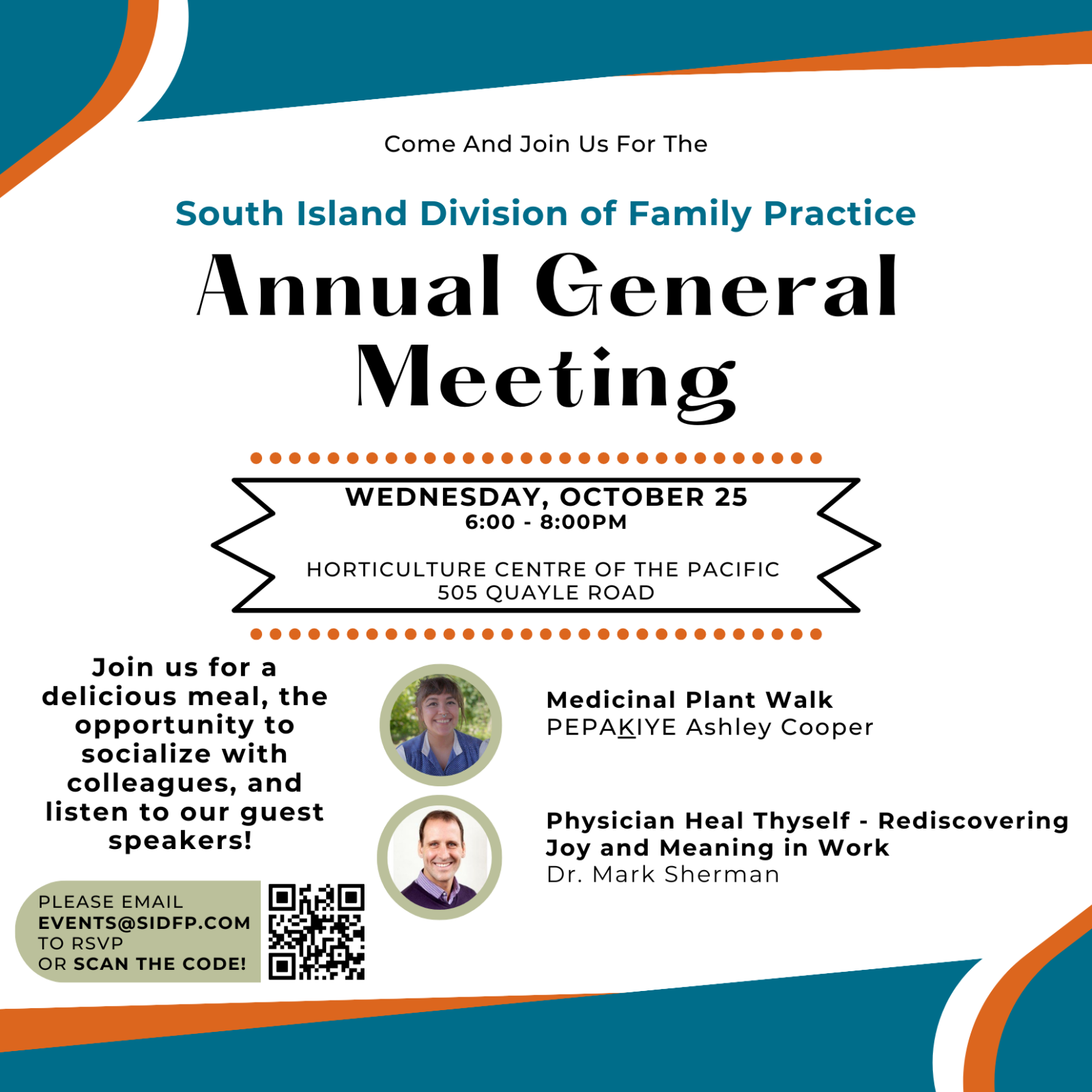 ---
PATHWAYS
Pathways Pearls - New Login Page & Finding Telehealth Specialists
---
RESOURCES 
 
FETCH PLATFORM
Effective March 31, 2023, the Fetch platform will be discontinued and no longer available through the Division website.
Don't forget to refer to our Resources section of the website. It includes a variety of items focused on your patients, billings tips, VIHA resources, etc.

ER Tips & Tricks
Courtesy of Victoria Division of Family Practice, ER Tips and Tricks are a series of hands-on, focused guidelines intended to assist community GPs. Click here to view ER Tips & Tricks.

MOA ​Resources
Tips for accessing Community Health Services: Looking for the best ways to access support from Island Health's CHS team? We've picked up a few great tips and tricks to share with you: check the MOA Resources page of our website for helpful information!

Patient Resources
Please visit our Resources section of the website for patient related resources.

Don't forget about the Self-Management courses offered through Self-Management BC found here
UPCOMING EVENTS​
Please see the Division's Calendar of Events


RECRUITMENT
​​To view the most current employment postings please see the links below:

If you would like to post a position, please download the appropriate form and email to recruitment@sidfp.com or fax to 250-658-3304. We strive to keep our information current, so if any of the postings have been filled, please notify the office.

Succession Planning Guide
Are you looking to make a change to your practice? The Succession Planning Guide (.PDF) will lead you through the critical steps in your decision-making process. For support or questions, contact info@sidfp.com.

Help Us Get the Word Out!
We always welcome news items or announcements for our monthly e-bulletin. If there is something that you would like to share with your colleagues, then we would certainly like to hear from you! Please call us at 250.658.3303 or e-mail us at info@sidfp.com.   
CONTACT US
Email: info@sidfp.com
Phone: 250 658 3303
Fax: 250 658 3304
Visit us at our office location:
Suite 201 - 4480 West Saanich Road
(above Little Thai Place)