E-Bulletin
E-BULLETIN
The SIDFP e-Bulletin gives members and partners a heads-up about upcoming events and new resources. We use it to introduce new people to the Division and talk about some of our accomplishments. The e-Bulletin is distributed every second Thursday. The deadline for submission is the previous Thursday. To submit and item or should you wish to be added to the mailing list please email us at info@sidfp.com.
---
September 8, 2022 South Island Division E-Bulletin
---
---
BOARD REPORTS
Please click here for the most recent Board meeting summary.
---
PRIMARY CARE NETWORK NEWSLETTER
Check each bulletin for the most recent edition(s) of the PCN News.
---
PHYSICIAN HEALTH & WELLNESS HUB 
The Physician Health & Wellness Committee has created a Wellness Hub where you can find upcoming events, resources and more! 
Access the Wellness Hub here.
---
THE OPERATING ROOM
The "Operating Room" is a short monthly blog provided for our members by Tanis Wynn, our full-time In-Practice Consultant.  Tanis will share her knowledge on topics related to the "Operations" of your practice.
NEW – Steps to Prepare for Survey
Doctors Technology Office: IT Support Selection Checklist for Clinics
MD OFFICE EXPENSE DATABASE SURVEY
---
IN THE NEWS
ENCOURAGE YOUR COLLEAGUES TO JOIN THE DIVISION
We encourage all members to promote the Division with their colleagues and encourage them to join us. The closer we are to 100% enrollment, the more we ensure we're representing the family practice community. Applications can be submitted online via this link.
REGISTRATION IS OPEN FOR THE 2022 ANNUAL GENERAL MEETING!
Join the Division at the 2022 Annual General Meeting followed by a Mental Health & Substance Use CME event to follow (1.5 MainPro+credits available).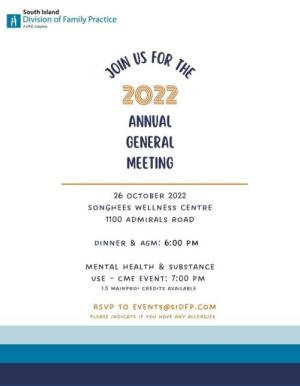 NEW – Quality Standard for Improving Stroke Care
BC Patient Safety & Quality Council has launched a new quality standard for BC's health care system that focuses on improving stroke care.  For more information use this link
NEW – GREATER VICTORIA – URBAN LOCUM PILOT PROGRAM: APPLICATIONS NOW OPEN!
The Urban Locum Program pilot in Greater Victoria's Primary Care Networks aims to offer up to 10 days of coverage per year for eligible family doctors and a career pathway for new physicians in longitudinal care. Starting in the fall of 2022, the program is intended to help address challenges facing family doctors including burnout, finding locum coverage to maintain continuity of care during leaves, mounting financial pressures from business costs, and the need to recruit and retain family doctors in community longitudinal practice. 
Applications for locums and family physicians' hosts is now open. Click here to read more and submit your application! If you have any questions, please contact Becky Litt at urbanlocumprogram@victoriadivision.ca .
NEW – OFFICE ANNOUNCEMENT
Hi everyone, 
We are pleased to announce that along with Dr. Sue Stock and Dr. Ashlee Yang in North Vancouver we are now working together as West Coast Pediatric Endocrinology, to provide pediatric endocrinology services to the island. We are Drs. Emma McCutcheon and Zoya Thawer and are accepting referrals for pediatric endocrinology-related concerns including but not limited to type 1 and type 2 diabetes care, lipid abnormalities, growth and puberty concerns, pituitary hormone abnormalities, bone health, obesity, and gender care. Our practice is based in Victoria, however at present, we run outreach clinics in Nanaimo (diabetes and endocrinology) and Campbell River (diabetes at this time but soon to include endocrinology) once a month. We also run a transition/young adult diabetes clinic at the Royal Jubilee Hospital. 
We are also more than happy to provide phone advice and guidance to physicians to help support your patients. We will now have an urgent referral phone number that you can use to reach us for any urgent consults or phone advice. This number is 778-743-7418. You can use this number to call or text. 
All of our referrals are centralized and can be faxed to 604-980-8393 and our office e-mail is outreach@nspeds.ca. 
Thank you so much in advance and we look forward to providing comprehensive, shared care with you!
Dr. Emma McCutcheon
MD, FRCPC

Pediatric Endocrinologist

Vancouver Island Health Authority

 

Dr. Zoya Thawer

MD, FRCPC

Pediatric Endocrinologist

Vancouver Island Health Authority

 
NEW – ISLAND HEALTH MEDICAL STAFF BULLETIN
NEW – ISLAND HEALTH CLOSING UPCC COVID-19 ASSESSMENT REFERRAL PATHWAY.
Island Health is closing the Downtown Victoria UPCC Covid-19 assessment referral pathway September 30, 2022.  The Covid-19 Assessment Clinics were a collaborative effort with Island Health and the Divisions of Family Practices, and we thank everyone for their efforts over the course of the last two and half years.  
A reminder that other resources including the COVID-19 Outpatient Therapeutics Clinic, the Post-COVID-19 Clinic and RACE Line continue.
NEW – COMMUNITY VIRTUAL CARE
Community Virtual Care (previously Home Health Monitoring) is a free, innovative Island Health program that uses remote patient monitoring, virtual visits, and the telephone to support clients living with chronic disease from the comfort of their home. Registered nurses monitor vital signs and symptoms, as well as provide self-management coaching and education to clients with the following conditions:
Chronic Kidney Disease
COPD
Diabetes
Heart Failure
Hypertension
Palliative Supportive Care (Nanaimo and Saanich Peninsula. Island roll out in winter 2022.)
COVID-19 (positive and symptomatic)
Heat-related Illness
Wildfire Smoke Inhalation
Clients are loaned, at no cost to them, all the equipment they need to answer daily care plan questions and measure their biometrics. This information is sent electronically to the monitoring nurses who check for alerts and data changes. Monitoring data is viewable on the Remote Patient Monitoring MPage in PowerChart, and significant data trends are sent to the client's Primary Care Provider. The nurses support clients to be proficient and confident in managing their condition and help them recognize when to seek care from their Primary Care Provider vs. when to seek Emergency Services.
Referrals are made through Community Access:
South Island (250) 388-2273 or toll-free 1 (888) 533-2273
Central Island (250) 739-5749 or toll-free 1 (877) 734-4101
North Island (250) 331-8570 or toll-free 1 (866) 928-4988
For more information about the program, referral options or to request posters or pamphlets:
Web: islandhealth.ca/cvc
Phone: 250.519.7700 x 11928
NEW – NATIONAL DAY FOR TRUTH AND RECONCILIATION
Friday, September 30th is the National Day for Truth and Reconciliation. The Division office will be closed to give staff the opportunity to reflect and seek education on the challenges faced by Indigenous people.
We have put together a list of resources, articles, videos, and learnings that we are proud to share with you. Please feel welcome to distribute this to anyone who might be looking for a way to honor this day.
NEW – ISLAND HEALTH PRESCRIBER-FOCUSSED EDUCATION ON FENTANYL PATCHES:
Please join the BCCSU and Dr. Kelsey Roden on September 26th, 2022, from 1200-1300, for a prescriber-focused overview on the use of fentanyl patches as a safer alternative to the toxic drug supply. Topics covered will include:  identifying candidates, initiation, titration, assessment and monitoring, discontinuation and frequently encountered practice challenges. 
Please register to receive a Zoom link:  https://forms.gle/a5kVisou1bMB91Bi6
CANADIAN MENTAL HEALTH ASSOCIATION: More Than the Substance Campaign
Looking for reliable resources on youth substance use that you can share with your patients? More Than the Substance is a CMHA BC campaign done in collaboration with youth, health care partners, and community partners to help destigmatize substance use; connect youth with resources; encourage help-seeking behavior; and reduce harms from the toxic drug supply. The information at MoreThanTheSubstance.ca includes provincial substance use services and support, resources to stay safe, help for mental health, and more.  
ISLAND HEALTH PRIMARY CARE UPDATES  
Island Health has transitioned to a link-based send out for our Primary Care COVID-19 Update – for distribution, please note the online PDF can also be downloaded. Their newsletter is monthly with the next update planned for October 5th, 2022, and past issues can be in the online archive.    
DIVISIONS DISPATCH 
Check each bulletin for the most recent edition(s) of the Divisions Dispatch newsletter.
MEDICAL HEALTH OFFICER UPDATES
For any health updates, please click through to the Island Health website – this will include any measles status updates. 
---
CME EVENTS
NEW – CARING FOR THE COGNITIVELY COMPROMISED: CLINICAL PEARL
Join us for a Dine "N" Learn event on Dementia, with fabulous topics!
Breaking Bad News: Relaying a new diagnosis of dementia
Driving Dementia
Responsive Behaviors in Major Neurocognitive Disorder
Preventing Dementia from a Public Health and Individual Perspective
For more information please use this link
NEW – 6TH ANNUAL FERTILITY AND REPRODUCTIVE MEDICINE SYMPOSIUM
On Wednesday, October 19, 2022, the Pacific Centre for Reproductive Medicine (PCRM) will host its 6th Annual Fertility and Reproductive Medicine Symposium via virtual platform.  For more information/ registration use this link.        
NEW – PRIVACY BREACHE: HOW TO DEVELOP AN EFFECTIVE RESPONSE PLAN.
Join experts from the doctors Technology Office to learn simple steps and gain skills in applying them to common breach scenarios.  For more information link  to register use this link
NEW - BC-CfE Celebrates 30 Years of Excellence
Chapter 3 | Improving access to HAART in BC: the STOP HIV/AIDS pilot project
When: Wednesday, September 28, 2022, from 12:00 pm - 1:00 pm
Location: Virtual webinar event
Register online at: https://attendee.gotowebinar.com/register/7469331458445646604
Cost: Free 
Objectives:
Describe trends of HIV incidence prior to 2010's introduction of the STOP HIV/AIDS pilot project
Summarize what made the STOP HIV/AIDS pilot project unique and how it addressed increased rates of HIV incidence in Vancouver and Prince George
Describe the legacy of the pilot project as it expanded province-wide and how the program inspired applications into other health conditions.
Speakers:
Dr. Rolando Barrios
Senior Medical Director, BC Centre for Excellence in HIV/AIDS
Director, STOP HIV/AIDS Program
Ms. Irene Day
Manager, 625 Powell Street Foundation
Tune in as BC-CfE Senior Medical Director Dr. Rolando Barrios discusses what led to the STOP HIV/AIDS pilot project and the impact it has had on improving HIV treatment and care across BC.
 *Please note this webinar will be recorded and a copy made available for viewing on BC-CfE's Education and Training website at: education.bccfe.ca/webinars
If you have any questions regarding this event, please contact BC-CfE's Education and Training team at: education@bccfe.ca.
UBC CPD In-Person Workshops in Vancouver
FAST Evidence: Finding Answers – Systematic, Timely and Evidence Based
Summary: Learn to conduct efficient and refined literature searches to find reliable and evidence-based health information with coaching from a librarian.
Date: Fri, Nov 18, 2022 | 08:30-12:30
Who Should Attend: Physicians with access to library services through the College of Physicians and Surgeons BC (CPSBC)
Workshop Summary & Format: Interactive 4.0-hour in-person workshop (including light refreshments) facilitated by a CPSBC librarian, 0.5 hour coaching call, and pre/post-workshop activities.
Accreditation: 16.5 Mainpro+ 3 cr/hr
Course:https://bit.ly/fastev-nov-2022
 We are also pleased to announce that we are relaunching the Optimizing Communication for Excellence with a new name:
Communication Course for Health Care Professionals: Navigating Challenging Conversations Across the System. Our first workshop of the relaunched course will take place on Friday, Jan 27, 2023.
The course is designed for family physicians, specialists, midwives, nurse practitioners, administrators, and others who want to learn effective communications skills to enhance the health care system, improve outcomes and lead to better patient and healthcare practitioner satisfaction. It begins with a one-day workshop, in which participants learn a simple four-stage framework to navigate difficult conversations. After the workshop, you'll benefit from a 30-minute personalized coaching call. To support your ongoing learning and practice, you'll have opportunities to share with peers and program facilitators your insights, successes and challenges in a safe and positive environment.
Date and Time: Friday, Jan 27, 2023, 8:30-16:30 PT + Post workshop activities
Location: The Arbutus Club, 2001 Nanton Ave, Vancouver, BC V6J 4A1
28.5 Mainpro+ / 9.5 MOC Section 3 credits
Speaker: Dr. Rahul Gupta
Dr. Rahul Gupta, MD, CCFP is a Family Physician, Clinical Assistant Professor at UBC Department of Family Medicine, Certified Mindfulness-Based Stress Reduction Teacher, and Certified Coach. He has been working as a coach since 2003, combining the practices of mindfulness, solution-oriented approaches, somatic experiencing, mind-body practices and cognitive behavioral therapies.
Cost: $625 by Dec 2, 2022 | $675 after
Course: https://bit.ly/ubccpd-commcourse-jan23
---
GET INVOLVED
NEW – APPLIED SUICIDE INTERVENTION SKILLS TRAINING (ASIST) WORKSHOP
Do you work with patients who are experiencing thoughts of suicide? CMHA BC is hosting an Applied Suicide Intervention Skills Training (ASIST) course on October 28th & 29th from 9am-5pm. ASIST teaches participants to recognize when someone may be at risk of suicide and work with them to create a plan that will support their immediate safety. ASIST is internationally recognized and widely used by healthcare providers. This is a great opportunity to develop (or refresh your knowledge of) lifesaving suicide intervention skills. For more information and to register, click here.
Upcoming Events: 
Roundtable: Improving community Physicians' access to online resources
Dr. Ian Bekker is working to improve community physician's access to patient health information (Island Health and other sources). He is offering roundtable sessions for physicians to share their frustrations, needs, and ideas. Your participation time will be compensated. If you have direct feedback, please contact Dr. Bekker.
Zoom links are available from Dr. Bekker or info@southislandmsa.ca .
GPSC billing education webinar series | Fall 2022
All family doctors are invited to learn more about billing GPSC fees in this five-part webinar series beginning September 22. Led by physician billing educators, these live webinars offer: 
Up-to-date information on GPSC billing fees and rules – essential since physicians are responsible for all MSP claims/services billed under their MSP number, even when delegated.
Relevant information to accurately, appropriately, and confidently bill GPSC fees.
Real-time discussion.
For physicians/residents only, whether new-to-practice or seasoned veterans - even those who have attended past series. Engaging new content, polls, and scenarios keep it fresh so you're always learning something new.
 
Read more and register on the GPSC website
---
PHYSICIAN HEALTH & WELLNESS
REMINDER - QUIT MULTIPLYING BY ZERO WITH DR. MAMTA GAUTAM
To register please use this link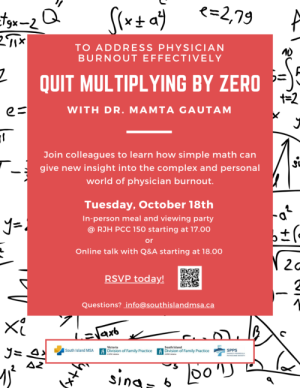 NEW – MINDFUL MONDAYS ARE BACK!
Take an hour for yourself to slow down, reconnect, and restore. Join physician colleagues and a skillful facilitator for an hour of mindfulness practice. No experience or registration needed – join if you're interested and available!       All sessions will be held virtually from 8:00 – 9:00pm. South Island members must login to access Zoom meeting details.
Physician To Parent Educational Series:
Join Dr. Pip Houghton in this educational series ''Physician To Parent'' in these live sessions she will cover material relevant to ALL parents but through the lens of the physician journey. This amazing educational series is open for all physicians, spouses and residents, for more information click here
Physician Psychological Safety 2022 Webinar Series:
Please join Dr. Mamta Gautam, MD, MBA, FRCPC, CPDC, CCPE, CPE psychiatrist at The Ottawa Hospital, in a series of five virtual psychological safety webinars aimed at promoting psychological safety in health care teams.  For more information click here
LONG COVID - SHARE, LEARN, HELP
For more information and to be involved you can find it here
To view more upcoming events, please visit the Events page on the Division website.
---
PATHWAYS
CAREGIVER RESOURCES FOR FAMILY PHYSICIANS
Pathways Pearls - New Login Page & Finding Telehealth Specialists
---
RESOURCES 
 
Don't forget to refer to our Resources section of the website.  It includes a variety of items focused on your patients, billings tips, VIHA resources, etc.

ER Tips & Tricks
Courtesy of Victoria Division of Family Practice, ER Tips and Tricks are a series of hands-on, focused guidelines intended to assist community GPs. Click here to view ER Tips & Tricks.

MOA ​Resources
Tips for accessing Community Health Services: Looking for the best ways to access support from Island Health's CHS team?  We've picked up a few great tips and tricks to share with you: check the MOA Resources page of our website for helpful information!

Patient Resources
Please visit our Resources section of the website for patient related resources.

Don't forget about the Self-Management courses offered through Self-Management BC found here
UPCOMING EVENTS​
Please see the Division's Calendar of Events


RECRUITMENT
​​To view the most current employment postings please see the links below:

If you would like to post a position please download the appropriate form and email to recruitment@sidfp.com or fax to 250-658-3304. We strive to keep our information current, so if any of the postings have been filled, please notify the office.

Succession Planning Guide
Are you looking to make a change to your practice?  The Succession Planning Guide (.PDF)   will lead you through the critical steps in your decision making process.  For support or questions, contact info@sidfp.com.

Help Us Get the Word Out!
We always welcome news items or announcements for our bi-weekly e-bulletin. If there is something that you would like to share with your colleagues, then we would certainly like to hear from you! Please call us at 250.658.3303 or e-mail us at info@sidfp.com.   
CONTACT US
Email: info@sidfp.com
Phone: 250 658 3303
Fax: 250 658 3304
Visit us at our office location:
Suite 201 - 4480 West Saanich Road
(above Little Thai Place)