E-Bulletin
The SIDFP e-Bulletin gives members and partners a heads-up about upcoming events and new resources. We use it to introduce new people to the Division and talk about some of our accomplishments. The e-Bulletin is distributed every first Thursday of the month. The deadline for submission is the previous Thursday. To submit an item or should you wish to be added to the mailing list please email us at info@sidfp.com.
---
November 2, 2023, South Island Division E-Bulletin
Read this month E-bulletin HERE!
---
BOARD REPORTS
Please click here for the most recent Board meeting summary.
---
PRIMARY CARE NETWORK NEWSLETTER
Check each bulletin for the most recent edition(s) of the PCN News.
---
PHYSICIAN HEALTH & WELLNESS HUB 
The Physician Health & Wellness Committee has created a Wellness Hub where you can find upcoming events, resources and more! 
Access the Wellness Hub here.
---
THE OPERATING ROOM
The "Operating Room" is a short monthly blog provided for our members by Tanis Wynn, our full-time In-Practice Consultant. Tanis will share her knowledge on topics related to the "Operations" of your practice.
"Operating Room" - November 2023
Doctors Technology Office: IT Support Selection Checklist for Clinics
---
ISLAND HEALTH MEDICAL STAFF BULLETIN
DIVISIONS DISPATCH 
Check each bulletin for the most recent edition(s) of the Divisions Dispatch newsletter.
MEDICAL HEALTH OFFICER UPDATES
For any health updates, please click through to the Island Health website – this will include any measles status updates.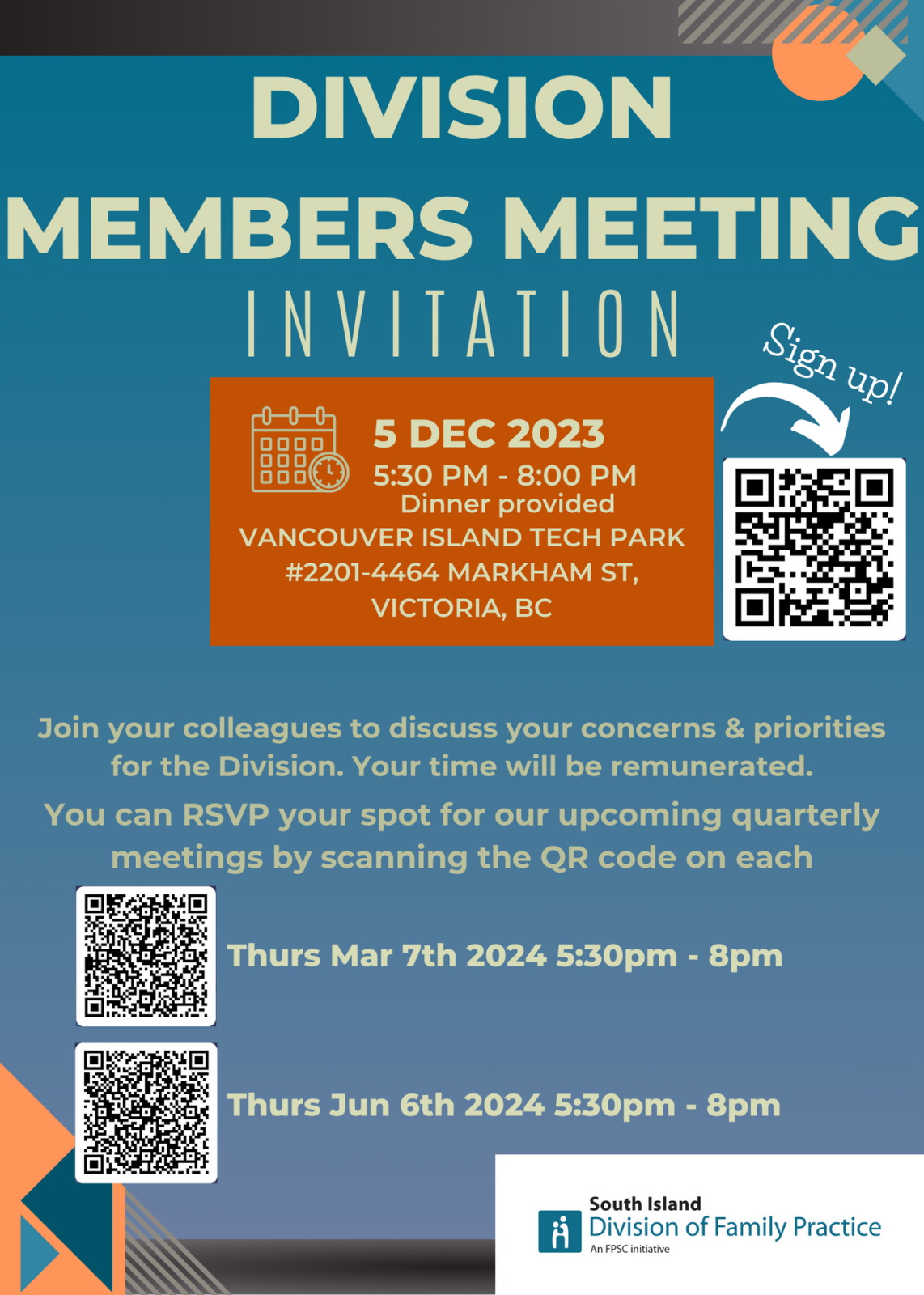 ---
PATHWAYS
Pathways Pearls - New Login Page & Finding Telehealth Specialists
CONTACT US
Email: info@sidfp.com
Phone: 250 658 3303
Fax: 250 658 3304
Visit us at our office location:
Suite 201 - 4480 West Saanich Road
(above Little Thai Place)