E-Bulletin
E-BULLETIN
The SIDFP e-Bulletin gives members and partners a heads-up about upcoming events and new resources. We use it to introduce new people to the Division and talk about some of our accomplishments. The e-Bulletin is distributed every second Thursday. The deadline for submission is the previous Thursday. To submit and item or should you wish to be added to the mailing list please email us at info@sidfp.com.
---
January 26, 2023, South Island Division E-Bulletin
---
---
BOARD REPORTS
Please click here for the most recent Board meeting summary.
---
PRIMARY CARE NETWORK NEWSLETTER
Check each bulletin for the most recent edition(s) of the PCN News.
---
PHYSICIAN HEALTH & WELLNESS HUB 
The Physician Health & Wellness Committee has created a Wellness Hub where you can find upcoming events, resources and more! 
Access the Wellness Hub here.
---
THE OPERATING ROOM
The "Operating Room" is a short monthly blog provided for our members by Tanis Wynn, our full-time In-Practice Consultant.  Tanis will share her knowledge on topics related to the "Operations" of your practice.
"Operating Room" - January 2023
Doctors Technology Office: IT Support Selection Checklist for Clinics
---
IN THE NEWS
ENCOURAGE YOUR COLLEAGUES TO JOIN THE DIVISION
We encourage all members to promote the Division with their colleagues and encourage them to join us. The closer we are to 100% enrollment, the more we ensure we're representing the family practice community. Applications can be submitted online via this link.
NEW – PRIMARY CARE INDIGENOUS CULTURAL SAFETY (PC-ICS) LEARNING AND DEVELOPMENT PLAN: SOUTH, CENTRAL, AND NORTH ISLAND ENGAGEMENT
Primary Care Strategy (PCS), Medical and Academic Affairs, and the Cultural Safety Program is partnering on the design of culturally safe and Indigenous specific anti-racism Learning and Development Plans for Primary Care in alignment with the Coast Salish, Nuu-chah-nulth and Kwakwaka'wakw cultural families, Metis, Inuit and Urban/Away From Home Populations.
Engagement session for South Island: February 13th, 2023 – RJH from 0900-1300, lunch will be provided, and Physicians will be renumerated for their time through Health System Redesign funding.
For further information and registration timelines please use this link
NEW – NANAIMO'S CAR 54 PARTNERSHIP DRIVES CARE AND CONNECTION FOR PEOPLE IN CRISIS
Exciting News - Enhanced services are available for people in Nanaimo experiencing mental health and/or substance use crises, thanks to Car 54 – a full-time mental health mobile program that launched in October 2022.  For the whole story please use this link
NEW – UNDERSTANDING SMOKING CESSATION TRAINING NEEDS FOR PRIMARY CARE PROVIDERS IN B.C.
Training for primary care providers can increase the quit success of patients with Tobacco Use Disorder. In BC there are several ways primary care providers can access training; however, it is unknown if it is serving their needs. We invite you to take a short (15 minute) survey to inform the optimization of smoking cessation training offered in BC. A $50.00 gift card will be provided for those who participate.  Take the survey.  For questions, please contact: erin.shellington@ubc.ca.
This QI project was developed by BC Smoking Cessation Community of Practice, led by Legacy for Airway Health, and funded by Shared Care Committee of Doctors of BC.  
NEW – WHRI/BCCHR THOUGHT EXCHANGE – CLINICAL CARE PROVIDER INPUT ON PERINATAL DIGITAL INNOVATION NEEDS
WHRI and BCCHR and partners from PHSA and PSBC invite all perinatal health care providers to share your thoughts on priorities for perinatal digital innovation through a confidential Thought Exchange. Your thoughts will inform development of a shared research agenda for digital innovation to support perinatal healthcare in BC.
For more info go to: https://whri.org/rapid?utm_source=psbc&utm_medium=toolkit&utm_id=rapid
NEW – BC COLLEGE OF FAMILY PHYSICIANS AWARDS
We recently launched the BC College of Family Physicians (BCCFP) annual awards program, which recognizes excellence in family medicine and highlights the unique role that family physicians play in the health and well-being of British Columbians.
We would be very grateful if you could help to encourage nominations and raise awareness of the awards program.  Please use this link for more information/ awards promotion toolkit.
URBAN LOCUM PROGRAM
The Urban Locum Program has started its locum mentoring program to guide locums who are exploring community practice options at varying career stages. Six experienced VDFP and SIDFP community physicians will mentor participating locums.
WESTSHORE PRIMARY CARE SOCIETY SURVEY
Westshore Primary Care Society welcomes patients to complete a survey that will assist the Society in making a difference in the healthcare system. They are committed to providing patients with the best healthcare experience possible.  Would you kindly share this with your patients.  Thank you.
SUBSTANCE USE SUPPORT
Do you have patients in your practice with complex Substance Use issues?  Would you like support from an Addiction Medicine physician? 
If you would like to review how to approach care for your patients 1:1 with an experienced physician, please reach out to Amanda.Chapman@islandhealth.ca .  We would like to help connect your patients to services, help with choosing the best medications and support the development of treatment plans. 
Funding is available for time spent reviewing cases or for team meetings with the Addiction Physician.
To be added to the local and provincial education being offered, focused on substance use disorders please let Amanda Chapman know, so you can be added to the distribution list. 
ONLINE PLATFORM "SHE FOUND MOTHERHOOD"
We are Dr.  Alicia Power and Dr. Sarah Lea, family physicians who care for pregnant and newly parenting people in Victoria, B.C. 
At the beginning of the pandemic we, along with our colleagues, noticed increased anxiety levels among this vulnerable population. This anxiety was further heightened by an increased reliance on social media for medical information, which was, and continues to be, rife with misinformation, which in turn further increases anxiety.
As a result, we created an online platform for this inquisitive group of patients; She Found Motherhood. Our goal was to present high-quality information in an accessible and relatable way to the place where people were searching for it the most. We also wanted to ensure that we created a space where other health professionals could share their expertise, be that nutrition, physical therapy, counseling etc. What resulted was an interdisciplinary platform for patients that brought together incredibly rich information from various health professionals, supporting all aspects of the perinatal journey from pregnancy to early parenthood.
For more information on our work, please browse our website, www.shefoundhealth.com, our @she.found.motherhood Instagram account, and the She Found Motherhood Podcast.
As a happy byproduct through this process, we have also learned an incredible amount from our allied health colleagues, other physicians, and midwives who work with pregnant and newly parenting people. We realized how valuable and necessary it is to bring this interdisciplinary lens to the provider world. 
We have received funding through our provincial physician group - Doctors of BC - to develop an interdisciplinary, collaborative, evidence-based platform to ensure that we, as professionals providing care to pregnant and newly parenting people, can come together, learn from each other, and understand how we can best work together to improve the care we provide to this patient population. 
We hope you can help inform your membership about this initiative, called Pregnancy for Professionals, as we are confident it will transform the way we work together and support us all with knowledge as well as create a vital community of interdisciplinary learning. 
We will be officially launching a beta version of this free platform on January 2, 2023, which will include the following:
Biweekly episodes of the Pregnancy for Professionals Podcast
Interdisciplinary Live Webinars every six weeks, offering interactive panels on cross-relevant topics such as tongue ties, plagiocephaly, birth trauma & more
Print Resources for providers and patient-focused resources on relevant topics.
As we continue building this exciting venture, we would greatly appreciate your support in spreading the word, as well as helping us hone our product by completing this brief (2 min) survey that will allow us to better assess your needs. Pregnancy for Professionals is created by providers, for providers, to support our patients and one another s as we take on this often challenging but rewarding and essential work. 
To join our P4P community and keep abreast of our launch, new developments, and upcoming free content releases please sign-up via: www.pregnancyforprofessionals.com 
ISLAND HEALTH NEWS RELEASE – RESILIENCE AND SAFETY GRANTS
Island-wide – Collaboration and partnership can be transformative to improving the health of individuals and communities. In order to expand collaborative opportunities, Island Health is allocating up to $1 million for a new grant program aimed at helping improve mental health, mitigate the harms associated with illicit substance use and build youth resilience.
Island Health is seeking Expressions of Interest from not-for-profit organizations, local governments, Indigenous Nations, and local businesses for initiatives that keep your community safe and healthy. Grants of up to $50,000 are available to launch new and innovative initiatives in communities across Island Health. 
For more information, please use this link   
CANADIAN MENTAL HEALTH ASSOCIATION: WEST SHORE-BASED SUICIDE BEREAVEMENT SUPPORT GROUP.
Looking for resources to help support patients who have experienced a suicide loss? Pacific Centre Family Services Association (PCFSA) hosts a West Shore-based Suicide Bereavement Support Group. The group is free, open to anyone ages 19+, and facilitated by experienced mental health practitioners.
Occurs on the 3rd Tuesday of every month
6pm-8pm
200-324 Goldstream Ave
For more information or to register, call (250) 940-4373 or email intake@pcfsa.org.
Free parking is available, the space is wheelchair accessible, bike lockups are nearby, and the location is close to the #50 and #46 bus routes.
CENTRE POINT - BC Centre For Palliative Care Issue
PRIMARY CARE UPDATES - PEDIATRIC RESPIRATORY ILLNESS SURGE
Our newsletter for December 2022 
ISLAND HEALTH MEDICAL STAFF BULLETIN
DIVISIONS DISPATCH 
Check each bulletin for the most recent edition(s) of the Divisions Dispatch newsletter.
MEDICAL HEALTH OFFICER UPDATES
For any health updates, please click through to the Island Health website – this will include any measles status updates. 
---
CME EVENTS
REMINDER - DINE N LEARN EVENT – CARDIOVASCULAR DISEASE IN WOMEN
Date: Wednesday, March 8, 2023
Time: 5:30 - 8:00pm
Location: Vancouver Island Technology Park, 4464 Markham Street, Victoria
How to predict who is at risk, and what can we as providers do to prevent it.  For more information and Registration details please use this link
NEW - VDFP | DINE N LEARN - ADDICTION MEDICINE ROUNDTABLE
Date: Wednesday, February 8th, 2023
Time: 5:30 pm - 8:30 pm
Location: Hotel Grand Pacific, 463 Belleville Street, Victoria
Hear from local Addiction Medicine physicians about key topics for family physicians and resources to navigate the MHSU system.
View invitation here
RSVP here
NEW – PRIMARY CARE MASTERCLASS IN SPORT AND EXERCISE MEDICINE AND MUSCULOSKELETAL HEALTH
January 2023 – December 2023
Monthly Webinar Series
Thursdays, 12pm – 1pm EST (Subject to speakers' availability)
Overall Learning Objectives
By the end of this program, participants will be able to:
Develop and prescribe a patient-centered physical activity plan to a wide range of patients with varying goals and underlying conditions.
Identify and manage common and urgent musculoskeletal injuries.
For more information and registration please use this link
NEW - UBC CARE OF THE ELDERLY INTENSIVE REVIEW COURSE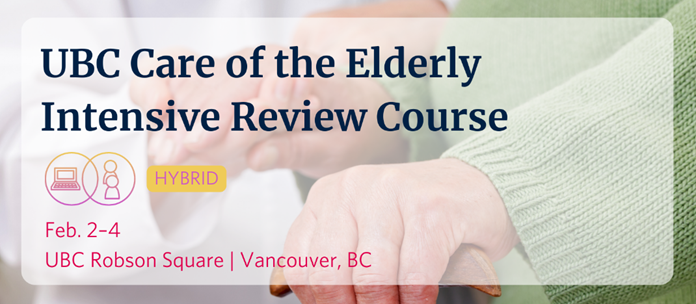 UBC Care of the Elderly Intensive Review Course  
Feb. 2–4 (Thu–Sat) | 8:20 a.m. – 4 p.m. PST daily | In person or Virtual Conference 
Audience: family physicians, nurse practitioners, registered nurses, residential care health professionals, residents and students. 
Overview: We are thrilled to bring this conference to you both virtually and in person at UBC Robson Square in Vancouver, BC. This three-day intensive course offers a unique small-group learning opportunity. The conference includes presentations by UBC faculty experts, case-based discussions, interactive polls and a variety of hands-on workshops.  
Up to 18.0 Mainpro+/MOC Section 1 credits  
In-person course is limited to 100 participants — reserve your spot early. 
Can't join us in person Feb. 2–4? 
Choose the virtual option to watch the morning plenary lectures live or access them on demand after the event. *In-person registrants will also have access to recordings. 
NEW - SPRING DERMATOLOGY REVIEW VIRTUAL SERIES 2023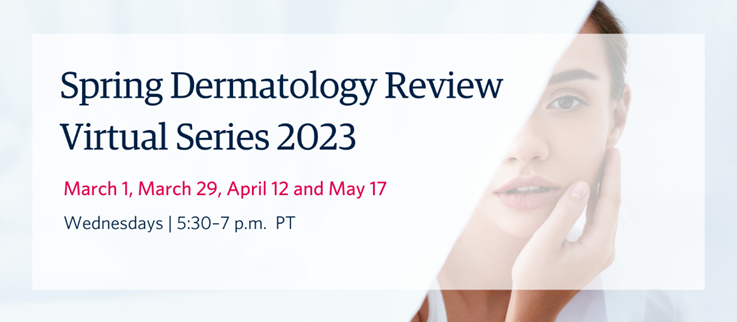 Spring Dermatology Review Virtual Series 2023 
March 1 and 29, April 12, May 17 (Wednesdays) | 5:30–7 p.m. PST | Virtual Series 
Audience: family physicians, nurse practitioners, nurses, dermatologists, residents and students.  
Overview: This popular lecture series offers practical pearls in managing common dermatology concerns in your practice. Sessions are designed to be short, engaging and applicable to primary care practitioners across BC.  Take advantage of reduced rates by registering for the whole series in advance before the Feb. 23 early bird deadline. 
Up to 6.0 Mainpro+/MOC Section (1.5 credits per session) 
HOT TOPICS IN MENTAL HEALTH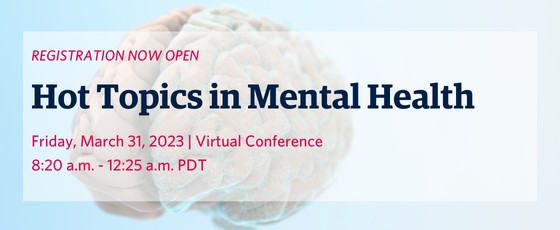 Brand New Half-Day Virtual Conference!
March 31 (Fri | 8:20 a.m. – 12:25 p.m. PDT | Virtual Conference
Audience: Family physicians, nurse practitioners, registered nurses, residents & students
Overview: The UBC Department of Family Practice, Department of Psychiatry and UBC CPD brings you a virtual half-day update on important psychiatric topics. Join experts for practical tips and resources relevant to daily medical practice. A conference not to missed by all healthcare professionals working in mental health. Can't attend live on March 31? Available lectures will be recorded and available to view on-demand for up to 3 months after the event.
Up to 3.5 Mainpro+ credits  
Can't join us live? 
All virtual lectures will be recorded (with speakers' consent) and available to watch on demand for up to 3 months after the session(s). If you miss the live conference, you may be able to claim self-learning credits after watching recordings: How-to-Claim-Self-Learning-Credits
58TH ANNUAL FAMILY PRACTICE REVIEW
58th Annual Family Practice Review 
Feb. 23–25, 2023 (Thu–Sat) | Vancouver Marriott Pinnacle Downtown Hotel or Virtually 
Audience: family physicians, nurse practitioners, nurses, residents, and students.  
Up to 16.0 Mainpro+ credits 
This comprehensive review course offers an update of knowledge central to family medicine practice in rural and urban settings. Committed to addressing everyday practical issues, speakers present equally on current and special areas of concern to the primary care professionals. 
VICTORIA GYNECOLOGY UPDATE – JAN 28, 2023 
Discounted registration is now open to Victoria & South Island healthcare professionals only!
Jan 28 (Sat) | 0900–1545 PST | Virtual Conference
Target Audience: family physicians, nurse practitioners, nurses, midwives, pelvic floor physiotherapists, allied health professionals, residents & students.
Up to 5.5 Mainpro+ credits
LEARN MORE & REGISTER
The Victoria Society of Obstetricians and Gynecologists is once again hosting its annual Gynecology Update as a virtual one-day conference for primary care and allied health providers, with updates on a wide range of topics.
Clinical experts will share their knowledge on a variety of topics, including:
Postcoital Bleeding
Chronic Pelvic Pain in Adolescents
Retained Products of Conception: Medical vs. Surgical Management
Liquid-based Cytology and HPV Testing: BC Updates
Premalignant Conditions of the Vulva
Management of Incidental Endometrial Abnormalities on Imaging
Pelvic Floor Physiotherapy for Stress Urinary Incontinence and Pelvic Organ Prolapse
And much more — see the full agenda here
New social event!
Jan. 28 (Sat) | 5:30–7:30 p.m.
Venue: Victoria Golf Club, 1110 Beach Drive, Victoria, BC.
Following the conference, the planning committee is hosting an evening social. Join us for this casual networking event if you plan to be in Victoria that day!
Cost: $30/ticket (purchase up to 2 tickets) | Tickets include a selection of appetizers, canapes and one drink ticket + unlimited non-alcoholic beverages.
We hope you'll be able to join us in January from the comfort of your home or office.
---
GET INVOLVED
NEW – ISLAND HEALTH'S COMMUNITY VIRTUAL CARE PROGRAM: SEEKING SURVEY ENGAGEMENT AND PHYSICIAN REFERRALS
Click to complete a physician survey asking about your experience with Island Health's Community Virtual Care program and how best to increase physician referrals.  Island Health's Community Virtual Care program is collaborating with the UBC Sauder School of Business Behavioural Insights Advanced Professional Certificate Program to increase physician referrals to the program.
SURVEY - Island Health's Community Virtual Care Program Seeks Physician Referrals
NEW – DEALING WITH DIFFICULT PATIENTS FOR OFFICE STAFF: BALANCING SAFETY AND PATIENT NEEDS
This self-paced course (~5 hours) will teach office staff in healthcare facilities and clinics on how to manage difficult patient interactions while balancing a client-centered approach and the safety for yourself and your team. This course will review the principles of psychological safety in the workplace, developing a safety plan and policies for the organization, overview of common conditions that may lead to patient agitation, how to assertively communicate with agitated patients using a trauma-informed approach, and tips for practicing self-care to preserve your emotional, physical, and cognitive energy. 
For more information and registration please use this link
CULTURAL CONVERSATIONS
Friday, February 3, 2023 | 12-1pm
Join us for the first session of a lunchtime Zoom series designed to support primary care professionals on the journey to Truth & Reconciliation.
 Through his storytelling and experiences facilitator Andrew Bird will
Discuss the purpose and significance of Indigenous Cultural Safety as a structural initiative to mitigate harm.
Assemble pragmatic strategies to embed Indigenous Cultural Safety into professional practice, and
Examine the relationship between colonialism and state violence against Indigenous peoples and its implications for Indigenous cultural safety today.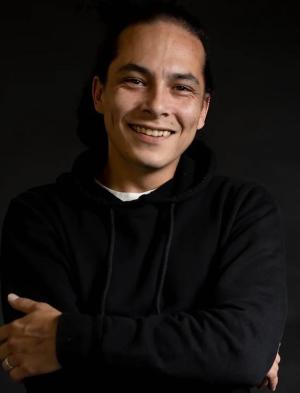 FACILITATOR: ANDREW BIRD | LEN PIERRE CONSULTING
Andrew Bird (he/him) is Cree, originally from Saskatchewan, now living in British Columbia and is in his early thirties.
He's lived in over twenty-five homes, attended several different schools, was homeless at age fourteen and was raised by his single mother. He chased and achieved a childhood dream of becoming a professional wrestler which led to meeting his wife, having their son, and speaking twice on a TEDx stage.
Now, with his stories and experiences, he shares the tools that helped him get to where he is and spreads gratitude along the way.
CLICK HERE FOR REGISTRATION INFORMATION
Space is limited.
Eligible participants will receive sessional compensation.
LONG-TERM CARE VIRTUAL INFORMATION EVENT
This event is open to new-to-practice physicians, family physicians, physicians who are thinking about slowing down, nurse practitioners, and anyone who is interested in practicing in long-term care.  For more information, please use this link
NATIONAL ECHO: GERIATRIC MENTAL HEALTH
Baycrest Health Sciences and Canadian Coalition for Seniors Mental Health (CCSMH) are excited to announce the National ECHO: Geriatric Mental Health, a telehealth program that builds primary care providers capacity in the care of older adults through weekly videoconference sessions.   Use these links for the following: Information & Program Registration
NEEDED PRACTICE EXAMINERS
Dear Family Practice Physicians,
I am writing to invite you to participate as a Practice Examiner in our upcoming VIRTUAL series of R2 Practice Exam (practice SOO) sessions. The College of Family Physicians of Canada announced that the simulated office oral (SOO) component of the Certification Examination in Family Medicine will continue to be administered virtually for Spring 2023.  https://www.cfpc.ca/soo-faq
At the Victoria site, we will endeavor to practice the SOO portion of the exam using ZOOM.  We will be using the same familiar SOO practice cases and will be using the same marking scheme as in the previously held in-person SOO practice events.
The schedule for the practice exam sessions will be: Feb 1, Feb 15, March 15, and 29, 2023 (1730 – 2000).
I am still looking for Examiners to assist with our VIRTUAL series of R2 Practice Exam (practice SOO) sessions. on the following days:
Feb 15 (1730 – 2000)– 4 Examiners needed
March 15 (1730 – 2000)– 3 Examiners needed
March 29 (1730 – 2000)– 4 Examiners needed
If you are interested in participating in a practice session, please let me know by responding to the Qualtrics survey: https://ubc.ca1.qualtrics.com/jfe/form/SV_cD67HVmcDsxKNLM specifying which date(s) you are available.
Remuneration for participation in each evening is $91.80/hour.
We can offer reimbursement for a meal up to a max of $30.00 in lieu of catering for the evening practices.  (Please submit your electronic receipt to Leanne Ruston for processing)
I will send you confirmation of your date(s) in an Email Meeting request which will include:  Examiner Exam Prep guidelines (Zoom links etc.), Outline for the format for the evening, and a copy of your SOO Case for the session(s).
Thank you!
Leanne
Leanne Ruston (she, her)
Coordinator - UBC Postgraduate Family Practice Residency Program
Victoria Site – Royal Jubilee Hospital                                        
Office Days: Tues/Wed
Remote Days: Mon/Thurs/Fri
---
PHYSICIAN HEALTH & WELLNESS
PHYSICIAN PEER SUPPORT GROUP: RESOURCE
Please find attached/linked below resources shared in the December 14th session.
---
Living this Moment by Dr. Mark Sherman in Victoria: guided meditations and info on Mindfulness programs and retreats for physicians - https://livingthismoment.ca/
Self-Compassion by Dr. Kristin Neff - https://self-compassion.org/
Information about the upcoming Physician Only CBT Group:

The Physician's Only CBT group is being offered starting Wednesday January 25th, 2023, between 8:00-9:45 am. This occurs the same time each week ending March 15, 2023.
If you are interested in attending – here are some details.

Audience: Physicians and Medical Residents (No med students)
Facilitator: Psychiatrist Dr. Jennifer Barley
Logistics: 8-week series of 1.5-2-hour sessions via zoom; same program as the CBT Skills Group for the General Public
Start date: Wednesday January 25, 2023, 8am-9:45am. Weekly sessions with final session being Wednesday March 15, 2023. Same time each week.

Requirements:

Mental health diagnosis
Completion of PHQ9/GAD7
Referral from family physician or PHP
Cost: $65 deposit up front that is returned if attend at least 7 of the 8 sessions

Link to CBT group - https://cbtskills.ca/
---
Join our future drop-in sessions: Wednesday, Jan 11 at 12PM PST | Wednesday, Jan 25 at 12PM PST - www.physicianhealth.com
Physician Health Program launches virtual peer support group for BIPOC doctors
BC doctors who are Black, Indigenous, and people of colour (BIPOC) are invited to register for a new virtual peer support group offered by the Physician Health Program, beginning in 2023.
More information and registration: Sharing your lived experience: New peer support group for BIPOC physicians in BC.
---
PATHWAYS
NEW – LINK TO JANUARY 19TH PATHWAYS WEBINAR RECORDING
For members who didn't have the opportunity to participate in person, please see the provided link to listen to the recording.
CAREGIVER RESOURCES FOR FAMILY PHYSICIANS
Pathways Pearls - New Login Page & Finding Telehealth Specialists
---
RESOURCES 
 
FETCH PLATFORM
Effective March 31, 2023, the Fetch platform will be discontinued and no longer available though the Division website.
Don't forget to refer to our Resources section of the website.  It includes a variety of items focused on your patients, billings tips, VIHA resources, etc.

ER Tips & Tricks
Courtesy of Victoria Division of Family Practice, ER Tips and Tricks are a series of hands-on, focused guidelines intended to assist community GPs. Click here to view ER Tips & Tricks.

MOA ​Resources
Tips for accessing Community Health Services: Looking for the best ways to access support from Island Health's CHS team?  We've picked up a few great tips and tricks to share with you: check the MOA Resources page of our website for helpful information!

Patient Resources
Please visit our Resources section of the website for patient related resources.

Don't forget about the Self-Management courses offered through Self-Management BC found here
UPCOMING EVENTS​
Please see the Division's Calendar of Events


RECRUITMENT
​​To view the most current employment postings please see the links below:

If you would like to post a position, please download the appropriate form and email to recruitment@sidfp.com or fax to 250-658-3304. We strive to keep our information current, so if any of the postings have been filled, please notify the office.

Succession Planning Guide
Are you looking to make a change to your practice?  The Succession Planning Guide (.PDF)   will lead you through the critical steps in your decision-making process.  For support or questions, contact info@sidfp.com.

Help Us Get the Word Out!
We always welcome news items or announcements for our bi-weekly e-bulletin. If there is something that you would like to share with your colleagues, then we would certainly like to hear from you! Please call us at 250.658.3303 or e-mail us at info@sidfp.com.   
CONTACT US
Email: info@sidfp.com
Phone: 250 658 3303
Fax: 250 658 3304
Visit us at our office location:
Suite 201 - 4480 West Saanich Road
(above Little Thai Place)